more news
#PittsburghMe: Meet Beth Turnbull, Mass Communication Major
Student Profile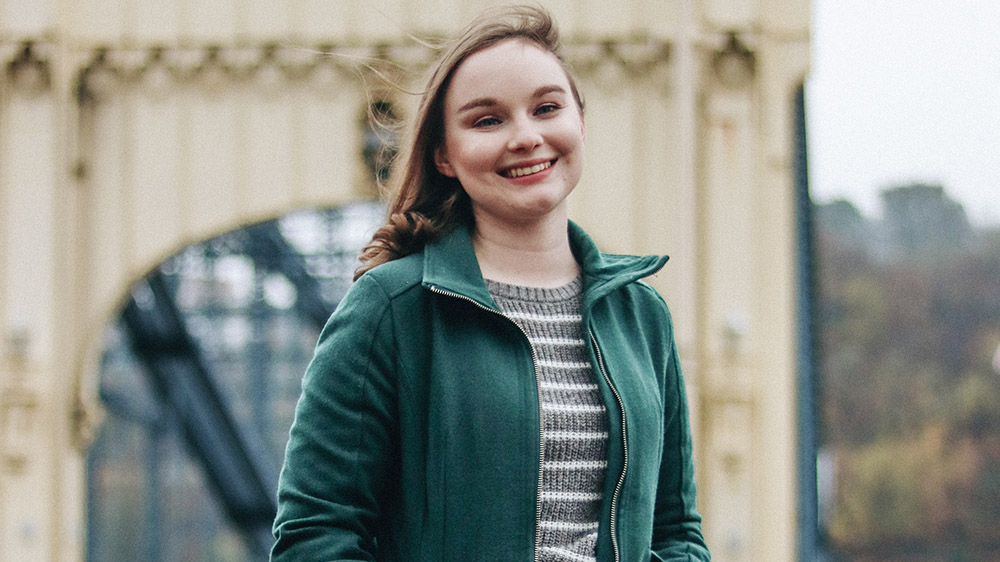 Photo by Marissa Johnson, junior multimedia major
Meet Beth Turnbull
Major

Mass Communication-B.A.

Graduation

December 2018

Scholarships

Trustee

Hometown

North Huntingdon, Pa.

High School

Norwin High School

Dream Job

Working in public relations (nonprofit or government)
"I am incredibly grateful for my [internship] experiences and I know if I didn't go to Point Park, I might not have found them."
Beth Turnbull
Why did you choose Point Park?
When I was 16 and touring local colleges, Point Park made an immediate impression. The Downtown location paired with the top-notch programs in the School of Communication were very appealing to me. I was drawn to the flexibility of the mass communication major and the school's proximity to internships, as well as cultural activities.
How are you involved on campus?
This semester I am a social media coordinator for The Globe student-run newspaper and I host a weekly show on WPPJ radio. I'm a member of the Honors Student Organization (HSO) and I work in the Honors Program office. I'm also a member of PRSSA. I have previously served as a mentor with HSO and worked as the opinions editor of The Globe.
You have held multiple internship positions with companies in Pittsburgh. Tell us about those experiences.
During my sophomore year, I completed a marketing internship with local startup Active Cities. Having that experience helped me land a public relations internship with Blender, an integrated marketing agency focusing on local nonprofits. I learned the ins-and-outs of agency life and fell in love with telling client's stories.
The following spring, I was hired as an intern at WordWrite Communications. At WordWrite I was given the opportunity to see my work published in local media and client publications, create content for their social media channels, work on the agency's internal marketing and more. It was an amazing experience and left me feeling well-equipped to take on the job market. I am incredibly grateful for my experiences and I know if I didn't go to Point Park, I might not have found them. 
Where is your favorite view of the city?
In Oakland, I love the view from Flagstaff Hill in Schenley Park. It's the perfect place to relax and take in the view of the city while overlooking Phipps Conservatory, the University of Pittsburgh and Carnegie Mellon University. 
What is the biggest difference between Pittsburgh and your hometown?
As someone who lives less than an hour from Downtown but over the county line, Pittsburgh has much more to do culturally. The fact that I can walk less than 10 minutes down the street and see a touring Broadway show is amazing. Also, there are just so many good restaurants. And I love Millie's Homemade Ice Cream.
What advice would you give to incoming students?
Try everything. I didn't know that I wanted to do PR when I got here. It was only through trying new classes, my extracurricular activities and internships that I found what I liked doing. Take a journalism class, try hosting a radio show, join dance club. Get your feet wet as early and as often as possible so you can find out what it is that truly makes you happy.
Read more #PittsburghMe profiles
---
Text by Sydney Patton, senior sports, arts, and entertainment management major
More About: internships, Phipps, scholarships, The Globe, School of Communication, mass communication, Honors Student Organization, Honors Program, Downtown Pittsburgh, Norwin High School