more news
MLK Day Honored With Trip to National African American Museum, Walking Vigil and Selma Screening
Wednesday, January 18, 2017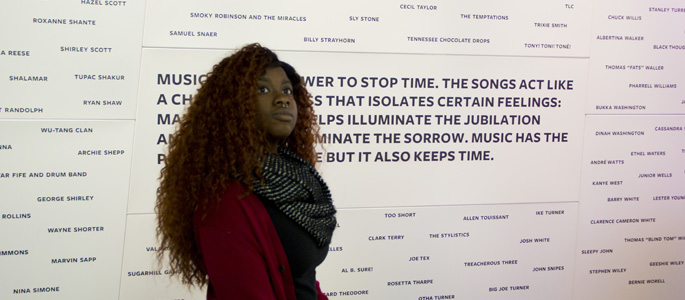 Shaniece Lawrence, senior biological sciences major, at the National Museum of African American
History & Culture

Point Park University students honored the life of Martin Luther King Jr., both on and off campus this year.
Off campus, students and staff traveled to the Smithsonian National Museum of African American History & Culture in Washington, D.C., while on-campus events included a brunch and walking vigil around Downtown Pittsburgh and a screening of the movie "Selma" in the University Center's GRW Theater.
National Museum of African American History and Culture
More than 50 students and staff went on the Jan. 16 trip to D.C., sponsored by the Office of Student Life.
"I decided to go on the trip because I have never been to D.C. and I had heard amazing things about the African American Museum since it has opened," said Ni'Kyah Paskell, a sophomore majoring in Pre-Kindergarten through fourth grade education with dual certification in special education.
"My favorite part was the Emmett Till Memorial. It was so deep and the video of his mother talking and his casket being there were really profound to me. Also, the Sweet Home Café was delicious," added Paskell, who graduated high school from Northwestern Pennsylvania Collegiate Academy in Erie, Pa.
"We knew this trip would be an opportunity for our students to learn more about our nation's history and put into perspective how much Dr. King's life and the Civil Rights Movement influenced the trajectory of the United States," explained Amanda Anderson, director of Student Life.
Anderson added: "This was an opportunity not many people have had access to yet. This museum has been sold out since opening in September. Our office spent two and a half hours on hold on the phone the day the January passes were released. I'm glad so many students took advantage of this opportunity."
Prim Green, a sophomore broadcast production and media management major from North Springs Charter High School in Atlanta, Ga., had also never been to Washington, D.C. and thought the museum trip would be a great way to spend MLK Day.
"It's important for Point Park to offer day trips like this because a lot of students may not get the opportunity to travel to these places and at that incredible price ($10)! My favorite part was learning new aspects of Black History at the museum and getting to walk around D.C.," Green said.
Alannah Owens, a human resource management major from Pittsburgh Science and Technology Academy, wanted to go to the National Museum of African American History & Culture since it opened.

"The museum is an accomplishment and a place in which minorities can learn about the history of our people. I also liked how there were people from every race there embracing the museum and learning the history," Owens said.
Walking Vigil, Brunch and Selma Screening
On campus, the Office of Student Activities, Involvement and Leadership led a 1.2 mile walk throughout the streets of Downtown Pittsburgh followed by a brunch in the Lawrence Hall Ballroom celebrating the life of Dr. King.
Prior to the walk, Point Park students, faculty and staff engaged in discussion of Dr. King's use of nonviolent protests and watched a TED talk by Jamila Raquib on "The secret to effective nonviolent resistance."
Kate Shipley, assistant coordinator of student involvement, reminded participants: "We are walking to support nonviolent resistance and civil and political activism."
Student leaders from the Campus Activities Board, United Student Government and student media engaged in the march, among others.
"As a journalism student, I've covered walks and protests like these, but never have been part of one. The people on the streets and sidewalks noticed us walking and stopped to read our signs and watch our group pass by them. The point of our walk was to show the power of peaceful protest. For those of us who never participated in something like this, it was a really cool opportunity," remarked Josh Croup, junior broadcast reporting major from Butler High School in Butler, Pa.

Croup is also sports editor of The Globe, and president of the Broadcast Education Association.
"I participated in the walking vigil because I think it's important to remember people's past efforts and how they strived for equality," said Morgan Willis, a freshman biological sciences major from Bridgeport High School in Bridgeport, W.Va.

Willis added: "Ending as much oppression as possible is a necessary goal for me."
"I decided to participate in the Walking Vigil because I wanted to help make a point, spread awareness and help start a tradition that Point Park could continue for years to come," explained Blaine King, senior broadcast reporting major, U-View station manager and United Student Government president from Upper Darby High School in Drexel Hill, Pa.
Later in the day, students were invited to the University Center's GRW Theater to enjoy Pittsburgh Popcorn and watch a screening of "Selma," a film on the epic march from Selma to Montgomery led by Dr. King, which resulted in President Johnson signing into law the Voting Rights Act of 1965.
King added: "What MLK day means to me is a day that we reflect. We reflect on what Dr. King was able to do as a national figure in his time. We reflect on his message and what he stood for through his peaceful protests in trying to create change and show we can all work together. And finally, we reflect on how we the people are carrying out Dr. King's message and have made advancements over the years to get closer to Dr. King's dream and vision."
Photos by sophomore Gracey Evans and senior Shayna Mendez, photojournalism majors

More About: Martin Luther King Jr. Day, student trips, Downtown Pittsburgh