more news
Point Park University Students Travel to New York City for Alternative Spring Break
Wednesday, April 5, 2017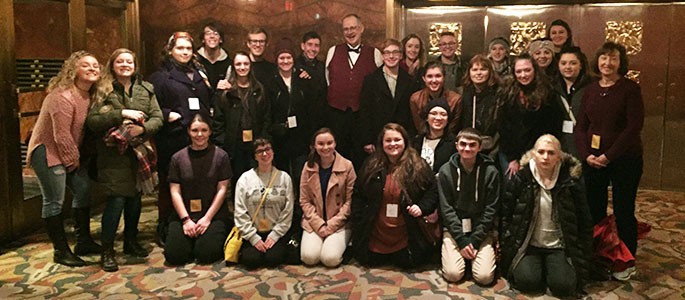 Point Park students and Professor Helen Fallon (far right) at Radio City Music Hall.

Point Park University students in the Honors Program, as well as photography and sports, arts and entertainment management majors, traveled to New York City for alternative spring break this semester. Professors Helen Fallon, Teresa Gregory, April Friges, Ben Schonberger and Zachariah Szabo, part-time instructor, accompanied the group.
"This trip gave us the chance to see what other cities are like and the opportunity to do things we may not have been able to do on our own," said Autumn Barszczowski, a sophomore public relations and advertising major from City Charter High School in Pittsburgh, Pa.
Some of the highlights of the trip included:
Additionally, honors students met with Monroe College's Honors Program at the Museum of the City of New York for a guided tour of the "Activist New York" exhibit.
"I loved the trip. It was an affordable way to experience New York City," said Alexa Newbrough, a freshman theatre major from Deer Lakes High School in West Deer, Pa. "We were able to enjoy ourselves, but still learn through cultural experiences."
Reporting by Beth Turnbull, a sophomore mass communication major
More About: sports, arts and entertainment management, Deer Lakes High School, City Charter High School, Honors Program, faculty, spring break