more news
Point Park's Family Weekend draws a crowd to campus, Pittsburgh for weekend of fun
Wednesday, November 18, 2015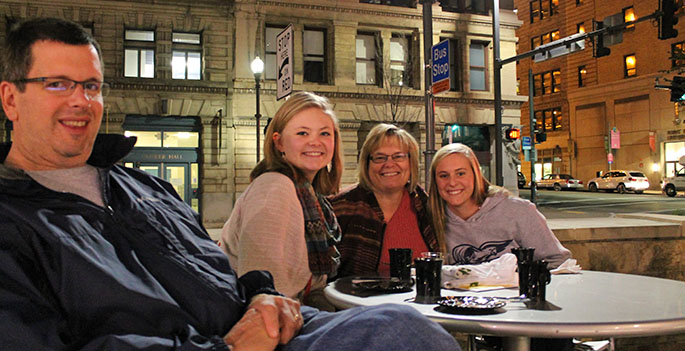 Nearly 500 family members joined their Point Park students for this fall's Family Weekend, enjoying the University's Downtown campus, taking in student performances and activities, and visiting major Pittsburgh attractions.
"We like coming down to visit. This is our third year and we'll never miss it," said parent Pamela D'Occhio, of Newark, Del., at Family Brunch in the Lawrence Dining Hall with her husband, Joe, and their daughter, junior dance major Angela D'Occhio. "I like that (Point Park) has a Family Weekend. We're here to see her, and it's nice to hang out."
Family Weekend, held Oct. 9-11, drew families from all parts of Pennsylvania and nearby states - Ohio, New York and West Virginia, and as far away as Chicago, Ill., Dallas, Texas, and Tampa, Fla.
Families could choose wide range of events and activities on campus and around the city, starting with a Friday evening welcome reception. The weekend schedule included student dance and theatre performances, a screening of student films, an exhibit of student photography, and Pioneers student athletes competing in cross country and soccer. Families could also visit nearby Pittsburgh attractions including the Heinz History Center, which focuses on Western Pennsylvania history, and Pittsburgh Zoo & PPG Aquarium, featuring the Asian Forest and African Savannah exhibits.
Some families, like Reginald and Sheila Doby from College Park, Md., spent Saturday morning cheering on the men's and women's cross country teams competing in the Carnegie Mellon University Invitational. Their son, Tory, is a freshman electrical engineering technology major on Point Park's track and field team.
"Family Weekend seemed like a great idea to meet students and parents, but it's also a nice way to meet up with (Tory) and tour the city and Point Park," Reginald Doby said. "It's good to see what your kids are doing and see the school other than from when we dropped them off."
Parents Celeste and Jim Berger spent Saturday evening at "Java & Jazz in the Park," relaxing by the waterfall in Village Park with warm beverages while mingling with other guests and listening to live music. They didn't need to travel far from North Huntingdon, Pa., to visit their son, Robert, a freshman multimedia major.
"He really enjoys it down here - he wanted to show us where he goes," Celeste Berger explained. "The people are really nice and the safety aspect impresses me in the urban environment."

Article by Kariann Mano, senior public relations and advertising major.
Top photo by Samantha Exler, freshman majoring in sports, arts and entertainment management.


More About: Family Weekend, multimedia, sports, arts and entertainment management, electrical engineering technology, dance, cinema arts, student athletes, Downtown Pittsburgh