more news
Point Park's Autumn Barszczowski Named Student of the Year at National Honors Conference
Thursday, December 13, 2018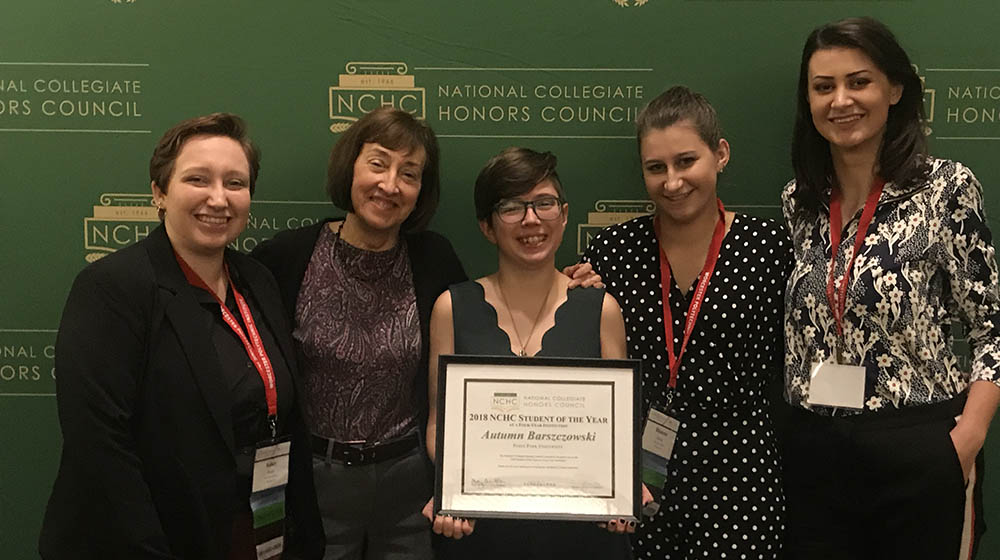 (L-R) Kelsey Wolfe, Professor Helen Fallon, Autumn Barszczowski, Rhianna Davis and Nicole Pampena
"Autumn embodies all the best of honors. She has been a leader since her first semester, and she couldn't be more deserving of this recognition."
Helen Fallon, Honors Program director and professor of journalism
Autumn Barszczowski – a senior public relations and advertising major and Honors Student Organization president – was named Student of the Year at the 2018 National Collegiate Honors Council conference in November.
Barszczowski has been an active member of HSO since her first day at Point Park University, accepting leadership roles and organizing on-campus activities, as well as within the Northeast Regional Honors conference. 
"It is easy to forget that the work you do is impactful and important," Barszczowski said. "Winning this award was a really nice way to remember that."
As a member of HSO, Barszczowski was its PR and marketing coordinator, helped to plan the annual alternative spring break trip to New York City, participated in the honors book club and served as a mentor. Additionally, she presented her academic work at honors conferences in Atlanta, Boston, Pittsburgh and Providence. 
She served as the student representative for the NRHC in 2017-18, and her responsibilities included planning and running the student activities for the conference in Providence. 
"Having the privilege to attend these conferences has shown me how an honors community can impact other students. We have a relatively small program here, and we don't always see the impact of the work we do," she said. "Traveling and meeting other students helps inspire us so we can dream up new ideas for our own program."
According to Barszczowski, winning this award is the culmination of years of active involvement with the Honors Program and a dedication to getting the most out of her educational experience.
"Autumn embodies all the best of honors," said Helen Fallon, M.A., honors program director and professor of journalism. "She has been a leader since her first semester, and she couldn't be more deserving of this recognition."
Barszczowski, who also is completing a minor in psychology, hopes to pursue a career in student affairs. 
Reporting contributed by Beth Turnbull, mass communication major
More About: conference, faculty, public relations and advertising, Honors Student Organization, Honors Program