more news
Convocation Speakers Welcome, Inspire Point Park University Class of 2019 to Make Connections
Tuesday, September 1, 2015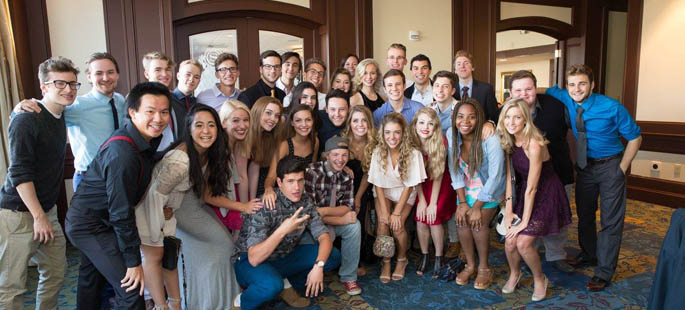 Freshmen and transfer students kicked off the beginning of their academic journey at Point Park by attending the University's annual Convocation ceremony at the Sheraton Station Square.
"Convocation is a celebration of our common purpose - to assist you in achieving your goals both in the classroom and in your life," said Karen McIntyre, Ph.D., provost.
This year's class includes 607 new freshmen and 243 transfer students representing more than 13 countries and 36 states.
"Get to know the community. Venture out. Discover Pittsburgh and the places and people in our city and region," McIntyre told the students.
Point Park President Paul Hennigan, Ed.D., also addressed the students, encouraging them to set new goals and make connections with Point Park faculty, staff and the community in the upcoming years.
"We will teach you, challenge you, inspire you and make you question your academic decision. We want to push you to your limit so that your thirst for knowledge and learning will require you to ask more from us," said Hennigan. "You will learn from us and we will learn from you."
Hennigan also told the students: "In the next four years, you will meet some of the coolest people that you'll ever meet in your life."
Other highlights of Convocation included junior musical theatre major Randyn Fullard singing "America the Beautiful" and speeches from David Jacobs, a 2009 sports, arts and entertainment management alumnus, and Blaine King, senior broadcast reporting major and president of United Student Government.
In his message, Jacobs, who is now manager of ad product marketing for Pandora, advised the students to get involved on campus, take on as many internships as possible and make meaningful connections with people.
"Get to know people. Be inquisitive. Be kind. Build relationships over time with people and get to know their backgrounds, their passions and where they want to go in life," remarked Jacobs.
King's key pieces of advice to students were to have fun, join clubs, make many new friends, plan ahead to minimize stress - and to remember to call mom and dad.
"If you're having fun, you'll love college," King told his fellow students. "Your best memories will be what was fun for you."
McIntyre closed convocation with these words:
"The faculty, staff, administration and alumni of Point Park University look forward to joining you in many exciting and rewarding intellectual explorations and personal encounters â€Â¦ Welcome to the energy and excitement you'll find in the academic village of Point Park University!"
Feedback From Freshmen: "What Are You Looking Forward to This Year?"
Several freshmen at Convocation were asked, "What are you looking forward to this academic year at Point Park University?" Below are their responses.
More About: sports, arts and entertainment management, St. John Neumann Regional Academy High School, Upper Dauphin High School, Muncy High School, Southmoreland High School, Grove City High School, broadcast reporting, Seton-La Salle High School, Convocation