more news
Governor Tom Wolf Visits Point Park University for Public Session on Redistricting
Tuesday, February 6, 2018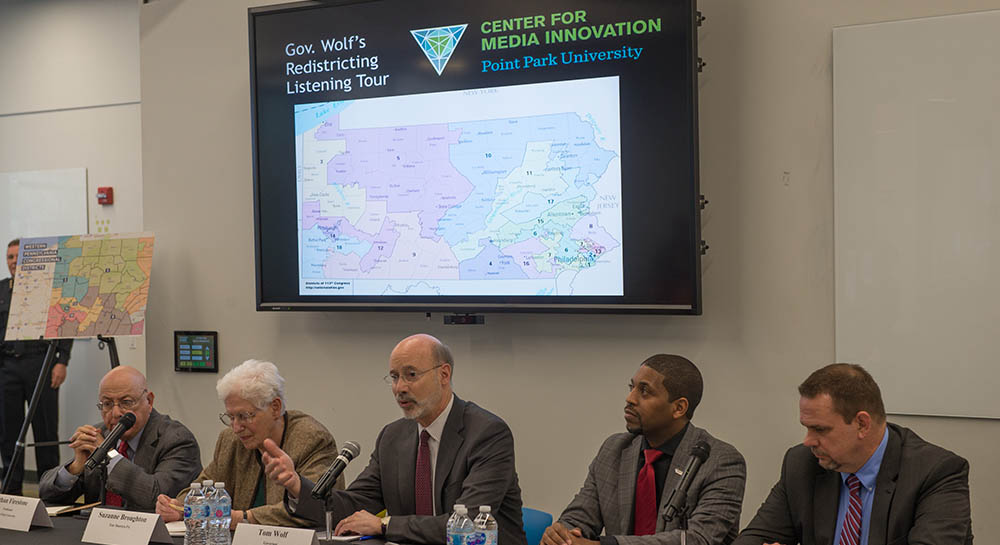 Point Park University welcomed Pennsylvania Gov. Tom Wolf to its Center for Media Innovation Feb. 1 for a public listening session on gerrymandering and redrawing fair congressional districts on the state's map.
"We created this space for the goal of working with students and professionals to carve out a path for the future of storytelling and journalism, and this is a terrific event for showcasing what we do here," said CMI Director Andrew Conte. 
This was Wolf's final stop on his state tour to collect the public's feedback about redistricting.
"I'm going around the state in panels like this to hear what you think a fair map is going to be," Wolf said. "We need to hear from you what fairness is."
Joining Wolf on the panel included:
Suzanne Broughton, representative, Fair Districts PA
Micah Sims, executive director, Common Cause Pennsylvania
Jonathan Marks, commissioner, Bureau of Commissions, Elections and Legislation
Johnna Pro, regional director of community affairs, Pennsylvania Department of Community & Economic Development
This event was also an opportunity for Point Park students to hear firsthand from an elected official and, for some, gain hands-on experience representing student media.
In Their Own Words: Feedback From Students
"It's not every day you get to be in a press gaggle surrounding Gov. Wolf, but knowing how to handle that is great preparation for my field. Being able to prepare a radio package for WPPJ on his visit is a great example of that in action." — Alex Popichak, a broadcast production major from Carlynton High School
"Student journalists aren't just students with cameras and notepads. We're doing real work alongside professionals and reporting stories that matter to us and our fellow students. Covering the Governor's listening tour was yet another example of the professional experiences we get at Point Park beyond the classroom." — Josh Croup, a broadcast reporting major from Butler High School 
"It was an amazing experience getting to shake hands with Gov. Wolf. Point Park has always enabled students to meet high profile individuals, and this is another example as to why Point Park is a great choice for me." — Robert Bertha, a broadcast production major from Deer Lakes High School
Event Photos
More About: U-View, The Globe, Carlynton Junior-Senior High School, faculty, Butler Area High School, WPPJ, Center for Media Innovation, political science