more news
Honors Program Students Pay it Forward Through On-Campus Volunteer Activities
Monday, January 9, 2017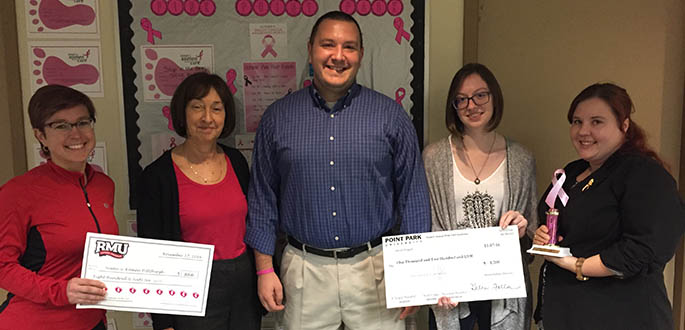 Honors Program students and Professor Helen Fallon present a check to Susan G. Komen Pittsburgh. Learn more about the students' fundraising efforts in the student-produced video.
Students in Point Park University's Honors Program continue to pay it forward through on-campus volunteer opportunities via the Honors Student Organization.

During the fall semester students sponsored "Pink Feet," a series of events to increase awareness and raise money for breast cancer research - specifically for Susan G. Komen Pittsburgh - raising $1,200, their largest total to date. Each year, honors programs from colleges and universities in the area compete to raise funds.
The fundraising effort began with a bagel sale during the Great Race Pittsburgh in September and two additional bake sales on campus.
"The bake sales were some of our more successful events; it is a staple in fundraising and people love baked goods," Trillium Falotico, a dance major and Pink Feet committee member said. "It also helped that we had many homemade treats that attracted people to our table."
Sarah Martin, an education major and HSO president-elect, met with the students to plan creative and engaging events.
"This subject is very personal to me," Martin said. "My aunt is a 15-year survivor, and I do this not just for her but for all the survivors - men and women - who are fighting this battle."
Other on-campus events included an evening at Painting with a Twist, a used book sale, a basketball competition, a karaoke night, a screening of the movie "Mean Girls," a pink picnic and an evening Gala.
"My grandma is a breast cancer survivor, so I wanted to honor her by contributing in whatever way possible," said Jess Webb, a multimedia major.
Pink Feet were also sold on campus throughout October. For a one dollar or more donation, students, staff and faculty could fill out a Pink Foot in honor or memory of someone who battled or is currently battling the disease.
"We are a school that has many breast cancer survivors," said Martin. "Everyone who was touched by breast cancer in some way wanted to help."
The check was presented to Ben Raible, a special events development associate with Susan G. Komen Pittsburgh Nov. 17 in the Honors Program office. Students and faculty from Point Park and Robert Morris were in attendance.
Article by Beth Turnbull, a mass communication major
Video by Kelly Tran, a cinema arts major
More About: dance, Honors Student Organization, Downtown Pittsburgh, mass communication, faculty, education, volunteer work, Honors Program, multimedia, cinema arts