more news
Honors Program Students Present Academic Work at National Conference
Monday, December 11, 2017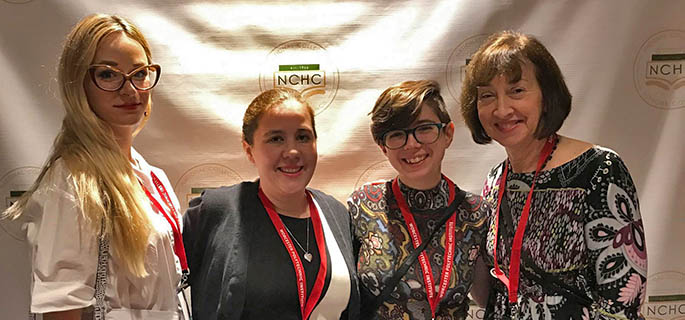 (L-R) Anastasia Gorbunova, Sarah Martin, Autumn Barszczowski and Helen Fallon 

Three Point Park University Honors Program students and Honors Program Director Helen Fallon attended and presented their academic work at the 2017 National Collegiate Honors Council conference Nov. 8-11 in Atlanta.
"I presented on feminist fairy tales, specifically on how Sylvia Plath takes fairy tales and revises them in her poems," said Autumn Barszczowski, Honors Student Organization president-elect and a public relations and advertising major. "I took the Feminist Fairy Tales class last spring with Assistant Professor Jessica McCort, Ph.D., and my presentation was a project for the course."
Sarah Martin, HSO president and an education major, participated in a roundtable discussion about cultivating student leadership with Professor Fallon, as well as the coordinator of the Honors Program at Monroe College and a Monroe honors student.
Biology major Anastasia Gorbunova presented a poster about learning organic chemistry, through a board game she created with Professor Romain Stalder, a part-time instructor at Point Park. 
The game consists of boards depicting Pittsburgh, color-coded cards with molecules and reagents, action cards with possible scenarios, and infection cards manifesting the spread of disease. The goal is to stop the spread of disease throughout the city.
"I've always had a love of science, chemistry in particular," Gorbunova said. "The conference was a great place for me to present my knowledge and learn from other students in a diverse setting."
In addition, students participated in "City as Text," an activity where groups of students and professors explored different neighborhoods. Students also visited the Center for Disease Control, the Center for Civil Rights, Atlanta neighborhoods and more.
"Atlanta was a great place to visit," said Martin. "Everyone I met was super friendly and polite, and the food and atmosphere were relaxing and comfortable. It was a wonderful place for a conference."
Learn More
Honors Program | Academics at Point Park | Request Information | Visit Point Park
Article by Elizabeth Turnbull, mass communication major
More About: student presentations, education, public relations and advertising, conference, Honors Program, biology, faculty