more news
Inaugural Pioneer Pause Encourages Students to Relax and Recharge
Wednesday, October 26, 2022
Pioneer Pause 2022 — 16 images
"College is stressful – students are working multiple jobs, taking care of family and more. This shows the University cares about us and wants to make sure we're doing OK." 
Alexis Wary, senior journalism major, photography minor
Point Park University students swapped textbooks, computer labs and homework for board games, coloring and slime-making on Oct. 25 as the University held its inaugural Pioneer Pause, during which students enjoyed a break from classes and took part in in-person and virtual activities all designed to help them de-stress, reset and reconnect. The event's goal is to raise awareness of the importance of mental health, while also strengthening connections across the campus community.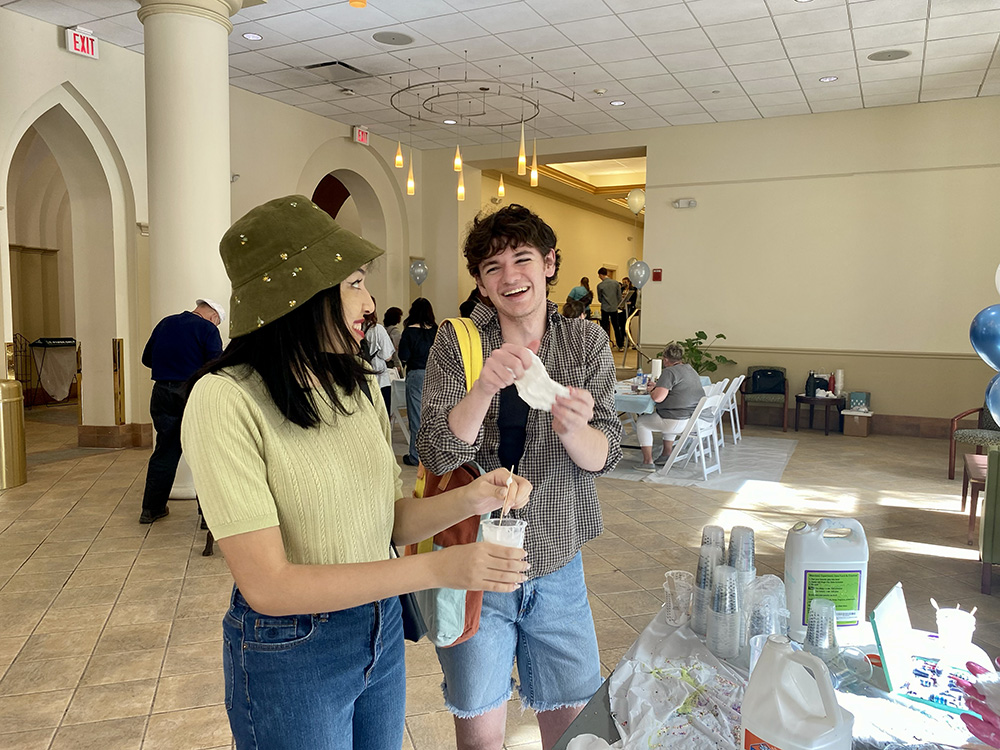 "We know this time of year can be a difficult point in the semester for both new and returning students," said President Don Green. "Pioneer Pause provides students, faculty and staff an opportunity to relax and reflect on their goals and opportunities. We all need those moments to help us grow. Our hope is that this annual event also will foster a real sense of camaraderie and community."
The day kicked off at the Pittsburgh Playhouse with remarks from Green, Michael Soto, Ph.D., provost and senior vice president of academic affairs, and Heidi Ward and Annie Shean, University staff members, alumni and the events' planning committee chairs. 
Students, faculty and staff enjoyed breakfast and an acoustic performance by Bella Wilson, a funeral service major and musical artist booked by Pioneer Records, Point Park's on-campus record label. Adjunct instructor Roy Cox, Ph.D., delivered a presentation on stress management, while Adriana Gulli, a student in the Psy.D. in Clinical Psychology program, discussed healthy social engagement and ways to connect with others.
Activities throughout campus included:
Coloring and painting 
Board games 
Yoga and fitness classes
A silent disco
Live music
A DIY trail mix station
Resource tables with representatives from the University Counseling Center, The Renfrew Center, PNC Bank and more
A creative writing nature walk to Point State Park, led by Chris Girman, Ph.D., associate professor of English and chair of the Department of Literature, Culture, and Society
Therapy dogs
Glitter tattoo station
DIY succulent planting
DIY slime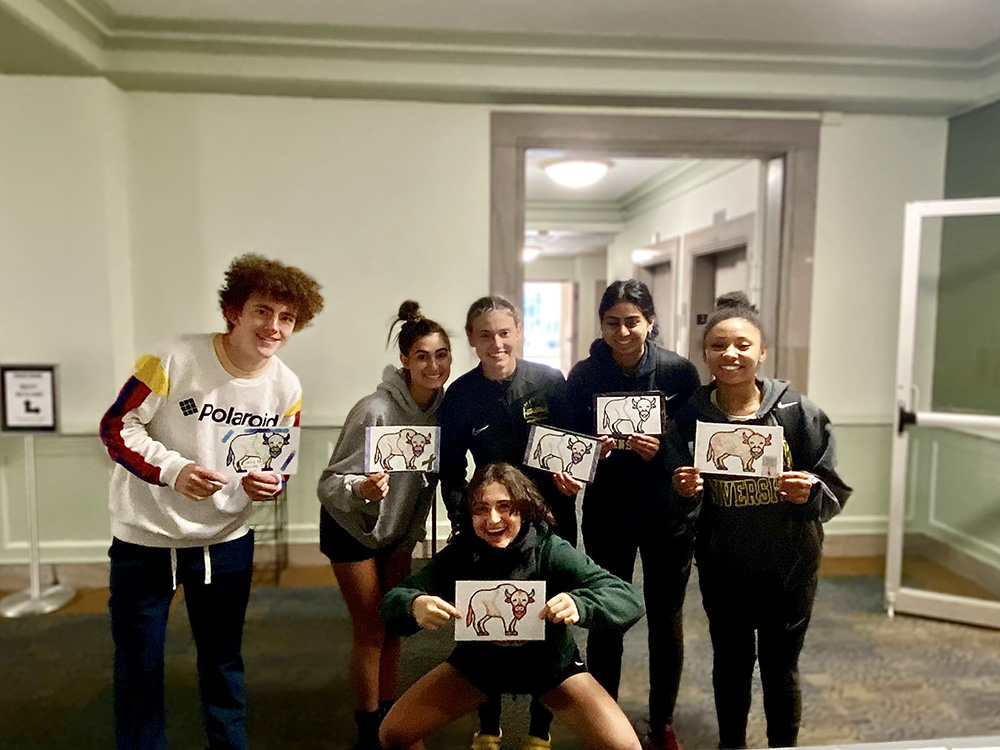 Outside the Lawrence Hall ballroom, freshman members of the women's soccer team huddled around the coloring station to make their own masterpieces of the Point Park mascot, Black Diamond the bison.
"For me, the Pioneer Pause is about catching up and getting ahead," said Harleen Dhasi, a biological sciences major.
Jurnee Finney, an undecided major, was particularly excited to visit the sensory space, which featured a coral reef video, galaxy light projector and quiet music, while Mireya Rojas, an animation major, looked forward to the paint-your-own-gnome activity. 
Members of the men's soccer team also took advantage of the coloring activities. Sean O'Hea, a senior mechanical engineering major, was thankful for the midweek break, noting that it exemplifies how Point Park takes care of its students.
Leandro Bilello and his friends stopped by the "Don't Spill This Tea" station in the Lawrence Hall lounge, where students could enjoy hot beverages and use an assortment of magazines to create vision board collages. 
"I found out about the Pioneer Pause at the exact time I was saying I needed a day off," said Bilello, a freshman theatre arts major. "It shows Point Park cares about its students."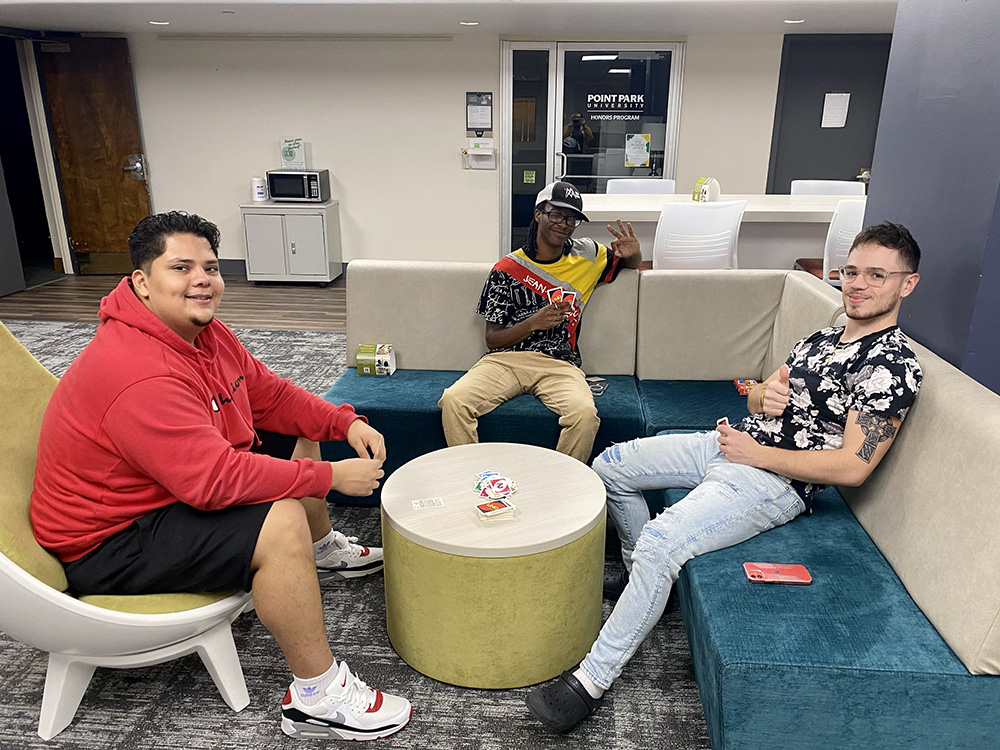 Read more student testimonials: 
"I'm glad to have an extra day to catch up on work and enjoy some downtime. Having crafts and activities throughout campus will make for a good, easy day." – Andrea Robles, freshman musical theatre major
"College is stressful – students are working multiple jobs, taking care of family and more. This shows the University cares about us and wants to make sure we're doing OK." – Alexis Wary, senior journalism major and photography minor
"Having all these activities is a good way to destress after midterms. No class or homework today is honestly a blessing." – Sarah Juba, senior elementary education major and public relations, advertising and social media minor
Read more about the University community's commitment to mental wellness in the stories linked below:
More About: Pittsburgh, Downtown Pittsburgh, library, School of Communication, School of Arts and Sciences, School of Education, Rowland School of Business, Conservatory of Performing Arts