more news
Point Park Students Host, Present at Northeast Regional Honors Council Conference
Monday, May 8, 2017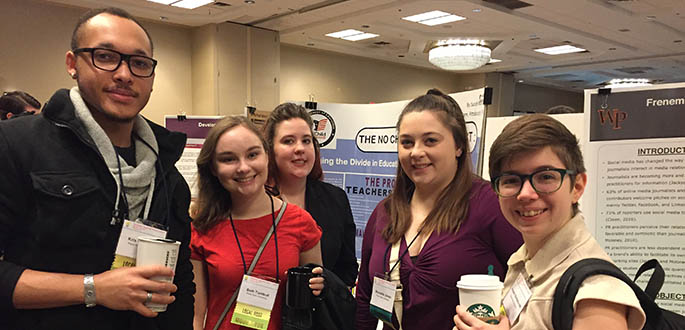 Point Park University students Kris Chandler, Beth Turnbull, Sarah Martin, Nicolette Jones and Autumn Barszczowski
"Moderating [a roundtable discussion] was a great experience. I enjoyed listening to the paper presentations and being a resource for the presenters."

-- Beth Turnbull

---
Related Links
Point Park University Honors Program students were active participants in the 2017 Northeast Regional Honors Council conference, held during the spring semester in Downtown Pittsburgh. Point Park was one of four local hosts for this year's event.
At the conference, students presented research related to the theme "Bridging the Divide," and led a "City as Text" exploration, which provided conference attendees a chance to visit Pittsburgh's neighborhoods.
During the poster sessions, Nicolette Jones, Honors Student Organization president and a sports, arts and entertainment management major, presented her research on music streaming services and pathways for fair artist compensation. Sarah Martin, HSO president-elect and an education major, explained the effects of the education law No Child Left Behind.
Sierra Zellmer, a musical theatre major, presented her research paper on composer Stephen Sondheim's musical influences, while Kelsey Wolfe, a public relations and advertising major, discussed her research regarding high school and college students and community service.
Additionally, students and Brendan Mullan, Ph.D., assistant professor and assistant director of the honors program, moderated roundtable discussions on a variety of topics.
"Moderating was a great experience. I enjoyed listening to the paper presentations and being a resource for the presenters," said Beth Turnbull, a mass communication major. "I think having students moderate is a great way to have them support their peers."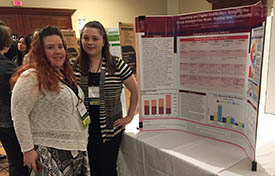 Students also heard from Dr. Jim Withers, founder of Operation Safety Net, a non-profit organization devoted to providing quality medical services to homeless populations, about how his start with Pittsburgh "street medicine" led to an international movement.
"I thought that Dr. Wither's speech was fascinating," said Autumn Barszczowski, public relations and advertising major. "I never realized that there were people putting forth an effort to assist those in need given their current circumstances. It's nice to know that there are people who care."
Conference attendees donated boxes of clothing, toiletries and hygiene items for Operation Safety Net. Each year, the NRHC plans community service projects that benefit the local host city.
In addition to the academic sessions, students participated in a talent show, a series of relay activities and attended a masquerade ball.
Point Park students travel to Georgia for the National Collegiate Honors Council conference this November, followed by the regional conference in Rhode Island next spring.
Reporting contributed by Tyler Dague, honors program graduate assistant and an M.A. in media communication student

More About: faculty, Honors Program, Honors Student Organization, student presentations, Downtown Pittsburgh, conference