more news
Professor and Students Attend Honors Conference
Monday, May 11, 2015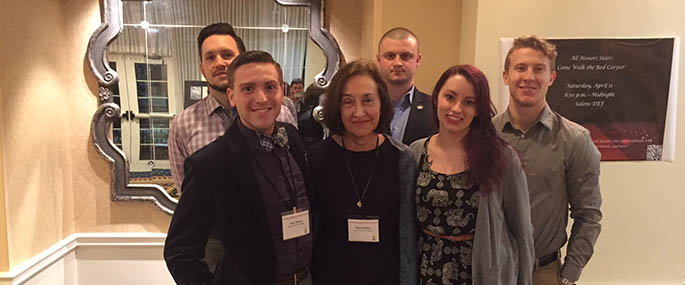 Honors Program students and Professor Helen Fallon at the Northeast Regional Honors Council Conference.

Professor Helen Fallon and Honors Program students played a major role in the planning of the annual Northeast Regional Honors Council conference, held April 9-12 in Gettysburg, Pa.
Fallon - president of the council and director of Point Park's Honors Program - served as the conference co-chair, two students helped to plan the conference and five students presented their work.

"The conferences have been a phenomenal opportunity to meet exceptional students engaging in meaningful research, and the honors students and directors alike exude a passion for academics that has inspired me to pursue a graduate degree in my field," said Nick Moran, Honors Student Organization treasurer and a senior psychology major. Moran presented his senior thesis in psychology, "Identity Divided: A Phenomenological Analysis of Sexual Identity Formation."
Justin Karter, graduate assistant for the Honors Program and a M.A. in clinical-community psychology student, served as a conference assistant, and Sara Payne, a senior double majoring in journalism and global cultural studies, designed and laid out the conference program. Payne also led a round-table discussion on media globalization and human trafficking.
Thaddeus Covaleski, HSO president and a senior intelligence and national security major, presented his paper, "Is Certain Change Worth the Risk?," exploring whether the United States was justified in obtaining data from Japan's human experiments after World War II.

"NRHC is a wonderful opportunity for students to expand on the knowledge they gain within their honors programs and to learn about the wide spectrum of research that fellow honors students are conducting," said Covaleski.
Ryan Bjorklund, a junior intelligence and national security major, presented "Less is More: A Legal and Philosophical Framework for Population Optimization Policy in the 21st Century" on a health policy panel, and Anna Livia Rice, a sophomore sports, arts and entertainment management major, presented a paper titled "Fighting Rape Culture on College Campuses."
Through a unique program called "Place as Text," students had the opportunity to explore Gettysburg through tours, community service, self-and-group exploration, hikes and art. Many of the Point Park students opted for community service and spent a portion of their day volunteering at Cross Keys Village, a nearby senior living facility.
Next year's conference will be held in Cambridge, Mass.
The NRHC is an organization of students, faculty and administrators dedicated to the encouragement and support of undergraduate honors learning.
Text by Justin Karter, graduate assistant, Honors Program
More About: research, Honors Program, journalism, faculty, psychology, Honors Student Organization, global cultural studies, M.A. in clinical-community psychology, intelligence and national security, sports, arts and entertainment management