more news
Students Present at Honors Conference
Friday, November 11, 2016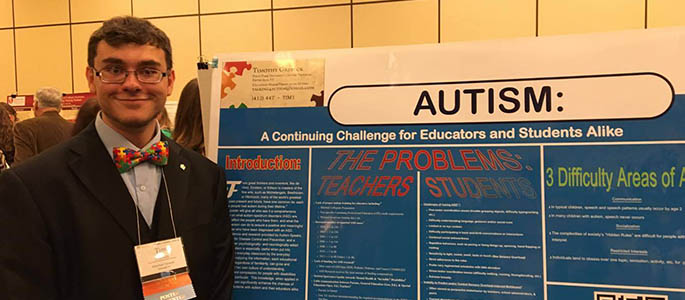 Tim Grebeck, secondary education major, at the 2016 National Collegiate Honors Council conference
Point Park University Honors Program students and Honors Program Director Helen Fallon traveled to Seattle, Wash., to present their work at the 2016 National Collegiate Honors Council conference Oct. 12-16.
"Attending these conferences gives you the chance to meet honors students from around the country, strengthen leadership skills and present your work," said Nicki Jones, a sports, arts and entertainment management major and president of Point Park's Honors Student Organization.
Jones and classmate Sarah Martin, an education major and president-elect of the Honors Student Organization, attended the conference as student moderators/members of the national council.
Tim Grebeck, a secondary education social studies and special education major, presented his poster: "Autism: A Continuing Challenge for Educators and Students Alike."
"The conference is a great place for networking," said Grebeck. "It's nice to meet people from all over the world who have similar interests."

Fallon, professor of journalism at Point Park, led a roundtable discussion, "Intercollegiate Joint Honors Projects: Knowing How to Collaborate," with Kathryn MacDonald, Honors Program director at Monroe College.
Students also enjoyed exploring Downtown Seattle and nearby neighborhoods with a "City as Text" event, checking out the EMP Museum, the Space Needle, Pike Place Market and the Sky View Observatory.
Reporting contributed by Elizabeth Turnbull, mass communication major
More About: secondary education, sports, arts and entertainment management, Honors Program, Honors Student Organization, faculty, mass communication, conference, student presentations