more news
#PittsburghMe: Meet Sydney Patton, Marketing Coordinator at Flying Cork
Student Profile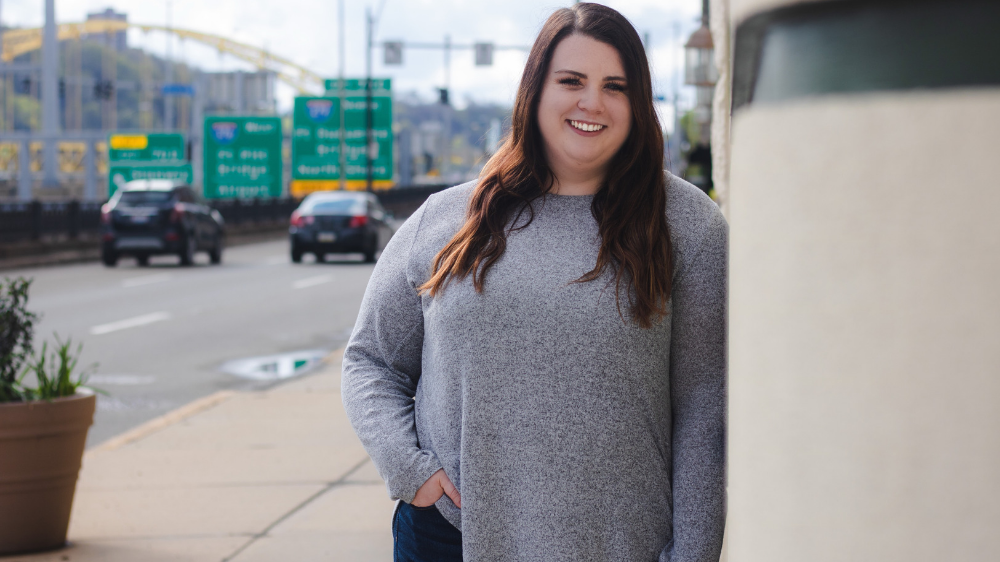 Meet Sydney Patton
Job Title & Employer

Marketing Coordinator, Flying Cork

Major

Sports, Arts & Entertainment Management

Graduation

April 2019

Scholarships

Trustee

Hometown

Millersburg, Pa.

High School

Millersburg Area High School

Dream Job

Account director or vice president of communications for a digital marketing or advertising agency
"Without my co-op experience, I would not have received a job offer two months before graduation."
Sydney Patton
Why did you choose Point Park University?
I always wanted to go to college in an urban area. When I stepped foot on Point Park's campus, I immediately felt like I was at home. I fell in love with the location in the heart of Downtown Pittsburgh. Having so many businesses, restaurants and shops so close to me was something I wasn't used to growing up in a small town. 
You've accepted a job offer with Flying Cork. How did our co-op program help you land a job before graduating?
The co-op program was one of the best opportunities I have had through Point Park! During my junior year, I reached out to Jessica Hobson in the Career Development Center and expressed my interest in the program because I had already heard great things about it. She walked me through every step with ease and found my perfect match with Flying Cork. Without my co-op experience, I would not have received a job offer two months before graduation. I am very grateful to work for a digital marketing agency that has given me so many unique opportunities already. 
What opportunities have you had through your major?
From day one, the SAEM program has pushed me out of my comfort zone and encouraged me to take as many opportunities as I could, so I did just that. I was heavily involved in the Campus Activities Board during my sophomore year and later accepted a role as advertising coordinator within the organization. I was able to manage my own committee of students while also improving CAB's social media efforts. This opportunity was a huge stepping stone for me, and helped me learn what it's like to manage a group of people and coordinate projects.
My first internship opportunity came during my sophomore year when I became a social media intern for Point Park's Enrollment Marketing team. The following summer, I was a PR and special events intern at Gamut Theatre Group in Harrisburg, Pa. My experiences in both of these internships were focused on social media and event management.
I wanted to gain experience in an agency, so during my junior year I accepted a position as a marketing intern with Tailored Marketing. That experience made me realize that I wanted to work in an agency setting. After working with Tailored Marketing, I became an account services intern for NFM+Dymun. Finally, I accepted a co-op position and then a job offer as a marketing coordinator with Flying Cork. My experience shows that leaving your comfort zone can direct you in the path that you've been trying to find.
Who has impacted you the most during your college career?
I would 100% be nowhere without my boss, the manager of Point Park's social media, Felicia McKinney. Felicia took a chance on me when I had applied to become her intern during my sophomore year. Ever since then, she has enhanced my social media skills, helped me land other internship opportunities and has been a very important mentor to me throughout my time at Point Park. Without her help, guidance and push to be the best person and professional I can be, I would not be approaching graduation with a full-time job in my field.
As an avid coffee lover, where is the best coffee shop in Pittsburgh?
Although you can never go wrong with Dunkin' iced coffee, Pittsburgh has some of the best local coffee shops around! Some of my absolute favorites are Rock 'n Joe in the Cultural District, Fort Pitt Coffee Downtown and Geppetto Café in Lawrenceville. Each café has its own vibe and of course, its own delicious coffee specialties.
Now that your last semester of college is coming to an end, what advice would you give to your freshman self? 
I would tell myself to soak in every single moment because college goes by tremendously fast. Whether it's going on adventures in the city, spending more time with friends or taking small opportunities through my major, I would remind myself that I will never get those moments back. I would also tell myself how proud I am of how much I have already stepped out of my comfort zone and encourage myself to keep doing so. 
Read more #PittsburghMe profiles
---
Text by Anna Wolf, junior public relations and advertising major
More About: Rowland School of Business, Career Development Center, Flying Cork Media, scholarships, Downtown Pittsburgh, success story, internships, sports, arts and entertainment management, co-op program, Campus Activities Board