PROGRAM GUIDE | COURSE DESCRIPTIONS | FACULTY | SCHEDULE OF COURSES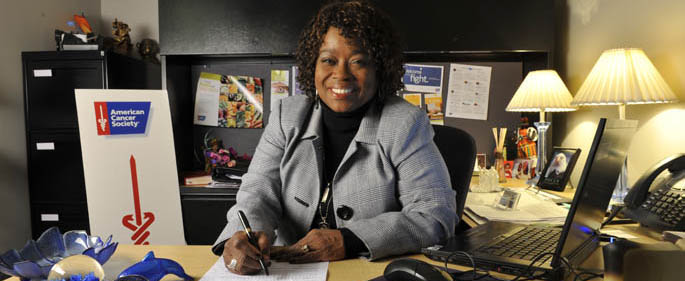 Meet Jacqueline Sledge, a cancer control specialist who earned a bachelor's degree at Point Park in organizational leadership.

Are you a people person looking to develop your leadership skills and advance in your career field? Develop your knowledge and skills in a changing job market to be successful and contribute to the success of a business, nonprofit or government organization.

Our career-focused courses taught by recognized leadership professionals will enable you to immediately incorporate into your job what you are learning in the classroom.

Small class sizes, accelerated and online courses, as well as a course load of only two classes at a time, makes this program a perfect fit for the working professional. 
About the program
Courses are offered in a seven-week, accelerated format which includes classroom and online course work.
Saturday classes are from 8:30 a.m. to 12:30 p.m. and 1:30 to 5:30 p.m. at our campus located in Downtown Pittsburgh.
Key benefits for the working adult
Networking opportunities with other business professionals who are improving their careers with a degree
Small class sizes to ensure a strong academic experience
Accessible instructors who were chosen for their real-world experience
Career-focused courses
The organizational leadership program is designed to enable students to develop their knowledge, skills and proficiencies in a changing job market and contribute to students' successes and the success of the businesses, non-profit and government organizations that employ them.
Some of the courses in the organizational leadership accelerated capstone program include:
Leading Organization Change
Career Development and Succession Strategies for Leaders
Dynamics of Business and Strategy
Advanced Oral Communication
For a comprehensive list of program requirements and course descriptions, see the program guide and School of Business course descriptions.
Convenience
All of your classes are conveniently located in West Penn Hall at 14 Wood Street in Downtown Pittsburgh. Classrooms and lounges are designed for the optimum learning experience. The University Center Library is also readily available and equipped with computers and additional locations for study and teamwork.
Enhance your leadership skills
Cultivate authentic leadership intelligence
Develop a fluid communication style
Explore how and why others see the world the way they do
Enrich and galvanize the people you work with and the organizations you serve
Be a mentor and servant-leader in your local community and the global community
Tap into your creative energy
Career Opportunities
With a bachelor's degree in organizational leadership, you'll have the option to pursue career opportunities in areas such as:
Administration
Community Outreach
Employee Relations
Project Management
Career Counseling
Human Resources
Business Planning
Program Director
The director of the organizational leadership program is Robert Skertich, Ph.D.