Information and Resources for School Counselors and Educators
School counselors and educators can offer invaluable guidance, ideas and encouragement to high school students who are selecting a college. We invite you to explore our website to learn more about how Point Park University can help your students reach their real-world educational and career goals.
Point Park University
Office of Admissions
Address: 201 Wood St.
Pittsburgh, PA 15222
Phone: 412-392-3430 / 1-800-321-0129
Email: enroll@pointpark.edu
Fax: 412-392-3902
Office Hours:
Monday - Thursday: 8:30 a.m. to 6 p.m.
Friday: 8:30 a.m. to 4:30 p.m.
Select Saturdays: 9 a.m. to 1 p.m.
Point Park Codes:
SAT/College Board: 2676
ACT: 3530
FAFSA: 003357
Visit Point Park: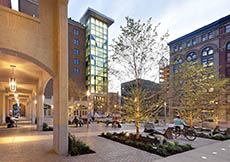 About Point Park
Admissions Information
Point Park follows a rolling admissions policy, with no application deadline and no early admission option.
Just for School Counselors and Educators
Point Park 2014 Incoming Freshmen Student Stats
Average freshman GPA: 3.22 GPA
Average freshman SAT: 1480
Average freshman ACT: 22
Students from 35 states and 10 different countries around the world
43 of the 67 Pennsylvania counties are represented
401 are female, 232 are male
Nearly 200 were honor roll students and 136 were members of the National Honor Society
Meet our students: Point Park Profiles
Major: Public Relations and Advertising
Greensburg Salem High School, Greensburg, Pa.

"I chose Point Park because I recognized the unique resources available here due to its location in Downtown Pittsburgh."
Majors: Mechanical and Electrical Engineering Technology
Woodland Hills High School, Pittsburgh, Pa.

"The small class sizes allow for a more personalized experience with the professors and make learning easier."
Majors: Premedical/Preprofessional Studies, Biological Sciences
Allegany High School, Cumberland, Md.
"The professors are definitely dedicated to the students and their classes are very engaging."
Major: Dance, dual concentrations in jazz and ballet
Conservatorio de Castella, San Jose, Costa Rica

"Point Park has taught me to open my mind to new challenges and not be afraid of change."