4+1 Rowland School of Business Master's Program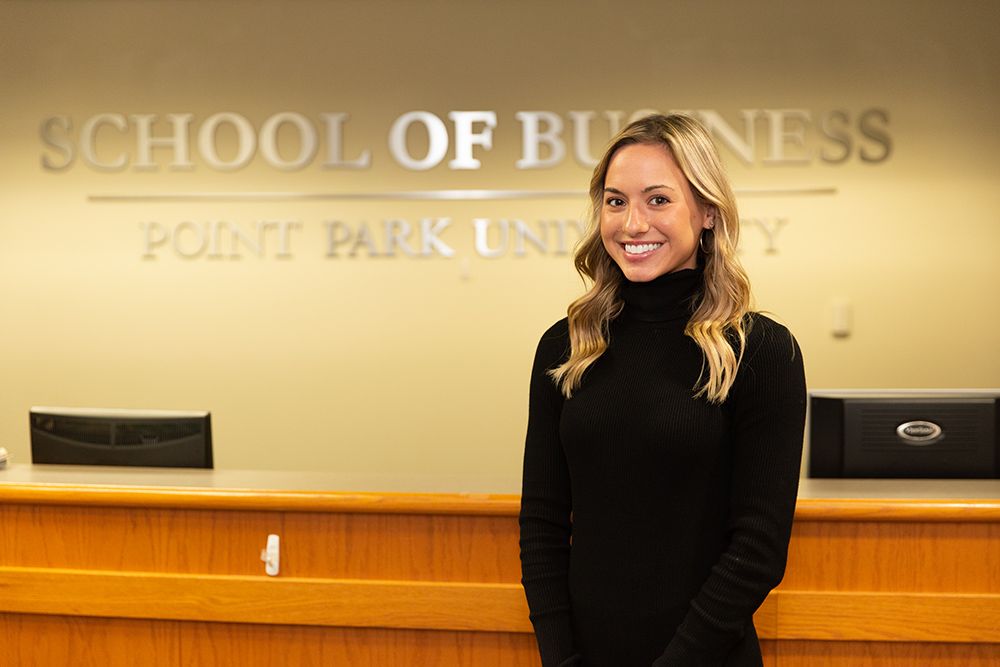 Photo by Randall Coleman.
Earn an Undergraduate and Graduate Degree in Five Years
Students enrolled in one of the Rowland School of Business undergraduate programs who have completed 90 credits and have a 3.0 GPA have the option to take graduate classes in one of our master's programs. This gives students the ability to earn a Bachelor's degree and a Master's degree from the school in as little as five years. This is a valuable opportunity for students interested in continuing their education and increasing their career advancement potential. Getting a head start on a graduate degree gives you an advantage financially and exposes you to higher-level courses and experiences during your undergraduate career.
*To complete the master's program in one year, students must complete three consecutive semesters of study.
How the Early Start Program Works
Select an undergraduate major:
Next, select a graduate program:
How to Apply
Point Park students may apply for the 4+1 Rowland School of Business Master's Program at any point during their undergraduate studies.
If accepted into the program, undergraduate students with at least 90 credits completed and a 3.0 or higher GPA may start taking their master's program classes.

As part of the application process, students should also submit a current resume and a 500-word statement of purpose which addresses how your professional experience and career goals relate to graduate study. Letters of recommendation and a copy of your Point Park transcript are not required.
Learn More
For more information, contact Nick Poprocky, assistant director of the Office of Graduate and Online Admissions, at 412-392-3807 or npoprocky@pointpark.edu.
To learn more about our MBA or M.S. in Health Care Administration Management programs, contact Archish Maharaja, CFP, CPA/PFS, Ed.D., graduate program director, at amaharaja@pointpark.edu.
To learn more about our M.A. in Organizational Leadership program, contact Heather Starr Fiedler, Ph.D., graduate program director, at hstarr@pointpark.edu.
Learn about our MBA program in the video below: