Students interested in reserving your spot at Point Park University for Fall 2022 should pay a tuition deposit by August 1. Paying your deposit allows you to take advantage of class registration and housing options.
Pay your deposit
Collaboration and Integration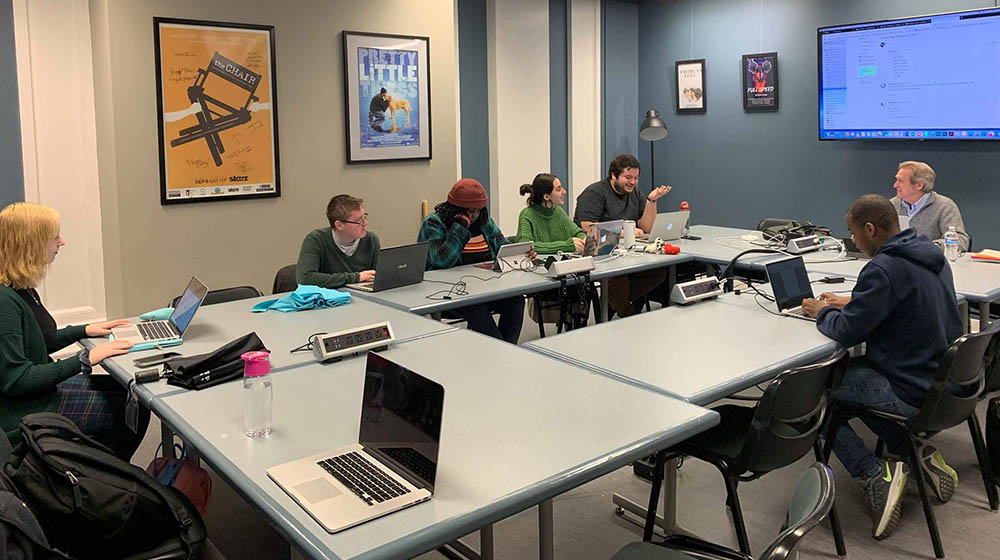 The writer's room is where screenwriting students can workshop their screenplays in a professional setting.
The screenwriting program provides opportunities for collaboration with other writers, filmmakers and animators. Writers will see their ideas brought to life on a variety of mediums and gain intimate knowledge of the industry and its structure. Writers will also have the opportunity to make films, and, by directing actors and composing shots, they can more fully realize the possibilities of visual storytelling.
Inside the Writer's Room
Two 60" Full HD Smart LED TV
HD Webcam Capabilities for Skype Sessions
Power-Outlets at Table for Laptops
Student-Produced Video by Cinema Production Major Ryan Peters '23

Point Park University - Screenwriting Program from Point Park Cinema Arts on Vimeo.
Course Offerings
You will receive a well-rounded education through Point Park's core curriculum and classes in the screenwriting major. Some of the courses in the screenwriting program include:
Acting and Directing for Writers and Filmmakers
TV Animation Writing
Classical and Modern Drama
Intermediate and Advanced Screenwriting
Rewriting the Feature Screenplay
Story Analysis
Writing the Adaptation
Writing the Hour Drama
Writing for Multimedia/Web Series
Writing the Situation Comedy
Video Game Writing