more news
Accounting Students Honored at 2022 FEI Pittsburgh Scholarship Night
Tuesday, April 5, 2022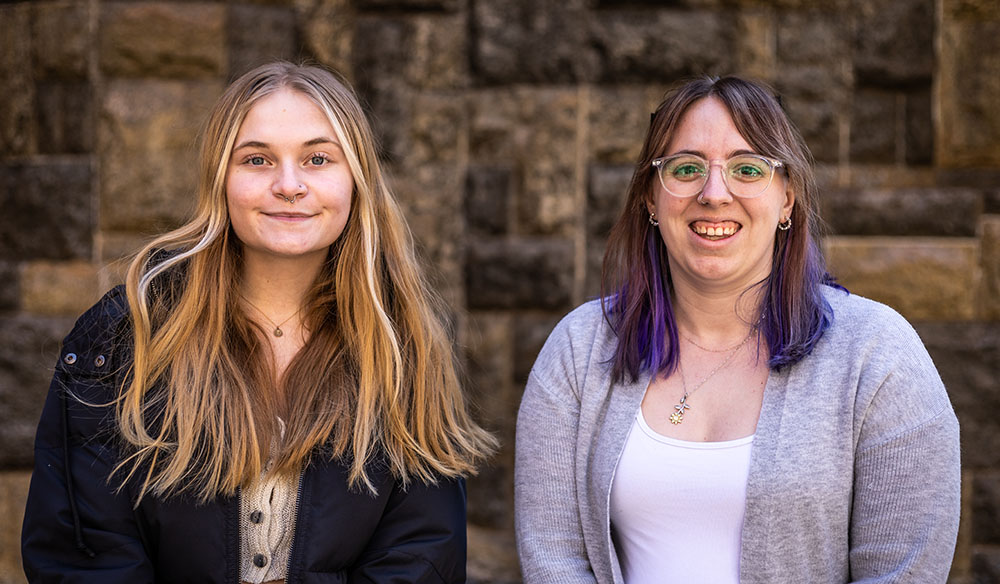 Pictured are Jayme Miller '24 and Allyssa DeMotte '22. Photo by Nathaniel Holzer

, B.F.A. in screenwriting major
"Point Park has aided me tremendously in all of my endeavors. I have amazing professors with whom I share a close connection, and they have introduced me to valuable opportunities."
Jayme Miller '24, accounting major and criminal justice minor
Point Park University's accounting program was well-represented at the 2022 Financial Executives International (FEI) Pittsburgh Scholarship Night as students Jayme Miller '24 and Allyssa DeMotte '22 received scholarships that will help them further their accounting education and careers. 

Miller, who is minoring in criminal justice, received the prestigious FEI Pittsburgh Kuldeep Shastri Memorial Scholarship. Professor Cheryl Clark, MBA, CPA, an FEI member, nominated Miller for the award due to her academic achievement, her enthusiasm for the field of accounting, her integrity, resilience and work ethic.

"Winning the scholarship means so much to me as it has made my extra efforts in my education worthwhile," she said. "I have put an incredible amount of time and work into reworking the Student Accounting Association in terms of attendance and participation, while remaining committed to my coursework. Being recognized for my efforts and rewarded in a way that helps offset my college expenses is tremendous."

"Jayme is an outstanding accounting student and leader of the Student Accounting Association," said Jayne Olshanski, MBA, CPA, assistant professor of accounting. "Her sincere interest in forensic accounting, excellent work ethic and outgoing manner are engaging and contagious."

In a related achievement, Miller was named the student of the month earlier this semester by the Association of Certified Fraud Examiners, a professional organization recommended to her by Point Park faculty due to her interest in the field of fraud examination. Professor Clark nominated Miller for the award due to her demonstrated interest in the field of fraud prevention and deterrence, investigation and law, her academic achievements and her student leadership in Point Park University's accounting program and her career aspirations.

"Being recognized by the ACFE has had an incredible impact on my career path as it has provided me with many connections with real professionals in the field," she said. "It is also a resume booster that allows me to stand out from other candidates pursuing similar careers."

DeMotte received the Certified Management Accountant (CMA) Scholarship, which will help cover the cost of her CMA professional certification.

"It means the world to me," she said. "I first learned about CMA certifications in Intermediate Accounting I. Since then, I've been exploring my options to gain that certification after graduation and mentioned my goal to my accounting advisor, Professor Olshanski, at least once a semester. When Professor Olshanski informed me that I received the CMA scholarship, I was shocked and thrilled that my goals were becoming a reality."

"Allyssa has worked full time to fund her college career and, while doing so, has maintained an outstanding GPA," Olshanski said. "She has overcome challenges and stayed the course like the champion that she is. As the faculty nominator of Allyssa for this scholarship, she is very deserving of this recognition. I am sure she will put it to good use in furthering her accounting career in managerial accounting."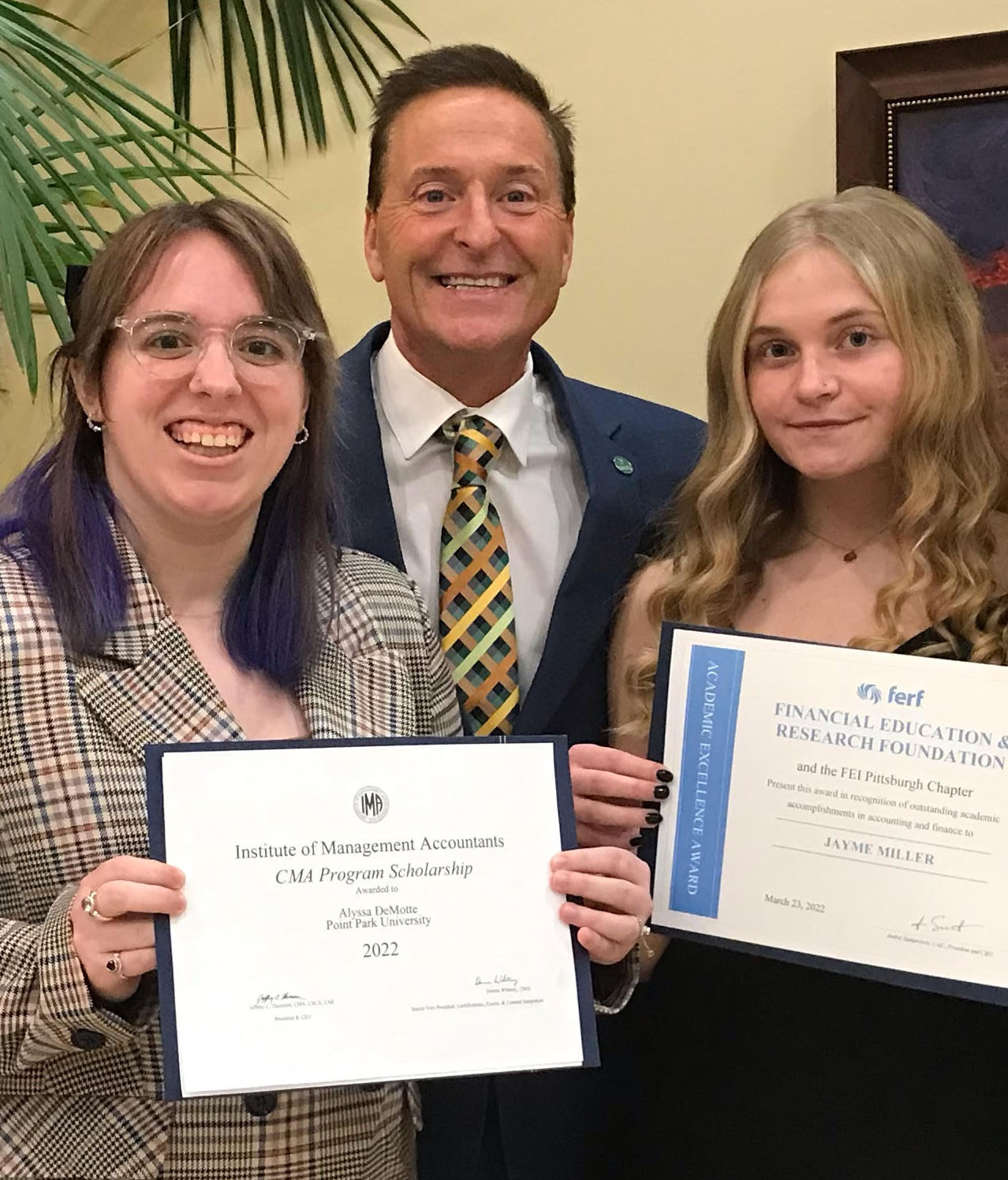 Pictured are Allyssa DeMotte '22, President Don Green and
Jayme Miller '24. 
Point Park President Don Green was the keynote speaker at FEI Pittsburgh Scholarship Night, during which he talked about the pandemic-related changes in the labor market and the importance of collaboration between Point Park and local industry leaders to ensure the University produces high-quality talent.
"I am so proud of our students and faculty, especially Jayme and Allyssa for the honors they received at this great event," Green said. "The audience was so engaged, and we were pleased to tell our Point Park story."
In the Q&A below, learn more about Miller and DeMotte's Point Park experiences. 
How has Point Park's accounting program affirmed your interest in this field?
Miller: Point Park has aided me tremendously in all of my endeavors. I have amazing professors with whom I share a close connection, and they have introduced me to valuable opportunities. Professor Richard Neish, MBA, CPA, and his forensic accounting course have deepened my interest in pursuing a career in forensic accounting and fraud examination. I thoroughly enjoy implementing analytical and problem-solving skills into my work, which Professor Neish emphasizes in his coursework. 
As president of the Student Accounting Association, my involvement with the club has been incredibly beneficial to my overall experience in the accounting program. It has allowed me to network with people in various fields of accounting who work in the Pittsburgh area and to work alongside my peers in the same or similar majors to achieve common goals.
Which faculty have had a positive impact on your education?
DeMotte
: In addition to Professor Olshanski and Professor Clark, the accounting faculty who have made a positive impact on me are
Amy Cesario
, MBA, CPA, and
Margaret 

Gilfillan
, MBA, CPA. They are extremely knowledgeable, and they each made the classes they taught memorable in their own way. The accounting faculty kept classes entertaining and kept me motivated throughout each semester.
Angelo Gargaro
, M.Ed., who currently teaches City-University Life and a few other courses, was my academic advisor when I came to Point Park and is now a great friend to me today. He was there for me through every happy moment or tough time.
What are your career goals?
Miller: I hope to become a forensic accountant in the criminal sector with a governmental agency such as the FBI or IRS. Point Park is helping me to reach my goal by providing me with the education, resources and affiliations I need to be successful. My professors have introduced me to many professionals in the field and have been incredibly supportive.
DeMotte: My career goals have always been to work in the higher-level financial fields of business, and becoming a CFO is my long-term goal. Currently, I am right where I want to be as a project analyst in hedge fund banking. Point Park has helped me reach where I am today with the courses I have taken, the guidance I've received every semester from Professor Olshanski, and providing me appropriate opportunities to continue elevating my experience. I like how the accounting program is diverse when covering the many sides of the corporate world. Every class I have taken in the accounting program has prepared me well for the various roles I've held so far in the field. Point Park has been quite helpful getting me to the job I have today, and I couldn't be more grateful. 
More About: scholarships, Rowland School of Business, faculty, Student Accounting Association, success story, accounting