more news
SAEM and M.Ed. Athletic Coaching Point Park Graduate Managing Professional Athletes
Alumni Profile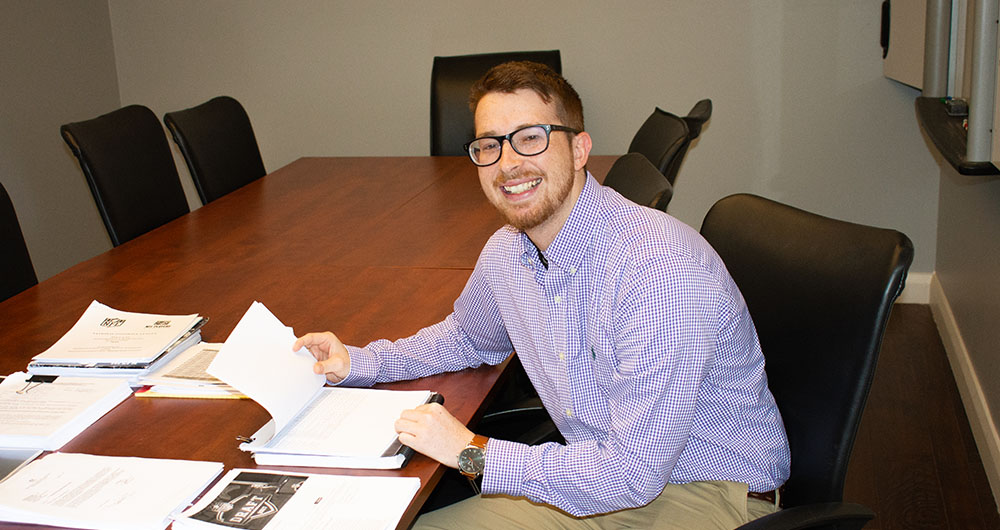 Meet Austin Brooks
Job Title & Employer

Majors

Sports, Arts & Entertainment Management, Athletic Coaching-M.Ed.

Graduation

2018, 2020

College Activities

Member of the Point Park Baseball Team

Scholarships

Baseball and Trustee

Hometown

Fort Lauderdale, Fla.

High School

Western High School

Now Living In

Pittsburgh, Pa.

Hobbies & Interests

Sports, movies and making my friends and peers laugh
"Austin embodies the phrase 'go-getter.' He has a unique skills set combining business savvy with creative design. He exceeds the expectations asked of him and will make an immediate impact in the sports and entertainment industry. Point Park University has provided Austin an abundance of knowledge and faculty who have shown him both the conceptual and practical sides of the industry, giving him the tools necessary to excel beyond the classroom."
Alexander F. Guminski, Esquire, NFLPA Contract Advisor and Attorney
"The classes I took throughout my career at Point Park have helped me tremendously when it comes to marketing and looking for opportunities for our clients."
Austin Brooks
Tell us about your work with pro athletes.
When I worked as marketing manager and assistant in football operations for SLG Sports and Entertainment, my work included overseeing the marketing and social media marketing for the company and clients. SLG represents professional football players in the NFL and CFL. I was in charge of assisting with brand development and coming up with personalized marketing plans for our clients and potential clients that we want to represent.
Another big part of my job there involved setting up our clients with endeavors off the field and various endorsement and sponsorship opportunities. I also assisted in the recruiting process for the agency by studying game film, interviews, stats and everything we needed to know or could find out about the player to see if he or she would be a good fit for us to represent.
Now as director of marketing and client management for Pro Zone: The Agency, I represent the following athletes, handling their off-the-field endeavors.
My clients include: 
Trey Marshall, starting safety for the Denver Broncos

Keith Washington II, defensive back for the New Orleans Saints
Arthur Maulet, starting cornerback for the New York Jets
Derrick Moncrief, linebacker for the Las Vegas Raiders
Niles Scott, defensive tackle for the Cincinnati Bengals 
Tevin

Allen a.k.a. GoldFeetGlobal,

 180k followers on social media, top trainer in the world
Also, I've worked on projects with superstars Deebo Samuel, wide receiver for the San Francisco 49ers and MVS of the Packers for esports.
How have your SAEM classes helped you professionally?
The classes I took throughout my career at Point Park have helped me tremendously when it comes to marketing and looking for opportunities for our clients.
Classes such as Legal Aspects with Instructor and Attorney Hagen Starz, Sports Agents with Instructor Chuck Berry, Personal Branding with Professor Bob Derda and Business Models with Professor Teresa Gregory, along with all the guidance and knowledge I have received from Professor Steve Tanzilli, have given me the best opportunities and tools to be successful in this industry and agent world. Their extensive knowledge and personal work experiences that they shared with me as a student helped me understand how the industry works and the importance of networking.
What attracted you to Point Park University?
Besides getting offered academic and athletic scholarships to play baseball, the campus and location of the University in the heart of Downtown Pittsburgh in a major sports city seemed like an amazing opportunity for me to find a good job in the sports industry.
Also, reading about all the professors and their experiences working in sports, arts and entertainment management, I knew I would be getting the most in-depth knowledge taught to me so it was a perfect fit.
What are your favorite Point Park memories?
My favorite memories are walking across the stage at graduation after all the hard work I put in and life obstacles I had to overcome before arriving to Point Park, as well as all the friends and connections I made along the way.
What are your career goals?
My career goals are to continue to learn and improve every day at my current position as I obtain a master's degree and take my agent exam for the NFLPA. When I do finally become an agent, my goal is to be one of the most respected and loyal agents in the industry.
Connect with Austin Brooks
More About: alumni, Downtown Pittsburgh, M.Ed. in Athletic Coaching, scholarships, Rowland School of Business, student athletes, sports, arts and entertainment management, education