more news
Deborah Kostrub Scott Returns to School for Bachelor's in Accounting
Thursday, June 27, 2013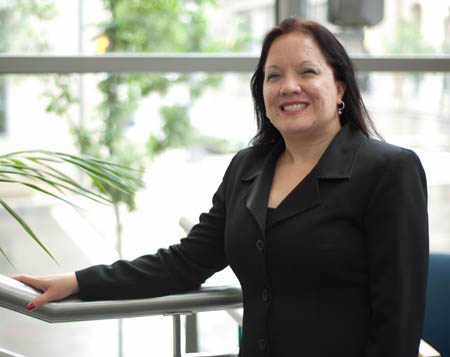 Meet Deborah Kostrub Scott
Degree pursuing: Bachelor of Science in Accounting
Expected graduation: May 2014
Hometown: West Mifflin, Pa.
High School: West Mifflin Area High School
Currently living in: Whitaker, Pa.
College Activities: Team member finalist in the 2012 PIIA/PICPA auditing case study competition and member of Student Accounting Association
Hobbies/Interests: Spending time with my husband and children (when I am not doing school work of course)

How did you hear about the PICPA scholarships available?
I feel quite fortunate that we have several instructors at Point Park including Professors Cheryl Clark and Amy Cesario who inform students in the accounting program about great opportunities for scholarships. I was selected for this particular scholarship based on my academic and professional background and am very honored and pleased to have been awarded.
Why did you decide to pursue a bachelor's degree in accounting?
A few years ago, I decided I wanted to return to school to further my education. I have an associate's degree in business administration, but unfortunately, this often does not enable a person to obtain an adequate job in today's market. I considered several areas of study and thought accounting would be the most appropriate course of study for me in terms of interest and ability. I find the accounting course work quite enjoyable and look forward to being able to utilize my knowledge in a professional work environment in the near future.
What factors made you choose Point Park?
I chose Point Park for several reasons. The availability of the accounting major, as well as being able to transfer some of my credits from my previously earned degree, were definitely factors. I also liked that Point Park's campus is in Downtown Pittsburgh, a centralized location that is easy to access. On the day I came to visit, I was pleased with the campus' appearance and the services offered.
How is Point Park helping to prepare you for your accounting career?
The most important factor is that we have many wonderful instructors who truly care about our success. If a student needs assistance with any academic issue or question, help is easily obtained. Often instructors will give us additional information about the accounting field and situations we may face in this type of professional work environment.
What advice do you have for non-traditional students pursuing degrees?
This is a great question! You must make a commitment to allowing enough time in your life to complete your required school work. You will work very hard and be required to do a considerable amount of academic activities. That being said, you will learn so much and grow as a person both on an academic level as well as a personal level. I started as a part-time adult student and then in the fall of 2012, I took on a full-time course load. I am truly amazed by what I've learned and accomplished since starting here in January of 2011.
More About: scholarships, West Mifflin Area High School, accounting, Student Accounting Association, Rowland School of Business, student competition, Downtown Pittsburgh