more news
Fall Fest 2016 Features Alumni Band Nevada Color and Music Artists from Pioneer Records
Friday, November 18, 2016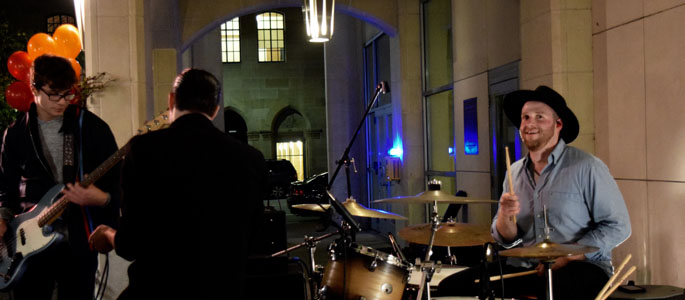 Pictured is Nevada Color performing at Point Park's 2016 Fall Fest held on campus in Village Park.

Point Park University's Campus Activities Board hosted more than 200 people for its Fall Fest held on campus Nov. 14, featuring performances by Pioneer Records artists Hannah Jenkins, John Kono Rushlander with Grandadchilds and Chase and the Barons.
Headlining the music festival was Point Park alumni band Nevada Color, voted Best Pop/Rock Band for 2016 by Pittsburgh City Paper.
Students enjoyed the live performances while sipping on hot apple cider and cocoa, and eating pizza from Downtown Pittsburgh's Pizza Fiesta, located near campus.
"Professor Ed Traversari, Molly Knepper and the rest of the Pioneer Records team were extremely helpful in assisting with the timeline, sound system and organization of the show," explained Jocelyn Hyrb, a senior sports, arts and entertainment management major and CAB spirits and traditions coordinator from Bethel Park High School in Bethel Park, Pa.
"CAB handled food, décor, lighting, staffing, layout, etc.," Hyrb said.
"It was a great experience working with Joci and her committee on this event. I really feel it will be the start of many more shows put on in collaboration with CAB," said Knepper, a sophomore SAEM major and booking/sales manager for Pioneer Records from Richland High School in Johnstown, Pa.
"The highlight of the night was seeing how excited and involved the students were when Nevada Color was on stage," Knepper added.
Hyrb and Knepper both attributed the concepts they have learned in their SAEM classes to helping them make Fall Fest a success.
"Many of my SAEM classes, such as Event Management and Facility and Venue Design/Administration, taught me how to plan and execute an event as well as plan out all the logistics," remarked Hyrb. "Special shout out to Point Park student Eric Johnson, who ran sound for the entire event."




Photos by Alyssa King, a sophomore SAEM major minoring in broadcast production
More About: Downtown Pittsburgh, Rowland School of Business, Pioneer Records, sports, arts and entertainment management, Richland High School, Bethel Park Senior High School, Campus Activities Board