more news
M.B.A. Health Systems Management Graduates Excel in Careers at UPMC Health Plan
Thursday, December 8, 2016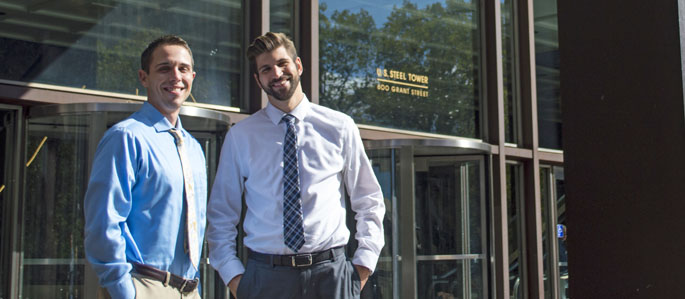 M.B.A. graduates Joseph Veltri and Benjamin Eonta outside of UPMC Health Plan's headquarters in Downtown Pittsburgh

One of the main reasons UPMC Health Plan employees - and graduate school classmates - Benjamin Eonta and Joseph Veltri both chose Point Park University's M.B.A. program in Downtown Pittsburgh was for its concentration in health systems management.

"From the very first M.B.A. class they took, Accounting for Managers, Ben and Joe were dedicated to their studies. In their health systems management concentration classes, they both used the knowledge gained from their M.B.A. core classes and their current positions to thoughtfully discuss the health care sector and how policies affect patients," explained Professor of Business Archish Maharaja, Ed.D.

"They frequently contributed to class discussions, which is something we actively promote in our M.B.A. program," Maharaja added.
In the profiles below, Eonta and Veltri talk about how their M.B.A. classes have helped them in their positions, why it's important for health care professionals to earn M.B.A. degrees, their favorite Point Park memories and their career goals for the next five years.
Operations Analyst, Lead
M.B.A. 2016 Graduate

"Many of the classes I took at Point Park help me on a daily basis at UPMC Health Plan. In my position as an operations analyst, I meet with members of the business, sales and marketing teams every day. In these meetings I am able to apply a variety of skills I learned during my M.B.A program."
Manager, Sales Support and Administration
M.B.A. 2015 Graduate


"The M.B.A. classes have helped me with my career because they were taught by successful professionals with real-world experience in relatable fields. These professors passed along their knowledge to me so that I could apply it to my own career."
Photos by Shayna Mendez, a senior photojournalism major
More About: Rowland School of Business, M.B.A., alumni, graduate programs, Downtown Pittsburgh, UPMC