more news
SAEM Alumni Thrive in Nashville Entertainment Industry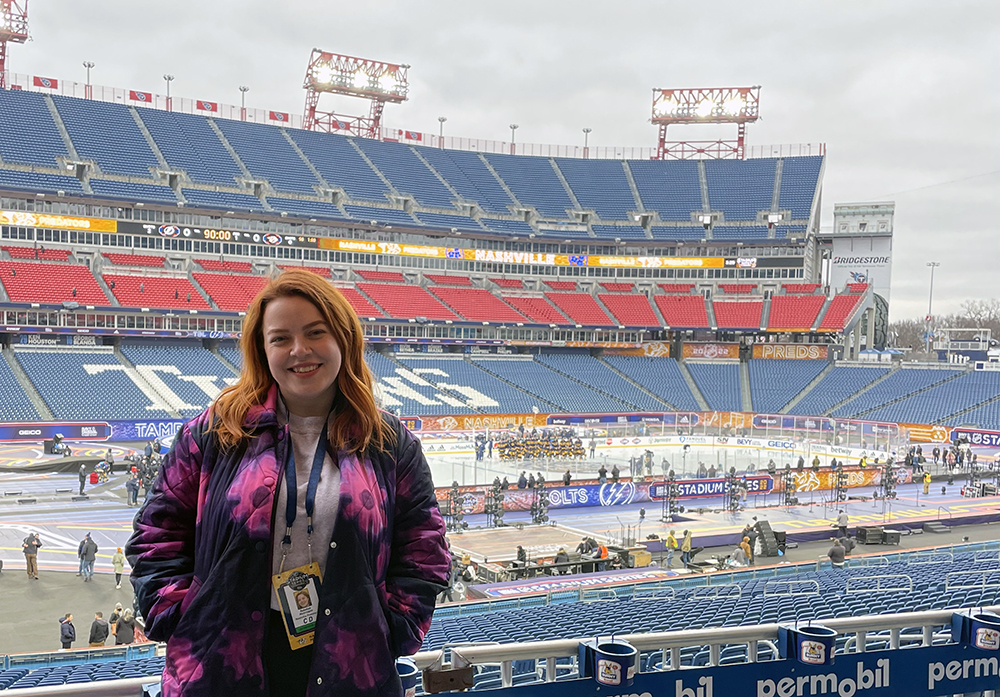 SAEM alumna Rebekah Mohrmann '18 poses for a photo at the 2022 Navy Federal Credit Union NHL Stadium Series game at Nissan Stadium. Mohrmann is the Nashville Predators' social media coordinator. 
"I landed multiple internships and jobs throughout my career because of the connections I made and the opportunities I was given at Point Park. On top of that, Point Park's campus is in the heart of a beautiful city. Living in Downtown Pittsburgh is such an amazing experience!"
Rebekah Mohrmann '18
When students enroll in Point Park University's Sports, Arts & Entertainment Management (SAEM) program, they can expect to be made day-one-ready for a vast landscape of career options. They will graduate with the business acumen, hands-on experience and industry knowledge needed to launch a successful career.
"With our experienced, talented faculty, we offer a program that helps students pursue their dreams of working in the music business, sports industry, performing arts and more in vibrant cities all over the country," said Ed Traversari, professor of SAEM. 
Take for example Nashville, the Music City with flourishing opportunities in sports, arts, music and more. Year after year, Point Park alumni put down roots in this hotbed of live entertainment and build impressive careers. 
"Our alumni's jobs span the full gamut of what's possible in Nashville, such as working with touring acts and major entertainment venues, performing in their own musical groups and managing the business side of the industry," Traversari said. "Through Point Park's relationships with employers in Nashville, we are able to assist our students in making valuable connections to help them land a role in their chosen field."
In the Q&A below, hear from Nashville-based SAEM alumni Rebekah Mohrmann and Evan Pearson about how Point Park set them up for success in Music City. 
Rebekah Mohrmann '18
Social Media Coordinator, Nashville Predators
College activities: SAEM Club, Pittsburgh Center for Sports Media and Marketing, Her Campus Point Park and Honors Program
Hometown: Prompton, Pa.
High school: Honesdale High School
Hobbies/interests: Traveling, reading and catching any concert I can!
Connect with Rebekah: Twitter, LinkedIn and Instagram 
How did the SAEM program prepare you for career success? 
When I started at Point Park, I wasn't sure if I wanted to work in sports or entertainment, and the SAEM program gave me the freedom to explore and keep myself open to all different types of opportunities. Additionally, the SAEM program's heavy emphasis on internships proved to be so important to my success down the line in the sports industry.
Who were your favorite faculty members and why?
I took a class with Jennifer Ridgely, senior vice president of communications at the Pittsburgh Penguins, and it was my favorite class I took while at Point Park. She was a huge inspiration to me when I began to pursue a career in sports, and it was so amazing learning from her about the ins and outs of communications in professional sports.
School of Communication Professor Emeritus Helen Fallon was also very important to my success at Point Park, both through my schoolwork as well as in the Honors Program. She consistently encouraged me to push myself and for that, I have always been grateful! 
Lastly, through my minor in multimedia, I took a journalism course with Bill Moushey. I learned so much in that class, and I wouldn't be the writer I am today without his guidance. The knowledge I took from that class has been an integral part of the success I've had in my career.
Describe your current role and what you enjoy about it.
As the Nashville Predators' social media coordinator, I help oversee the day-to-day management of the team's social media accounts. I primarily work with our corporate partnerships department on sponsored assets, but I also assist with real-time and organic content.
What I love most about my job is being a conduit between the fans and the team. The Predators have such a passionate fanbase, and they care so much about this city and this team. The community that has been created here is unmatched. Getting to help bring the story of the team to that fanbase and grow that connection is by far the best aspect of my job.
What do you love about living and working in Nashville? 
I am a huge live music fan, so living in Nashville and working in sports gives me the best of both worlds. Also, I grew up in a rural area but have always loved the city, and Nashville's structure lends itself to both. It's the perfect blend for me. I've always felt at home here since the first moment I stepped foot in the city.
What advice do you have for current SAEM students?
Get involved in anything you can, and don't say no to an opportunity just because it may not be exactly what you want to do. I worked in so many different areas of this industry while at Point Park, and every single one of them proved to be valuable in my career down the line.
Why would you recommend Point Park and the SAEM program to a prospective student?
A lot of the time, working in sports is all about who you know, and Point Park and the SAEM program provide students with so many of those valuable connections. I landed multiple internships and jobs throughout my career because of the connections I made and the opportunities I was given at Point Park. On top of that, Point Park's campus is in the heart of a beautiful city. Living in Downtown Pittsburgh is such an amazing experience!
---
Evan Pearson '16
Artist Manager, Booking Agent and Drummer, Tanglewood and CPR Entertainment
College activities: Pioneer Records intern and artist
Hometown: Upper St. Clair, Pa.  
High school: Upper St. Clair High School 
Hobbies/interests: Playing music and going to shows
Connect with Evan: LinkedIn | Tanglewood: Facebook, Instagram, TikTok and YouTube 
Why did you choose Point Park?
I chose Point Park because it was the only school I found during my research that had a dedicated degree to management in the entertainment industry that was also well respected, and it had produced a number of music industry professionals I respected working in Pittsburgh. I also met with Ed Traversari before making a decision. His experience in the industry and track record of educating successful individuals really won me over. He has some legendary stories, too.
How did the SAEM program prepare you for career success?
SAEM prepared me for my current career path by pulling back the curtain on the music industry and revealing how much work goes into it, including live entertainment, touring, concert productions, marketing, booking, management and more. Working with Pioneer Records gave me valuable experience learning about artist development and the recording industry as a whole. There were also plenty of opportunities to meet and work with accomplished, current industry professionals.
What have you been up to since graduating?
I spent two years in Pittsburgh doing various freelance work in several different areas of the industry and managed a band that was formed at Pioneer Records. After visiting Nashville in 2018, I knew that making a change in my location could help me propel my career to where I wanted to take it. In the almost five years I've been in Nashville, I've worked for a number of industry giants, such as Ryman Entertainment, the company behind the historic Ryman Auditorium and Grand Ole Opry; Spotify; Live Nation; Activist Artist Management and more. I made many industry connections and started my own business as a freelance artist management and booking agent.
Describe your current role and what you enjoy about it.
I manage, book shows and play drums for Tanglewood, a band I started with friends I met in Nashville. We've grown it into a full-time career in just three years. Last year, we played over 120 shows, and we're on track to play even more this year. I love watching this project grow. It's great that I get to combine all the things I love about the industry into one job that I created through my own hard work and determination. 
I also work as a booking agent for CPR Entertainment. I book tours for the international artists that we represent. I work closely with the founder of the company, Gina Mendello, to create opportunities in the U.S. for fantastic international artists looking to make a mark here. I really enjoy working with Gina because she has been a great mentor to me and taught me a lot of the tricks of the trade through first-hand experiences. She's very knowledgeable in all sides of the industry and her guidance has led to multiple career breakthroughs for Tanglewood. 
What are your fondest Point Park memories?
My fondest memories of Point Park are centered around my time at Pioneer Records. Getting to hang out with Ed and some of the best friends I've ever met while developing young artists was such a fulfilling experience. The time I spent there really helped morph me into who am I as a music industry professional today.
Is there anything else you'd like to add?
My number one career goal has always been to own and operate my own live music venue, but for now, my goals include growing the Tanglewood brand as we begin releasing original music and help develop a platform in the U.S. for the artists at CPR Entertainment. I also hope to have a ton of epic stories like Ed Traversari one day.
---
Learn more about Professor Traversari's storied career in live entertainment:
Explore more SAEM stories:
More About: Stage AE, Upper St. Clair High School, Honors Student Organization, alumni, success story, School of Communication, multimedia, Pittsburgh Penguins, Honors Program, Rowland School of Business, faculty, sports, arts and entertainment management, Pioneer Records, Sports, Arts, Entertainment and Music Partnerships