more news
SAEM High School Day at Stage AE Covers Paths to Sports, Arts and Music Business Careers
Tuesday, May 2, 2017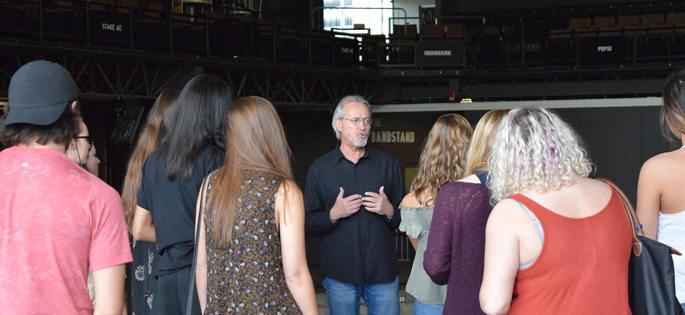 "I can't wait to pursue a job in this industry … thanks for today, @pointparku," said Angela Deep, a student at Butler County Community College and graduate of First Baptist Christian School in Butler, Pa., in her April 27 Instagram post.
For Deep, attending Point Park University's Sports, Arts and Entertainment Management High School Day at Stage AE sealed the deal in her decision to transfer into the SAEM program this fall.
"The opportunities that students have at Point Park are so unique. I like that you can take class in a music venue while learn about the industry," Deep said.
Joining Deep at the SAEM event were nearly 60 students from Montour, Carrick, Pittsburgh School for the Creative and Performing Arts, Our Lady of the Sacred Heart and other high schools across the region.
"We hold this event each year to help high school students understand the career options available to them in the sports, arts and entertainment fields," explained Paige Beal, M.B.A., assistant professor and chair of the SAEM department.
"In many instances, this day results in an 'aha moment' as students learn that a career path exists where they can be an integral part of something (sports, arts, music, etc.) that they love," Beal said.
Associate Professor of SAEM Ed Traversari, M.B.A., added: "In our program, you're able to see how it all works in these industries."
Highlights of this year's SAEM High School Day included meeting with SAEM faculty, touring Stage AE, hearing about the SAEM Club from students Baylee Zimmerman and Jaron Andrechak and watching Chase Barron from Chase and the Barons perform a few songs including his latest single, "Rule the World."
Chase and the Barons is the latest music act to be signed by Pioneer Records, Point Park's student-run record label.
"At Point Park, everything is very hands on," Barron told the students. "As a Pioneer Records artist, I had the opportunity to record an EP at a really awesome record studio in Downtown Pittsburgh. It's now available on Spotify, iTunes - basically anywhere you get your music."
Devon Colebank, a senior from Albert Gallatin High School in Uniontown, Pa., will be majoring in SAEM at Point Park in the fall.

He said: "I've always been interested in this field. I have my own business and manage a couple artists. This high school day at Stage AE was a wonderful experience to actually see a concert area behind the scenes."
"I continue to be very impressed with Point Park's faculty. Today has been awesome so far," said Mitch Vacco, a senior at Montour High School in McKees Rocks, Pa., who is currently taking the Point Park-led SAEM 101 course.
Jocelyn Bankson, a senior at Oil City High School in Oil City, Pa., and incoming Point Park SAEM freshman added: "I love everything that has to do with SAEM. I'll be focusing on entertainment management. I've never heard of a degree like this before. The SAEM program is so special."



Photos by Gracey Evans, junior photojournalism major
More About: sports, arts and entertainment management, Oil City High School, Our Lady of the Sacred Heart High School, Rowland School of Business, Carrick High School, Albert Gallatin High School, First Baptist Christian School, Stage AE, Pittsburgh CAPA, high school programs, Pioneer Records, Montour High School