more news
SAEM Major Named Outstanding Graduating Senior for the School of Business
Thursday, May 24, 2012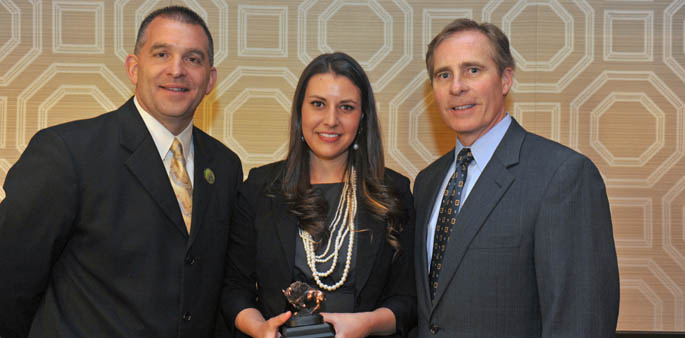 Keith Paylo, dean of student affairs and dean of students, (far left) and Paul Hennigan, Ed.D., University president, present the Outstanding Senior Award for the School of Business to Rachel Kernic at the 2012 Outstanding Student Awards.
Meet Rachel Kernic
Hometown: Cranberry Township, Pa.
Degree earned: Bachelor of Science in sport, arts, and entertainment management
Minor: Business administration
Graduated: May 2012
College Activities: Member of the Pittsburgh Pirates' Cannonball Crew and co-founder of Glitzburgh, a black-tie fashion show that has raised more than $50,000 for local children's charities
Interests: Traveling, baking, and the outdoors
What makes the SAEM program unique?
The professors absolutely make the program unique. They are not just average instructors teaching from a book. For example, SAEM professor Steve Tanziilli is a sports agent while Ed Traversari works as a promoter. They bring their experiences into the classroom and can give advice on what they've encountered in their careers.
What do you recommend to current students to make the most of their time at Point Park?
Engage in activities, volunteer, and follow the guidance of your professors. Also, do research and take classes that will help you the most. Lastly, it's simple advice, but go to class. It will help you stay on track and retain the most amount of knowledge.
What's next for you?
I actually have an interview lined up this week for an events coordinator position. I hope to get a job in event planning. I would like to stay in the Pittsburgh region but am open to moving. Pittsburgh has a lot of potential in my field so it would be great to stay here and experience the growth.
Is there anything else you'd like to add?
I really enjoyed my time at Point Park. It's a great school. Point Park has prepared me for my career field by giving me both classroom knowledge and real world experience.
News articles on Kernic and Glitzburgh
Read more about Kernic in the articles "Fundraiser Planned and Produced by SAEM Students Raises $14,000" and "SAEM Students Raise $20,000 at Glitzburgh 2011."

View pictures from Glitzburgh 2012 here: "Pittsburgh celebrities walk runway at 2012 Glitzburgh event."

Check out a Pittsburgh Post-Gazette newsmaker article on Kernic here: "Recent Point Park graduate put sparkle in 'Glitzburgh' fashion show.
Soon after this interview, Kernic landed the events coordinator position she applied for at Phipps Conservatory and Botancial Gardens. Congrats, Rachel!
More About: Rowland School of Business, Outstanding Student Awards, sports, arts and entertainment management, success story