more news
Students Showcase Their Business Knowledge in Chair's Challenge Case Competition
Friday, April 17, 2015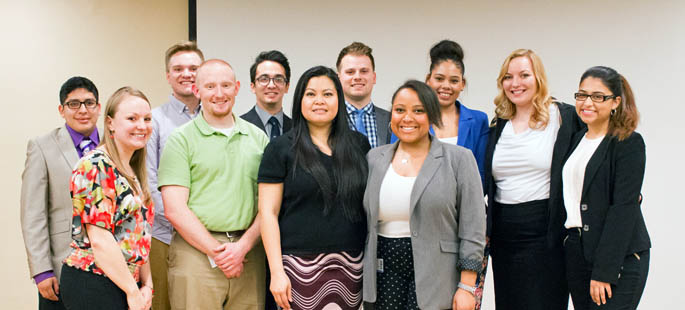 School of Business students put their accounting, finance, marketing and business management skills to the test in the inaugural Chair's Challenge Business Case Competition held April 9 in Point Park's JVH Auditorium.
"The purpose of the event was to provide our students with the experience of preparing a business plan incorporating the knowledge they have acquired in class over the past two to four years," explained Edward Scott, C.P.A., M.B.A., chair of the Department of Business and George Rowland White Endowed Professor of Accounting and Finance.
Teams were required to submit a written business plan detailing the operating, marketing and financial functions of a fictitious start-up business. The groups then presented their plan and participated in a question-and-answer period led by the competition's judges.
"I created the financial statements for our business plan so I was able to apply what I've learned in my accounting courses. I had to make sure the money in our business accurately represented our strategic and operations plans," remarked Gabriel Dubin, a junior double majoring in accounting and intelligence and national security.
Dubin's career goal is to work for the FBI as an accountant involved in the investigation of white-collar crimes.
As part of the competition, team members assumed the role of chief executive officer, chief financial officer, chief marketing officer or chief operating officer.
The winning team was made up of accounting seniors Chris Cerda, Marcy King, Khouanchay (Kay) Krueger and Jonathan Robbins. Each member on the first place team earned a $250 gift card. Their mock company was "Wags to Riches," a 24-hour, full-service lodging, spa and wellness center focused on the well-being of dogs.
"My business and accounting courses gave me the knowledge and foundation to succeed in this competition. I also knew my team members and I were committed to working hard and delivering a solid business plan," said King, whose goal is to work in the public accounting field following graduation.
Second place team members Shayla Hill, Ben Katz and Dubin were awarded $150 gift cards while Erika Mangual, Alejandro Pastor, Imani Booker-Day and Destiny Medina each received $100 gift cards for placing third in the competition.
"My business courses certainly helped me come up with ideas for marketing as well as operations," said Booker-Day, a junior business management major. "This was a wonderful experience. It gave me insight into what it will be like to start a business."
"All of the classes I have taken thus far helped out in such a big way when it came to this competition," remarked Medina, a sophomore majoring in accounting.
After graduating from Point Park, Booker-Day plans to attend culinary school and become a restaurant owner while Medina would like to work for one of the Big Four accounting firms.
"The judges asked very tough questions at the competition. I was impressed with the students' composure and ability to think on their feet. I believe they learned a lot from this Shark Tank experience," said Scott.

Photos by Victoria A. Mikula, sophomore photojournalism major
More About: accounting, economics and finance, student presentations, Rowland School of Business, student competition, business management