more news
First Amendment Photo Exhibit Opening at the Center for Media Innovation
Tuesday, September 13, 2016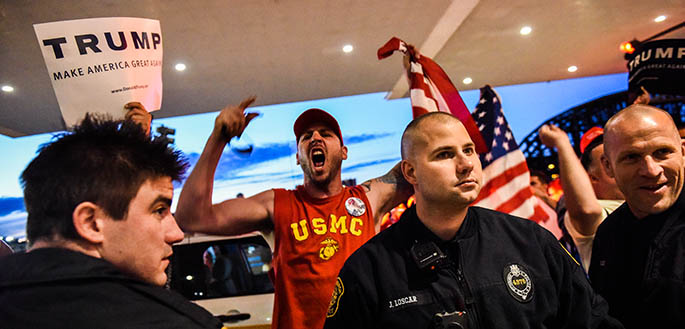 "Free Speech II" by alumnus Sean McKeag

As part of the Center for Media Innovation's grand opening week of events, students and the public are invited to the gallery opening of "Photojournalism and the First Amendment" Friday, Sept. 16, from 4-7 p.m. in the new center.
The exhibit, featuring photos by professional and student photographers, captures expressions of free speech and contemplates the treatment of that right, particularly during the current contentious election season. Matt Adams, associate photo editor at National Geographic and former Point Park University photojournalism instructor, co-curated the exhibit with Chris Rolinson, associate professor of photography and photojournalism.
"Photographers are really going out there with the people and documenting what's happening now during this election season."

-- Matt Adams

---
Related Links
"What's really cool about this is it's a mix of work from people who are students at Point Park, people who are alumni and also some professionals who are working for local media companies," said Adams. "Photographers are really going out there with the people and documenting what's happening now during this election season."
Adams' job at National Geographic entails choosing and editing photos submitted by amateur and professional photographers from around the world through the publication's "Your Shot" program. For the upcoming exhibition at Point Park, Adams and Rolinson narrowed down about 70 submissions this summer. Images include not only scenes from the campaign trail, but also from protests in Pittsburgh and around the United States.
"[Adams] and I would look at each photo and ask, 'Does it have an impact?' 'Is it completely connected to the First Amendment?' and then we looked at the composition," said Rolinson. "The images are all professional images, even the student work in there is at a professional level. That made the selection process that much harder."
Both Rolinson and Adams say the photos left an impression on them; Rolinson mentioned a photo of a man being ushered into an ambulance after a scuffle with police.
"You see a group of photographers around him who are exercising their First Amendment rights, and the exhibit is about that. You see photographers doing work like that in a tense situation, it amplifies that they have the right to be there and are doing their jobs by documenting for the American people these events, good or bad."
"One of my favorites is a black-and-white image of protesters holding up a sign that said '#EndWhiteSilence,'" said Adams, referring to a photo of a Black Lives Matter protest in Pittsburgh. "It's really awesome what this image captured. The signs are lit up, and there's a car right behind the protesters and they're illuminated by the headlights. The image conveys uncertainty and emotion."
Laura Quinn, a graduate assistant in the School of Communication's photography and photojournalism programs, has been shepherding the printing and framing process for the exhibit photos over the past few months.
"A lot has happened within the past year that many of us have been vocal about, or at least formed an opinion about. While we are constantly hearing about the presidential election, the state of our country and its future, this inaugural exhibition is being displayed at an important time," Quinn said. "It should inspire viewers to reflect upon recent events and spark conversations about our values and concerns."
The opening reception for the "Photojournalism and the First Amendment" gallery exhibit is 4-7 p.m. Friday, Sept. 16. The photos will be on display through Oct. 7.
Article by Ashley Murray, an M.A. in media communication student/graduate assistant for the Center for Media Innovation
More About: Center for Media Innovation, student workshop, photojournalism, faculty, alumni