more news
Francesca Fronzaglio Receives Media Association of Pittsburgh Scholarship
Wednesday, June 21, 2017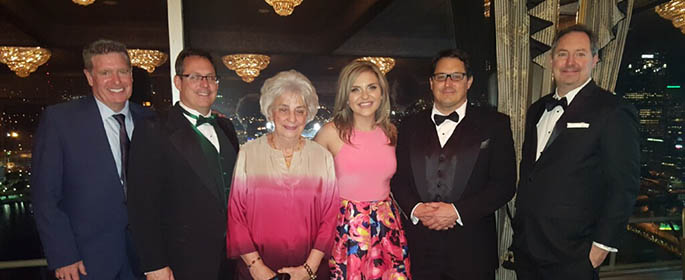 School of Communication student Francesca Fronzaglio (center) is the recipient of the 2017 Media Association of Pittsburgh (MAP) scholarship. The $1,500 scholarship - established by iHeartMedia in honor of Mary Beth Beggy Fischerkeller - is awarded to college students pursuing degrees in media or communication. Fronzaglio received the award at the 29th Annual Outstanding Achievement in Media Awards Dinner at the Lemont Restaurant June 9.
Meet Transfer Student Francesca Fronzaglio
Major: Broadcast Reporting
Expected graduation: December 2017
College activity: U-View (I produce my own show and report for others)
Internship: PantherVision for University of Pittsburgh Athletics (I worked in the control room during games broadcast on ESPN)
Scholarship from Point Park: Presidential
Hometown: Belle Vernon, Pa.
High school: Belle Vernon Area High School
Hobbies/interests: Going to concerts, martial arts, photography, videography, volunteering, working out, shopping, spending time with friends, traveling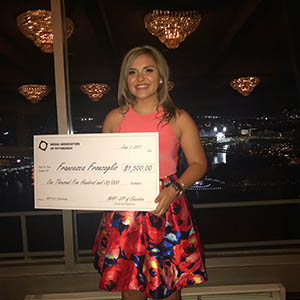 What does it mean to you to receive this scholarship?
To be recognized for my hard work makes being a broadcast reporting student extremely worth it. MAP is one of the most prestigious professional organizations, and Mary Beth Beggy Fischerkeller was a highly respected professional in this industry - to win an award with her name on it is an honor.
What types of networking opportunities did you have at the awards dinner?
I met with so many professionals, including School of Communication Part-Time Instructor Duncan Jameson and Mary Beth's family and friends. Afterwards, I added them on LinkedIn. Also, it was really nice to be in the same room with professionals who I watch on television/listen to on the radio.
Why did you transfer to Point Park?
I saw the success of Point Park alumna Alicia Lyons ('13) and I wanted to follow in her footsteps. At one point, I felt lost at my other school and wasn't sure if I would be able to succeed in what I want to do.
I met with Point Park Professors Robin Cecala and Thom Baggerman before transferring and they answered all of my questions, and it felt like the perfect next step. I am so happy I transferred to Point Park - I'm finally enjoying school and accomplishing my dreams!
What have been the most rewarding experiences for you at Point Park?
I have been able to network with so many guest speakers and alumni. Alumnus David Perozzi spoke to students in the Center for Media Innovation last spring to talk about his career path to ABC News. After his visit, we even connected on LinkedIn and Facebook. He reviewed my resume and gave me great advice on who to keep in contact with when looking for a job. Networking is so important and I am extremely thankful that Point Park has these types of opportunities for students.
In what ways is Point Park preparing you for your career?
Point Park's student-run television station, U-View, is the biggest factor in improving my reporting skills and becoming a better journalist. We get hands-on experience reporting real stories on camera, running different equipment in the control room and even editing our work. Our classes require this, but with extra practice from U-View it makes the classes easier to succeed in. The professors also give us real-life assignments that would be in our career, which I really appreciate and enjoy.
What are your career goals?
The first plan is to move to Los Angeles after graduation. I really want to work in the entertainment or sports industry. I am extremely active in the music industry as well. Eventually, I plan on attending graduate school and law school to be a lawyer representing musicians or athletes.
More About: broadcast reporting, School of Communication, faculty, internships, U-View, scholarships, Center for Media Innovation, transfer