more news
Internship Profile: Kariann Mano, Marketing and Community Affairs, Carnegie Science Center
Tuesday, December 8, 2015
Meet Kariann Mano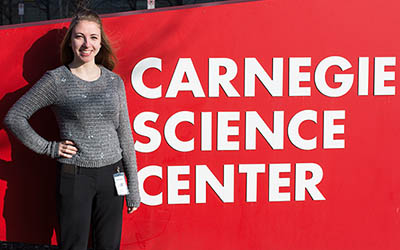 Internship: Marketing Communications and Community Affairs Intern, Carnegie Science Center
Major: Public relations and advertising, May 2016
Hometown: Marion Center, Pa.
High school: Marion Center Area High School
College activities: PRSSA, The Globe, SAEM Club, Honors Program and Honors Student Organization
Hobbies/interests: Reading, baking, yoga and hanging out with my friends
Scholarships: School of Communication, Trustee and the Pittsburgh Advertising Federation Scholarship
LinkedIn: Kariann Mano
Twitter: @KariannMano
How did you land your internship at the Carnegie Science Center?
I like working at smaller organizations and knowing that their mission and values strive to help the community. After working at my last internship (marketing/outreach intern for Pittsburgh Restaurant Week), I wanted to find a place that was unique to Pittsburgh, but one that reflected the community values I was looking for. I saw that the Carnegie Science Center had internships and applied right away after looking at the responsibilities of the intern. After getting an interview and preparing myself, I was offered the internship. I then attended an orientation, to familiarize myself with the handbook and other customer situations.
What's a typical day like at your internship?
There is never a day that's the same! I'm usually working on writing a news release, checking social media, or, recently, working on some market research so the marketing department can understand where their biggest audiences are. Often times, I help my supervisor when different media come in, acting as a media relations representative for the Carnegie Science Center.
What have you learned at this internship that will help you in your career?
Since I've been exposed to working with the media in this internship and all of the research I've completed, it has really opened my eyes into the diverse field of PR. Of course, my classes have taught me that there isn't just one direction that you could go into in public relations, but being able to experience this firsthand, really opens my eyes. It's good to know that what I'm learning in the classroom can and will be applied to my career.
What's it like having an internship within walking distance to campus?
It's wonderful! I walk down to the T-station (light rail) and take the T to the North Shore, but it's such a (free!) quick commute. It makes me realize how special Point Park is, being so close to important organizations that I can literally just walk there - not have to worry about driving and/or taking buses to and from the area I'm working in. It's made me think about staying in Downtown Pittsburgh after I graduate if I get a job here, just because it is so convenient and green.
What factors led you to attend Point Park?
I'm from a very small town. I didn't want to go to the same college that everyone else was going to and I wanted a new experience. Pittsburgh isn't too close to my hometown, but it is close enough that I could go home if I wanted or needed to. Point Park is right in the middle of Downtown and gives its students wonderful opportunities, not to mention it has small class sizes.
What are your career goals?
I would love to get the chance to travel with a company and work my way up in the organization. My dream is to work for Ketchum, and with numerous locations across the country and world, it would be amazing to be able to work there.
Is there anything else you would like to add?
Each internship I've had just keeps getting better - I can't wait to see what I'll land in next semester!

Photo by Victoria A. Mikula, junior mass communication major
More About: internships, AdFed/PRSSA, Honors Program, School of Communication, Downtown Pittsburgh, public relations and advertising, Honors Student Organization, The Globe, scholarships