more news
MA/MBA Graduate Student Spotlight: Meet Stacey Federoff '21
Student Profile
Stacey Federoff '21 — 5 images
Stacey Federoff is an MA/MBA student and graduate assistant for the Center for Media Innovation.
Meet Stacey Federoff
Job Title & Employer

Communications Intern, Mindful Kreative

Major

Concurrent M.A. in Media Communication and MBA

Graduation

April 2021

Hometown

Sutersville, Pa.

High School

Yough High School

Now Living In

Edgewood, Pa.

Hobbies & Interests

Collecting records, Halloween, rock climbing and community service. I lead the Women's Press Club of Pittsburgh as president, serve as a board member of the Pittsburgh chapter of Public Relations Society of America and co-organize the annual West Newton Avenue of Flags display. At Point Park last year, I helped re-establish the Graduate Student Association, which had been dormant for four years, and served as president.
"As someone who previously taught communications and public relations courses at Point Park University, I can say firsthand that Stacey's coursework has provided her a deep understanding of the different styles and nuances in public relations complemented by her impressive background in journalism. Partnered with her additional studies in business, she is really able to understand the big picture strategy and goals of our clients."
Melinda Kaiser, President of Mindful Kreative
"At Point Park, I've gained a deeper understanding of new industries and built relationships with fellow students, faculty and industry leaders. It was a big decision for me to go back to school full time, but I am so glad that I did."
Stacey Federoff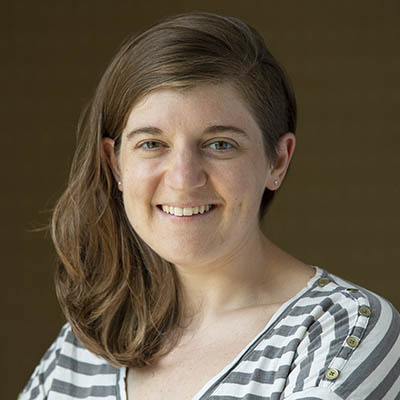 As a professional journalist for eight years, what attracted you to pursue an MA/MBA at Point Park University?
The opportunity to work as a graduate assistant at the Center for Media Innovation was what piqued my interest to pursue masters' degrees at the University. I was acquainted with CMI Director Andrew Conte, M.S., from my previous experience as a reporter at the Tribune-Review. Through my role with the Women's Press Club, I knew he had been doing good work at the CMI since it opened in 2016. 
In what ways has your assistantship enhanced your graduate experience?
My experience would be entirely different! The graduate assistantship has allowed me to feel much more connected to the University as a part-time staff member, and given me the financial support to be able to earn my masters' degrees. As a GA, I've had the chance to be more than just a student going to class, instead I get to impact how community members and potential students become acquainted with and interact with the University. In my role, I have led 20 workshops for high school students about media literacy and I've also been able to help plan High School Media Day twice per year.
I also run the social media accounts for the CMI (Facebook and Twitter), so I get to put into practice what I'm learning about in public relations. Any time I have an idea, Andy [Conte] has an open mind. For example, I suggested, then designed and implemented a monthly email newsletter, which goes out to about 1,200 people. I appreciate the trust Andy and Administrative Assistant Lisa Knapp have in me and the relationships I've built with them as colleagues.
How have the MA/MBA classes prepared you for your internships at Carnegie Mellon University (Summer '19) and Mindful Kreative (Summer '20)?
Studying for my communications degree, I have learned strategies from classes such as Integrated Marketing Communications and tactics from classes such as Social Media Crisis and Strategic Communications, all preparing me to adapt my journalism skills — especially writing — into public relations-specific settings. My MBA classes have allowed me to better understand how communications fit into the broader strategic goals of any business.
How have our professors impacted you?
School of Communication and Rowland School of Business professors not only facilitate learning in the classroom but also opportunities outside the classroom. Coming from an undergrad experience on a big campus (which I wouldn't change for the world!), I really enjoy the contrast of a small campus like Point Park, where it's easy to run into faculty, staff and fellow students to say hello. One day, I was walking somewhere thinking, "I need to email Bob [O'Gara] to talk to him," but instead I ran into him in Academic Hall! I had an independent study with Jenna Lo Castro, Ph.D., where we met weekly — she told me about her own career experience and that helped me think about mine. Arch [Maharaja], CFP, CPA/PFS, Ed.D., was so warm and funny that I enjoyed Accounting for Managers, even though I was apprehensive about it at first.
Part-time instructors such as Dave Sladack, MBA, (Marketing), Linda Schmitmeyer, M.S., (Writing for Public Relations) and Ed Scott, Ph.D., CPA, (Corporate Finance) brought real-world experience to the classroom, and I'm still reminded of examples from their classwork often.
You are the recipient of the 2020 PRSA Pittsburgh Rising Star Renaissance Award. What does that honor mean to you?
I was grateful to receive the award, because it helped me validate my new career choice and feel welcomed by the PR professional community. Lecturer Camille Downing, M.A., nominated me, which shows the level of caring that Point Park faculty have for their students. I've been glad to begin forming connections with the PR industry in Pittsburgh through faculty members like Camille. I know they will be valued colleagues once I graduate.   
What are your career goals?
Coming from journalism, my main career goal right now is to pivot to the PR field here in Pittsburgh. I know I want to be in a position at an organization where I can both harness my passions and further the strategic goals of the business, especially somewhere I could see myself becoming part of the leadership team.
Connect with Stacey Federoff
More About: School of Communication, graduate education, graduate assistantships, Center for Media Innovation, faculty, M.A./M.B.A., Rowland School of Business, Graduate Student Association, graduate programs, Yough Senior High School, internships