more news
Alumni in Parsons Dance Company Host Master Class at Point Park for NHSDF 2016
Saturday, March 5, 2016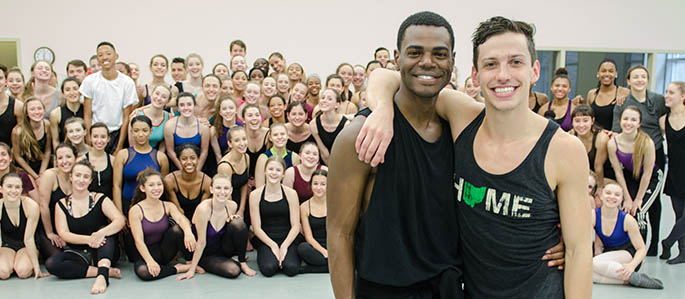 NHSDF participants with Point Park University alumni Ahmad Simmons and Ian Spring from Parsons Dance Company.

Dance alumni Ian Spring and Ahmad Simmons - members of Parsons Dance Company in New York City - returned to Point Park's campus to teach a master class at the 2016 National High School Dance Festival.
Held in the George Rowland White Performance Center's studio 3, more than 70 high school dancers participated in the 80-minute class on Friday morning. Learn more about the alumni and the master class in the interview below.
What does it mean to you to teach a master class at NHSDF?
Some of the best times in my life happened at Point Park and it's so great to be back. Coming back as an alum and representing Parsons Dance Company is amazing, but it's actually really intimidating. You know the students are watching your every move, but by the same token, you know they are here to support you. The talent level of these students is ridiculous! - Ian Spring, B.A. in dance, 2009
What's it like returning to Pittsburgh and Point Park University?
Coming back to Point Park for NHSDF is surreal. I love Pittsburgh and I love Point Park! Point Park is where I learned my craft, discovered who I am as a person and as a dancer.
When I walked into Point Park's dance studio earlier this week, all of the memories from classes and rehearsals came flooding back. It was a pretty emotional moment for me and it's so touching to be back in this space. - Ahmad Simmons, B.F.A. in dance, 2010
What key message do you hope students took away from the class?
We really wanted the students to have fun. For me, having fun while I dance is what it's all about. If it wasn't fun, I wouldn't do it. We work extremely hard so it has to be fun. That's the joy of dance and it's a great thing to experience. - IS

What do you enjoy most about being a dancer?
I love being active. If there's a day that I don't exercise, I get grumpy. As a dancer, I'm getting my exercise and I get to work out my emotions at the same time. There aren't a lot of careers that have this outlet. Dance is so much fun, stressful and enjoyable. - IS
Is there anything else you would like to add?
Pick something in your life that you're passionate about and do it. I'm so glad that I pursued my passion for dance. - AS
NHSDF continues through March 6. Watch for continuing coverage on PointPark.edu, as well as updates on Facebook, Instagram and Twitter. Share your NHSDF experience on social media using #NHSDF2016.
More About: Downtown Pittsburgh, dance, Conservatory of Performing Arts, National High School Dance Festival, alumni, George Rowland White Performance Center