more news
Students Train with Industry Professionals to Stage Contemporary Choreographers
Wednesday, December 23, 2015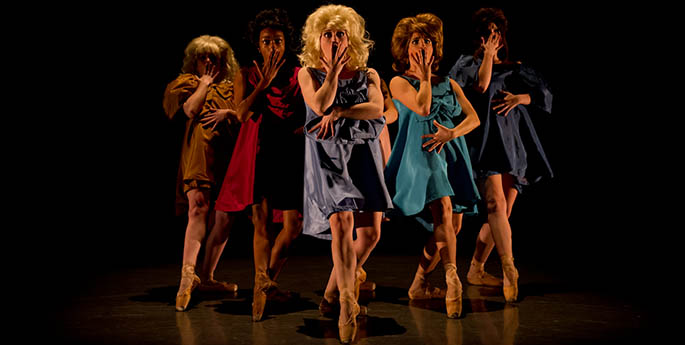 Point Park's Conservatory Dance Company welcomed industry choreographers to campus to stage a variety of works for the annual Contemporary Choreographers concert.

Held during the fall semester in the George Rowland White Performance Studio, dance majors had the unique opportunity to work alongside accomplished choreographers:
Photo Gallery
---
Learn More
"I trained with Jessica Hendricks, a choreographer based out of New York," said Alessia Ruffolo, a junior dance major. "During the process, I learned the importance of power in unity and how each individual dancer is integral to creating a clear message on stage."

For the concert, the artists choreographed unique pieces for the students to perform; each one represented something new and original.
Sara Spizzichini, a senior majoring in dance who worked with Ori Flomin, described this unique training as valuable to her overall Point Park experience.
"Having these opportunities enabled me, as well as my fellow dancers, to apply the skills we're learning at Point Park in a realistic setting," said Spizzichini. "We practiced picking up material quickly, taking direction and communicating with peers. Not only do we get to test our knowledge of technique and our body awareness skills, but we also get the chance to practice networking with these choreographers and artistic directors."
The student performers, ranging from freshmen to seniors, went through an extensive audition and training process to perform in the concert.
"I will definitely fuse my knowledge and experience of what it means to compromise and collaborate for the directors who I hope to work with in the near future," said Spizzichini.
As a junior, Ruffolo says she is looking forward to focusing on the importance of growing and evolving with every performance as she continues her training at Point Park.
"I chose Point Park because of the versatility and variety the dance program offers in ballet, modern and jazz," said Ruffolo. "Training with these outside choreographers allowed me to gain broader tools and information about these art forms. I feel lucky to be able to learn from their experiences and expand my arsenal of information."
Article by Kristopher Chandler, a freshman screenwriting major
More About: Conservatory Dance Company, George Rowland White Performance Center, Conservatory of Performing Arts, dance, guest artists