more news
#PittsburghMe: Meet Carrie Reale, Public Relations & Advertising Major
Friday, August 26, 2016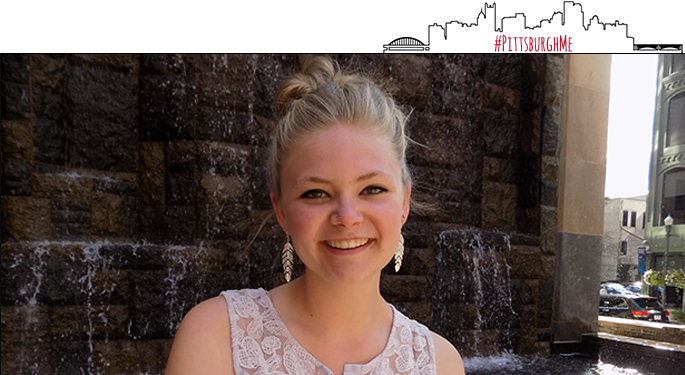 Meet Carrie Reale
Major: Public Relations & Advertising
Expected graduation: Spring 2019
Hometown: Mount Joy, PA
High School: Elizabethtown Area High School
College Activities: The Body Christian fellowship, The Globe student newspaper, Honors Student Organization
Why did you choose Point Park?
I chose Point Park because I wanted a small school in a big city with a strong communications program. I remember searching for colleges in high school and literally typing "small school in a city" into the Google search bar. Eventually, if you're looking for a small, communication-driven, city school, Point Park will pop up under your results, and that's exactly what happened to me!
What makes going to Point Park different from other universities?
Point Park is career driven. Instead of stressing sitting in class for hours taking notes and creating power points, our professors stress real-life experiences. They stress networking with professionals and building a LinkedIn profile. They emphasize how important it is to get internships, apprenticeships, and jobs that teach you what your major actually is. I'd much rather get to go out and get real experiences than sit in a classroom for four years, and Point Park gives me that opportunity.
What has going to school in the city taught you?
If anyone had told me three years ago that I'd be going to a school that has no grass on its campus, I would never have believed them. I thought I needed grass to survive, but going to school in the city has taught me that it's important to go out and explore what's around you. I grew up in a small town where I had to drive to get anywhere, but now I can walk to anywhere downtown or hop on a bus and go anywhere in Pittsburgh. That's pretty awesome. Plus, I can find grass at Point State Park if I need it.
Pittsburgh has the best food scene. Where is your favorite place to eat?
Definitely a little pizza shop in South Side called Benny Fierro's. For $5 they give you the biggest slice of pizza you've ever seen, and it's the best pizza I've ever had.
Also Pamela's...who doesn't love Pamela's?
What is the best piece of advice that you can offer new students?
The best advice I can give new students is to open yourself up to new friends, new experiences, and a new way of living. You're on your own in a completely new place, a completely new atmosphere, and with completely new people. The best friendships are the ones that happen naturally, so take this time to open yourself up to other people as well. If you're yourself from the beginning, you'll have less explaining to do later.


Read more #PittsburghMe profiles
---
Photo by Annalee Tomak, senior public relations / advertising major
Text by Maggie McCauley, senior broadcast reporting and public relations / advertising major
More About: The Globe, Honors Student Organization, public relations and advertising, Downtown Pittsburgh