more news
Honors Student Organization Explores Ecological Issues Through Workshops and Service Projects
Tuesday, January 24, 2023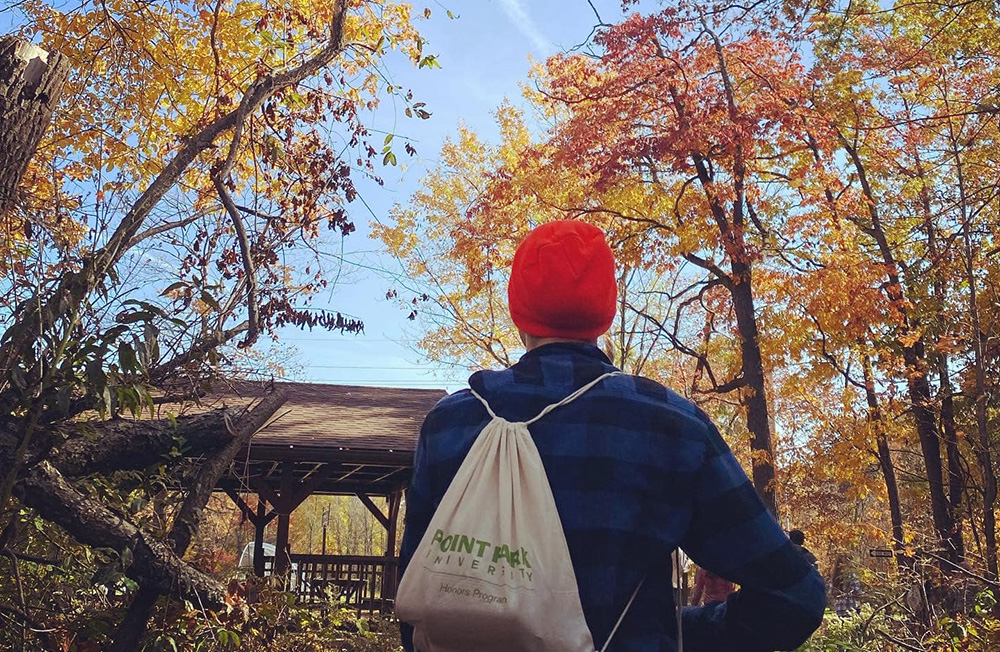 The Honors Student Organization took a hike along the Rachel Carson Trail in North Park as part of its themed programming focused on ecological issues. Submitted photo.
"Environmental issues are a worldwide concern that every one of us needs to prioritize. I'm glad that the HSO chose this theme for this year's programming because hands down, it's the most important issue we are facing currently."
John Szoszorek '25
Exploring local trails, tending to trees across campus and discovering ways to effect positive change in the environment: Point Park University's Honors Student Organization (HSO), a student-run group for Honors Program members of any major, is spending the school year learning about ecological issues through events and programming with community partners and local experts.
"I chose the theme of ecological issues for this year's HSO's programming because I wanted to help students expand their knowledge on how they can take an active role in making the environment a better place by addressing the ecological issues around Point Park's campus and the city of Pittsburgh," said Natalea Hillen '24, a broadcasting major, marketing and sales minor and HSO president. "My goal is to get them to observe and study how much planning and hard work goes into maintaining and improving our vibrant urban areas."
The HSO fosters personal and professional growth for students through leadership and volunteer activities. From attending cultural events around the city to traveling to the National Collegiate Honors Council and Northeast Regional Honors Council conferences, the organization is deeply invested in enhancing the honors student experience.
"My leadership role as the president of HSO has enhanced my experience at Point Park in many ways," said Hillen, an alumna of Peters Township High School. "It has taught me how to plan, positively lead and inspire students, helped me grow and learn more about myself. I was also able to meet and work with amazing people on the HSO board, who helped me plan and run the HSO meetings."
To execute the year's theme, Hillen and other HSO members planned guest speaker engagements with the Western Pennsylvania Conservancy, a nonprofit dedicated to protecting and restoring the region's natural vitality, and Grounded Strategies, a nonprofit focused on improving the social, economic and environmental health of communities. With the conservancy, students learned how to conduct a tree inventory, the types of trees on campus, how trees contribute to the urban environment and how to maintain them. They also assisted with a de-planting project at Point State Park. Becca Simon of Grounded Strategies spoke with students about addressing the impacts of vacant land and reclaiming underutilized land. Students also enjoyed a guided hike of the Rachel Carson Trail in North Park. Hillen credits Honors Program directors Jessica McCort, Ph.D., and Dorene Ciletti, Ph.D., and graduate assistant Kay In 't Ven with helping to make all of the programs a success. 
Hear from students below about their takeaways from this year's ecological issues theme and the Honors Program:
"Seeing first-hand how much a small amount of negligence can impact the environment was really eye-opening to me. I'm inspired to start making more of a difference in my community to help decrease the misuse of our environment. My favorite guest speaker throughout our series was Becca Simon with Grounded Strategies. I was truly intrigued by the significant impacts that hyper-vacancy has on communities in Pittsburgh and throughout the entire country. I have been involved in the Honors Program since my freshman year at Point Park, and it has really benefited me over the past few years. The Honors Program has allowed me to learn from my colleagues, meet amazing people outside of the University and enhance my education by challenging me with honors coursework. I would recommend the Honors Program to incoming students because the program pushes you to be the best you can be." – Delaney Metikosh '24, sports, arts and entertainment management major, PR, advertising and social media minor, marketing and PR coordinator for the HSO, Thomas Jefferson High School alumna
"My participation in HSO events and activities has enriched my experience here at Point Park because I've learned about different local groups like the Western Pennsylvania Conservancy. It was fascinating to learn about who cares for and manages the trees throughout the city, and their tree inventory workshop with us was my favorite event this year. They showed us how they document different trees and how they decide where they might place a tree. Overall, I think that the greatest benefit of the Honors Program is having priority course registration." – Matthaeus Foxall '26, electrical engineering major, Meadville Area Senior High School alumnus 
"Environmental issues are a worldwide concern that every one of us needs to prioritize. I'm glad that the HSO chose this theme for this year's programming because hands down, it's the most important issue we are facing currently. I enjoyed doing volunteer work for the Western Pennsylvania Conservancy at Point State Park, but my personal favorite event was hiking the Rachel Carson Trail at North Park. As a native of Etna, I've been to North Park so many times throughout the years, yet I still find new trails and things in the park each time I visit. I enjoyed the company of everyone during the hike, and I got to tell them a lot about the area since many of the students are from outside of Pittsburgh. Through the HSO, I have learned a lot about the local programs and events offered throughout Pittsburgh with tree planting. I would recommend Point Park University because its Rowland School of Business has a strong history and reputation. Pittsburgh is in my heart, and considering Point Park is located right in downtown, I really enjoy our campus environment." – John Szoszorek '25, applied computer science major, Shaler Area High School alumnus
More About: electrical engineering, applied computer science, School of Arts and Sciences, Honors Program, sports, arts and entertainment management, marketing and sales, Honors Student Organization, Rowland School of Business, School of Communication, broadcast reporting