more news
More than 400 Family Members Visit Point Park's Downtown Pittsburgh Campus for Family Weekend
Thursday, October 13, 2016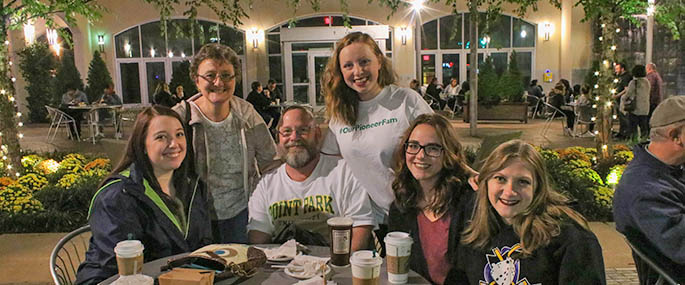 From California to Canada, more than 400 family members traveled to Point Park University's Downtown Pittsburgh campus for the annual Family Weekend Oct. 7-9.
"It's just amazing to see what a city campus it is," said parent Celeste Berger, mother of Robert Berger, a sophomore multimedia major from Norwin High School in North Huntingdon, Pa.
"We came to venture out and explore Pittsburgh," added Wendy Caccioppoli, mother of Halle Caccioppoli, a freshman photography major from Pine Bush Central High School in Circleville, Pa.
Highlights of Family Weekend included:
"My family and I attended the Evening of Rising Stars performance and Java and Jazz in Village Park," said Robert Berger. "I went to high school with two of the performers and it's really cool to see how far they've come as they pursue theatre as a career."
"I'm always excited to show my parents the library because my dad loves older buildings and loves the fact that it was once a bank," remarked Patrick Fischer, a junior funeral services major from Conrad Schools of Science in Wilmington, Del.
Grace Ensle, mother of Cory Ensle, a freshman cinema production major, from Peters Township High School in McMurray, Pa., enjoyed activities both on and off campus.
"We went to Phipps Conservatory and now we're going to see the cinema student films," said Ensle at the event.
For Samantha Exler, a sophomore sports, arts and entertainment management major, this is her second year participating - and photographing - Family Weekend.
"Getting to talk to other families while I photograph them has been something I'll probably keep doing throughout my time here. My dorm is always my favorite place to take my parents because it shows them what I'm doing at school. What I mean by this is, I have fliers of things to do around campus, copies of The Globe that my photos are published in and a lot of other things," said Exler, who graduated from Moon Area High School in Moon Township, Pa.
Exler added: "Also, my sisters really enjoyed walking down Wood Street pointing out the cool buildings. They never believe me when I say I have classes in West Penn Hall because it doesn't look like a school building. I loved seeing their faces when they realize all of the cool places I get to go to being on campus."
The Fall 2017 Family Weekend dates will be announced on our Family Weekend page - we look forward to seeing you!
Text contributed by Olivia Ruk, a senior mass communication major
Photos by Tyler Calpin, a sophomore photography major, and Samantha Exler, a sophomore SAEM major
More About: dance, athletics, acting, Downtown Pittsburgh, funeral service, theatre, Student Choreography Project, Norwin High School, student athletes, Moon Area High School, cinema arts, multimedia, sports, arts and entertainment management, Family Weekend