more news
Point Park celebrates academic achievements, contributions of students
Friday, May 16, 2014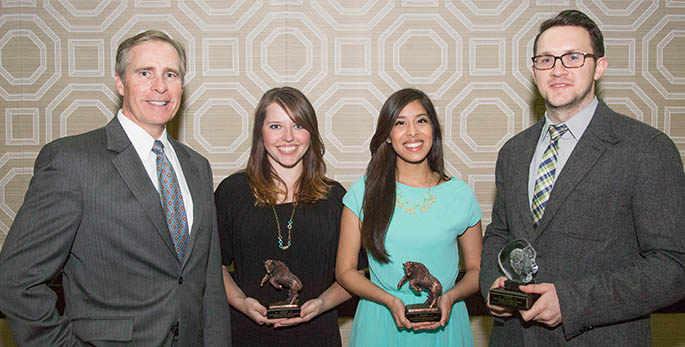 Point Park President Paul Hennigan with: (left to right) Chelsea Behanna, Outstanding Student Leader; Sara Mahmood, Outstanding Graduating Senior; and Justin Karter, Outstanding Graduate Student.
Point Park celebrated the accomplishments of students, both for academic excellence and campus involvement, at a festive dinner to wrap up the 2013-2014 school year.
The annual Outstanding Student Awards dinner took place at the Fairmont Hotel in Downtown Pittsburgh on Friday, April 25, with more than 300 students, staff, faculty, friends and family members attending.
Nearly two dozen students, mostly graduating seniors, received awards for their academic achievements or their contributions to the campus community (see full list below). The awards included three top honors:
Outstanding Graduating Senior: Sara Mahmood, elementary education, Silver Spring, Md.
Outstanding Graduate Student: Justin Karter, journalism and mass communication and clinical-community psychology, Angola, N.Y.
Outstanding Student Leader: Chelsea Behanna, sports, arts and entertainment management, Charleroi, Pa.
At the dinner, guests sat at round tables with a floral centerpiece as they dined on grilled chicken over artichoke and lemon risotto with asparagus on the side. The meal ended with a mini dessert trio, including a fresh fruit tart, vanilla bean crème brulee, and chocolate a-go-go.
The crowd watched several videos and slideshows, including a comical scene of J.W. Tabacchi, senior director of student conduct, chasing the Point Park mascot through Downtown Pittsburgh to get an envelope containing the list of award recipients. The video concluded with the bison taking his mask off to be none other than Point Park President Paul Hennigan.
At the dinner, Hennigan offered words of wisdom and gratitude to the many graduating seniors taking part in the evening. He shared four tips for continued success after graduation: have confidence; work hard; wake up every day with a goal; and be a life-long learner.
"It is up to you now. Have the confidence to know you are an intelligent person," Hennigan told the students. "Get up every day with a goal. Have a sense of direction every day you wake up."
Hennigan described many of his own experiences and shared some of the many jobs he has had during his career. He concluded his speech with words of praise for the students.
"I am very proud of every person in this room. You embody the Point Park spirit," Hennigan said.
Award Recipients, 2014 Outstanding Student Awards

Outstanding Senior by Academic Department
School of Arts and Sciences:
Natural Science and Engineering Technology: Richard Nemec, Mechanical Engineering Technology, Wexford, Pa.
Criminal Justice and Intelligence Studies: Lauren Vernail, Intelligence and National Security, Greensburg, Pa.
Education: Sara Mahmood, Elementary Education, Silver Spring, Md.
Humanities and Human Sciences: Angela Fullmer, English/Creative Writing, Pittsburgh, Pa.
School of Business
Accounting, Economics & Finance, Information Technology: Ivan Beric, Accounting, Bethel Park, Pa.
Management: Chad Sanders, Human Resource Management/Capstone, Darlington, Pa.
Sports, Arts and Entertainment Management: Amelia Hackimer, Sports, Arts and Entertainment Management, Glenshaw, Pa.
School of Communication
Journalism: Marina Weis, Journalism, Saint Marys, Pa.
Public Relations and Advertising: Abigail Mathieu, Journalism, Wheeling, W. Va.
Visual and Interactive: Corrine Volosky, Multimedia, West Mifflin, Pa.
Conservatory of Performing Arts
Dance: Megan Meyer, Dance, Chatham, N.J.
Theatre: Lindsey Sherman, Theatre Arts, New City, N.Y.
Cinema: Megan Kuntz, cinema production, Newville, Pa.
Student Life Award Recipients
Outstanding Campus Life Staff Member Awards

Amanda Belfiore, junior, dance, Hazelet, N.J.
Alicia Green, sophomore, journalism, Queens Village, N.Y.
Hailey Turek, sophomore, dance, Rowlette, Texas
Kathryn Van Yahres, senior, dance, Paoli, Pa.
Outstanding Orientation Leader
Adam Niehl, senior, cinema and digital arts, Irwin, Pa.
Student Activities, Involvement and Leadership Awards
Emerging Leader Award: Jordan Durham, freshman, cinema production, Mountville, Pa. Active in United Student Government and the John P. Harris Society.
Unsung Hero Award: Mallory McGuire, junior, broadcast reporting, Pittsburgh, Pa. Active with the Campus Activities Board
Outstanding Student Organization: Rugby Football Club
Outstanding New Student Organization: All Things Horror
Program of the Year: College Democrats/College Republicans Debate
Outstanding Organization Advisor: Bradley Kovalcik
Article by Abigail Mathieu, graduating senior in PR and advertising