Online Student Resources and Support Services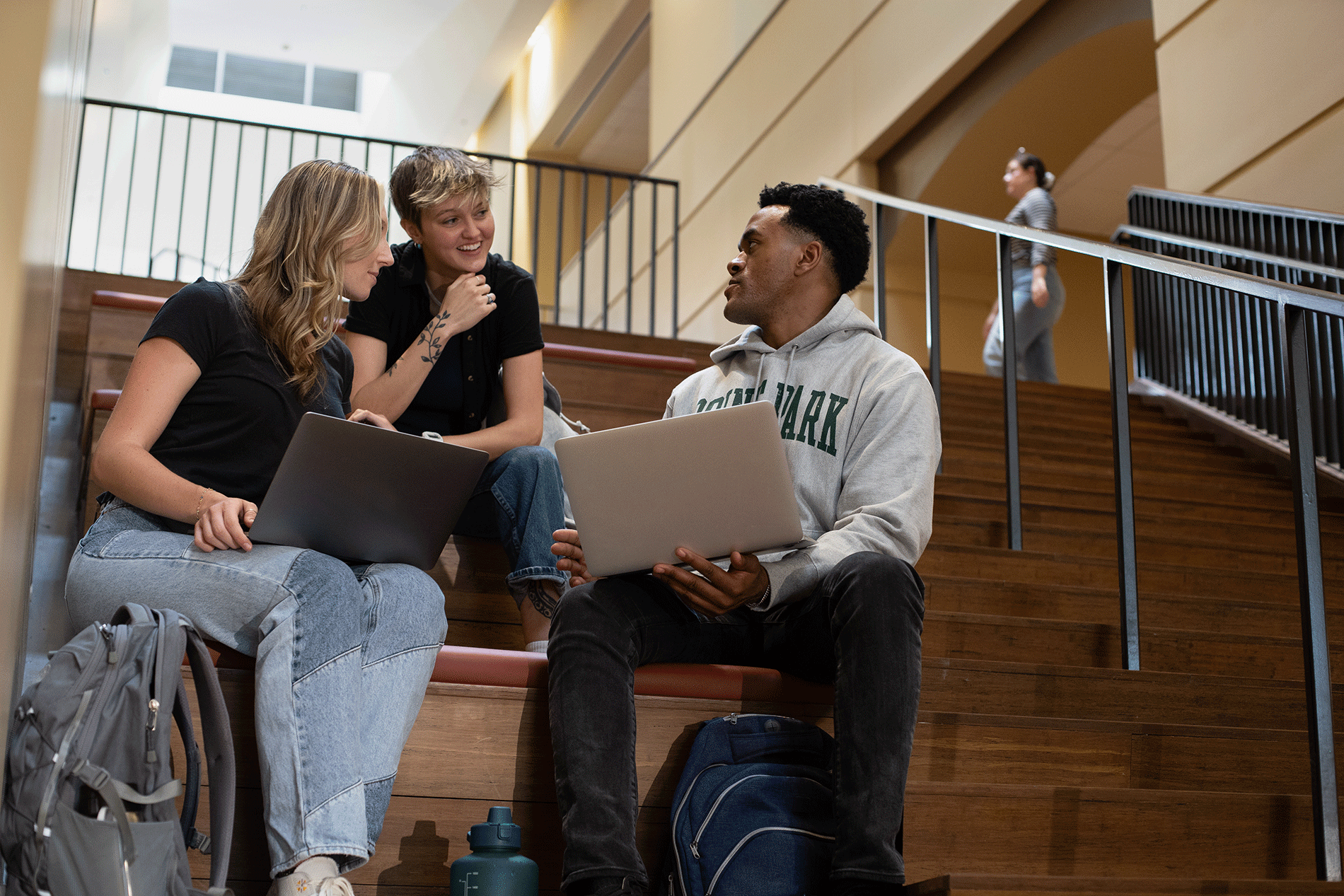 Career-Ready | Affordable | Convenient | Transfer Friendly
Point Park University's mission focuses on ensuring student success whether you are fully online or attending on-ground. The services listed on this page range from technical support to academic assistance for our online students. Please take a moment to review this helpful guidance below on what resources you will need to be successful, as well as what assistance is available.
Class Access
Point Park University uses the learning management system, Canvas, as your virtual classroom. Use the link above or bookmark https://PointPark.Instructure.com to get started today. For information on how to submit assignments, record video responses, and check your grades, enroll in our tutorial course. 
Technology Support
If you have issues logging onto your University email, Canvas, or Pointweb you can reach out to our University IT Help Desk for assistance. They can also assist you with basic questions such as how to access your free Microsoft Office 365 applications.

Need 'how-to" information on Canvas? Check out your New Student Orientation course for access to tutorials and more. Students have access to the Canvas Support chat 24/7, so just click the "Help" button to start a chat session.
Our programs support the use of both Windows and Macintosh operating systems. You may select your preferred type of device, providing it meets the following minimum requirements:
Operating System: Microsoft Windows 10 / OS X 13.4 (Ventura) or higher
Processor: Intel Core i5 10th generation or higher
RAM: 8GB
Hard Disk Space: 250 GB or higher
Network: WiFi or Ethernet Adapter
Please be aware that Chromebooks and some tablets do not allow you to install the full software suite for Office 365 and textbook publisher virtual labs. If you utilize one of those devices, you may need to make alternative arrangements if those additional pieces of software are required for your class. Please check the information regarding the University Library and the
On-Campus Computer Labs
which are open and available to all students.
Free access to Microsoft Office 365 is provided to all enrolled students, which allows you to access those programs from a web browser or by downloading the software onto up to 5 personal devices. Just sign on here with your university e-mail address and password to get started.
You will also need access to a PDF reading tool, such as Adobe Reader, Foxit Reader, or a program built into your operating system.
Some programs or courses may have additional software requirements, such as Adobe Creative Cloud, book publisher plugins, or virtual labs. This information will be listed in the course descriptions on Pointweb and in your instructor's syllabus.
Safari, Google Chrome and Mozilla Firefox are the recommended browsers for not only Canvas, but also many eTextbook and virtual lab providers. Make sure to check that you have the latest version to ensure that you have no compatibility issues.
All students have access to receive education discounts on Apple products through the University's Apple Store website. For more information, check out our
Apple on Campus
page. Currently enrolled students can also apply for a 60% discounted monthly subscription to the suite of Adobe Creative Cloud products. Visit 
Adobe's website
for more information.
Online Student Advising
Point Park University Online has a student advising and support team to assist you from your first term through graduation. Your advisor will be your success coach throughout your academic journey and provide a range of support including academic planning, registration, changing majors or concentrations, advice on time management and study skills, applying for graduation, and more. Student advising is there to connect you with the Registrar's Office, Financial Aid, Student Accounts, the University Bookstore, the ID Center, the Career-Readiness Center and other departments when you need a helping hand. Our advisors are available to meet with students virtually through a video call, e-mail, phone, or you can even request an in-person appointment on campus. 
If you have any questions, feel free to reach out to our department at OSA@PointPark.Edu, or to your specific advisor listed below.
Tutoring and Writing Center
Point Park Tutoring Services provides professional and peer tutors for students who seek assistance with their coursework. Students may also receive guidance on effective study strategies, organization and time management, note-taking techniques, academic writing assistance, and exam preparation. We offer both online and in-person assistance, so select an appointment today through Point Park's tutor-scheduling software online.
Questions? Contact Tutoring Services at Tutoring@PointPark.Edu or (412) 392-8132
Accessibility Services
It is the intention of Point Park University to provide appropriate, reasonable accommodations for students with disabilities in accordance with the Americans with Disabilities Amendments Act of 2008, and Section 504 of the Rehabilitation Act of 1973. All campus accommodations are coordinated through the Office of Accessibility Services. ADA questions should be directed toAccessibility@PointPark.Edu.
For more detailed information on how to register for accommodations, visit the Accessibility Services website.
Career Development
The Professional Career Readiness Center is an education and resource hub that helps you develop the professional skills you'll need to achieve your goals, advance your profession, and serve your community. The programs and services offered facilitate partnerships between students, faculty, staff, employers, and alumni to maximize career opportunities.
You can work with a career counselor in the office, by telephone, or email. To schedule an appointment with a career counselor, sign in to Handshake, call (412) 392-3950, or email CareerDev@PointPark.Edu
Library
All the Library's electronic resources are available 24/7 from off campus through the Library's webpage. You will access most of these resources with your Point Park email login and password.
Find It : search all the library's resources.
Search PointCat for print resources and e-books, streaming videos, DVDs, CDs
Articles & more : access hundreds of thousands of full text articles
Our Librarians are available to help you with all your questions and research needs during business hours via phone, email (Library@PointPark.Edu), instant messenger, or by texting 412-444-7333.