Retired Professor of Journalism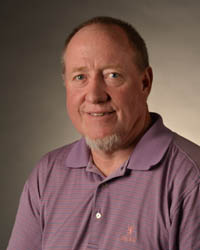 Education
M.S., Criminal Justice Administration, Point Park University
B.A., Journalism, Kent State University
Courses Taught
Interviewing and Reporting
Reporting
Public Affairs Reporting
Investigative Reporting
Media Law
Journalistic Writing and Editing
Multiplatform Magazine Reporting
Background
Bill Moushey worked for 36 years as a broadcast and newspaper journalist, documenting a wide range of abuses in the criminal justice system and elsewhere.
An investigative reporter for the Pittsburgh Post-Gazette from 1985 to 2009, Moushey was a finalist for the Pulitzer Prize in 1997 and won the coveted National Press Club's Freedom of Information Award for his ground-breaking expose of an out-of-control federal witness protection program. In 1998, Moushey's Win at all Costs series about prosecutorial misconduct won local, national and regional awards. He has also won numerous other local, state and national journalism prizes for his work. In addition to his newspaper work, Moushey spent five years as an investigative reporter at WPXI-TV in Pittsburgh, an NBC affiliate, edited magazines in Cleveland and Pittsburgh, and has worked in radio.
From 2001 to 2012, Moushey directed the Innocence Institute of Point Park University, an investigative reporting organization for which students researched and wrote about allegations of wrongful convictions. Moushey has attended and presented at numerous schools, conferences and conventions related to journalism, writing, crime and punishment, and other issues. He is also the author of two non-fiction books. In 2009, he wrote Never Give Up about Pittsburgh Steeler James Harrison. In 2011, he co-wrote Game Over: Jerry Sandusky, Penn State, and the Culture of Silence about the devastating child-abuse scandal there.
He also is the founder of a podcast, called "Win at All Costs," which delves into cases of wrongful convictions.
Professional Affiliations
The Pennsylvania Prison Society
The Wecht Center at Duquesne University
The Innocence Network
Research Interests
Criminal justice issues
Wrongful convictions
Prosecutorial misconduct
Selected Publications
Game Over: Jerry Sandusky, Penn State, and the Culture of Silence, 2011
Never Give Up, 2009
Selected Awards and Honors
Finalist, Pulitzer Prize, 1997
Freedom of Information Award (only two awarded in the world), National Press Club, 1997
Point Park Features
In the News