more news
HR Management Senior Mara Van Thiel Lands Job at Cook MyoSite After Successful Internship
Student Profile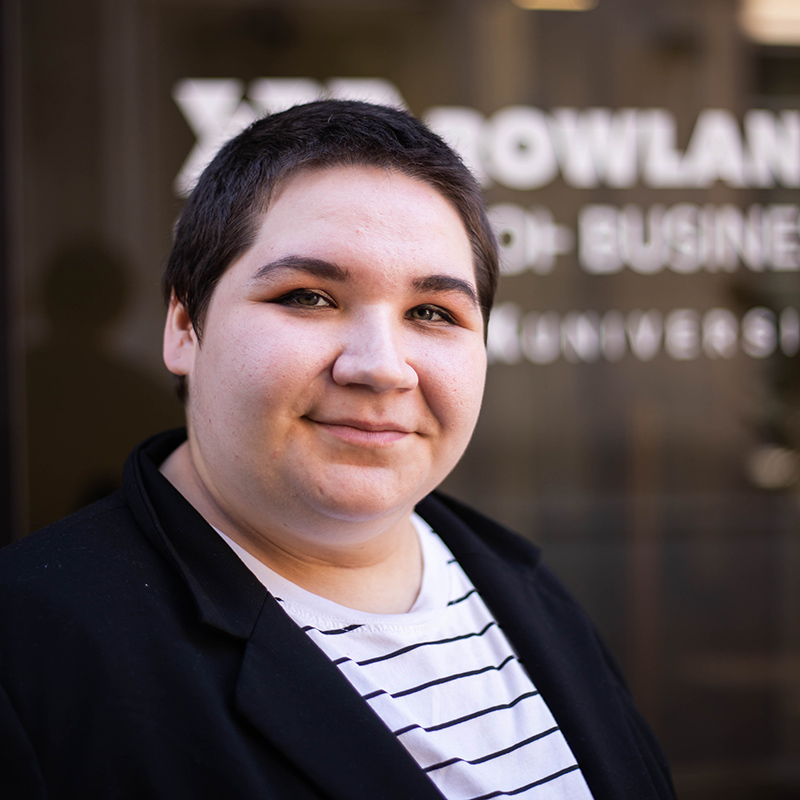 Photo by Madi Fisher '23
Meet Mara Van Thiel '23
Job Title & Employer

Organizational development coordinator, Cook MyoSite

Major

Human Resource Management

Minor

College Activities

Student Human Resources Association president, Honors Student Organization secretary, Pioneer Ambassador, former equity ambassador and campus tour guide

Hometown

Cheswick, Pa.

High School

Deer Lakes High School

Now Living In

Pittsburgh, Pa.
"As a Point Park alum, I am thrilled to see the HR management program include experiential learning and continue to stay up to date on real-world applications. I feel because of Point Park's alliance with the Society for Human Resource Management, Mara was able to contribute to our company's departmental projects and initiatives immediately."
Erin (Feth) Fink '04, human resources manager, Cook MyoSite
"Because of Point Park's HR management program, I really felt like I was ready when I started my internship. I had a lot of the technical knowledge I needed, but I also knew about the ways HR can serve as a business partner to other departments in an organization."
Mara Van Thiel '23
How did you land your internship with Cook MyoSite?
I spent a lot of time working with the Professional Career-Readiness Center (PCRC) during my junior year. Career counselor Monica Ritter helped me refine my resume, cover letter and interview skills. We spent time talking about the types of internships I was interested in, and she helped me lay out a timeline for applying. Shortly after, I secured my position at Cook MyoSite. I've been with the company since May 2022 and will start full-time employment after graduation. In addition to the help I received from the PCRC, I feel my experiences working with different offices and organizations around campus really helped my application stand out. 
What work have you done during your internship?
I started out doing a lot of research, information checks and organizing. As I showed my capabilities and potential, I received more significant projects. I helped out with their Diversity, Equity and Inclusion initiatives and their LGBTQ+ employee resource group. By the end of the summer, I assisted with larger projects and created a 14-month plan to develop a sense of community engagement across our organization.
Last fall, I started taking on more weekly and monthly tasks and ownership of several projects. I planned our company-wide Thanksgiving event, which included catering, a thank-you note station and a STEM kit-building activity where our employees packed science kits for local students. I helped launch a community engagement survey. I have been involved with our new hire orientation, and I get to update our organizational chart. What excites me most about my role is that I get to focus on the employee experience and employee engagement.
What are the key benefits of Point Park's HR management program?
Because of Point Park's HR management program, I really felt like I was ready when I started my internship. I had a lot of the technical knowledge I needed, but I also knew about the ways HR can serve as a business partner to other departments in an organization. Point Park's program is aligned with the Society of Human Resources Management, so I was able to reference a lot of current issues and propose solutions. I felt prepared to work in a professional environment, and I felt confident in the networking skills I developed through the HR program. As I stayed in my position through my senior year, I applied what I learned in the classroom to my job. I was able to be a valuable team member from day one. 
Describe some of your favorite faculty and learning experiences. 
Professors Sandra Mervosh, Dorene Ciletti, and Jessica McCort contribute to the programs that have made a positive impact on me, and they have supported me throughout my academic career. 
I've worked with and learned from Professor Mervosh inside and outside of the classroom, as she is the director of the HR management degree program and advisor for the Student Human Resources Association. She dedicates countless hours to her students, looks for ways to connect us to professional membership programs, supports and hosts educational and networking events and is always available to answer career questions. Through my senior capstone in the HR program, I will be able to take the SHRM Certified Professional Exam and earn my certification. We have spent time each week in class and in a study group going over prep materials, and I will take my exam in early May. This certification with give me a huge bump in my career journey and earning potential. Many HR professionals do not have the opportunity to earn their certification until further into their careers.
Professor Mervosh and Dr. Ciletti spearhead the Women In Industry (WIN) program, which hosts events throughout the year to support and connect women at all stages of career development, including students. The organization has held lunchtime workshops, a monthly book club and in-person events on campus, such as the recent Intentional Inclusion Innovation Challenge, during which students presented a business case to local professionals. Students took home over $700 in prize money, and I placed second in the competition. 
Dr. Ciletti and Dr. McCort are so supportive as directors of Point Park's Honors Program and Honors Student Organization (HSO), which foster a truly enriching educational experience. For my honors capstone project, I've planned and executed an event series for students on campus with the Student Human Resources Association. This series, open to all students, addressed issues that occur in today's workplace and how to navigate them as students enter the workforce. Topics included understanding acts of exclusion, developing personal and professional ethics and overcoming barriers. 
I am also thankful for Patrick Mulvihill, D.Ed., Angelo Gargaro from the Office of Student Conduct, Keely Sapienza from the Office of Student Activities, Involvement & Leadership and everyone from the Pioneer Ambassadors program. 
Why would you recommend Point Park to a prospective student?
There are so many ways to contribute to student organizations, build valuable professional relationships and be an active member of the campus community. In my sophomore year, I worked as a tour guide for the Office of Admissions, and I loved getting to show prospective students around campus and share with them how Point Park prepares students for their chosen fields. I was a Pioneer Ambassador for two years and helped freshmen and transfer students during their transition to Point Park. I enjoyed teaching new students about the University and providing them with as much information as I could to help them on their journey. 
Point Park offers many opportunities to connect with other students and local professionals. Some of the most influential classes I've taken focused on preparing my resume and how to communicate in the business world. These skills have had a significant impact on my success.
Is there anything else you would like to add?
"When all is well, you will look back on this time of your life and be so glad you never gave up." – Brittany Burgander
Connect with Mara Van Thiel '23
More About: human resource management, internships, Pittsburgh, Downtown Pittsburgh, Career Development Center, Rowland School of Business, success story, faculty