more news
Point Park Marks Fifth Year of Hosting High School Accounting Career Awareness Program
Tuesday, July 11, 2017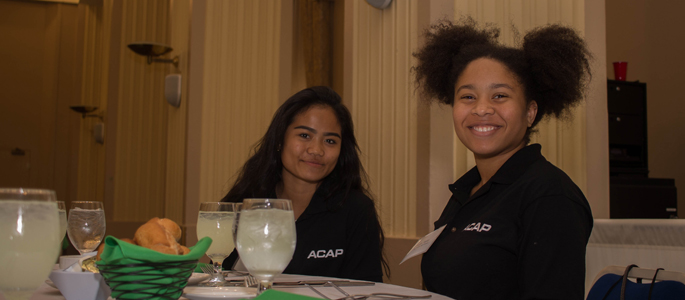 Pictured are high school students at the ACAP 2017 Business Etiquette Workshop and Dinner
with Professionals.

Completing its fifth year, the Accounting Career Awareness Program at Point Park University continues to engage high school students in the accounting field through visits to public accounting firms, hands-on workshops and presentations from a variety of business professionals throughout the Pittsburgh region.
Part of the National Association of Black Accountants, Inc., ACAP's goal is to increase understanding among high school students in underrepresented minority groups about the field of accounting and its career opportunities.
Edward Scott, C.P.A., M.B.A., Point Park's George Rowland White Endowed Professor in Accounting and Finance, began ACAP at Point Park in 2013 and continues to lead the program each year with the help of several Point Park students from the Rowland School of Business.
In addition to accounting, students were exposed to entrepreneurial thinking, financial literacy, public speaking, networking, etiquette dining, living on a college campus and more during the six-day program held June 25-30 this year.

Recreational activities mixed in throughout the week included bowling, laser tag and an evening trip to Kennywood Amusement Park.
Point Park University 2017 accounting and business management graduate Destiny Medina served as a professional mentor at ACAP this year. In August, Medina will begin working for Big Four Accounting Firm EY (Ernst & Young) as a staff assurance accountant - a position she landed before graduating from Point Park this past spring. 
"This year's ACAP was an amazing experience. It was great to see the students engaged in the sessions. Watching the students present their business proposals with such pride meant a lot to everyone involved with the program," Medina explained.

Medina added: "It is extremely important for students to be introduced to the accounting profession in high school because it opens the door to so many opportunities. Accounting is the platform for so many things in the business world so it's important to get that message out as early as possible."
In Their Own Words: Feedback from 2017 ACAP Students
"I really enjoyed working on the team business plan. It was also fun staying in the dorms with the other ACAP students." - Brennen Crawford, junior, The Kiski School in Saltsburg, Pa.
"I learned that there are so many different career areas you can go into with accounting." - Arielle Ellison, senior, Art Academy at Benjamin Rush High School in Philadelphia, Pa.
"I want to pursue a career in business. ACAP has been a great opportunity to network with professionals in the field. My favorite part was the visits to the accounting firms. I got a really good understanding of how they work, how they hire people and learned about both the fun and stressful parts of the job." - Antoine Mosley, senior, Baldwin High School in Pittsburgh, Pa.
"I knew I wanted to pursue a career in the business field, but wasn't sure the direction. This program has made me much more interested in the accounting field." - Ana Suliman, senior, North Star High School in Boswell, Pa.

Etiquette dinner and closing ceremony photos by Annie Brewer, junior cinema production major

More About: Downtown Pittsburgh, North Star High School, economics and finance, high school programs, Rowland School of Business, The Kiski High School, Baldwin High School, accounting, ACAP