more news
Point Park University Seniors Land Jobs in Their Fields Before Graduation
Monday, April 24, 2017


Meet Point Park Spring 2017 Graduates and Learn Where They'll Be Working
From NBC Universal and WHIRL Magazine to Ernst & Young and the Orlando Magic, Point Park University seniors graduating April 29 have lined up jobs in their career fields before graduation. Learn how Point Park and its faculty successfully prepare students to step right into the workplace and begin their careers.



Aubrey Henken
B.A. in Broadcast Production and Broadcast Reporting
Production Coordinator, NBCUniversal (Oxygen)
"Point Park helped me land this position because of all of the amazing opportunities I had through the School of Communication, especially within U-View. I learned so much by participating in U-View, and those experiences showed me that I want my career to be in entertainment television production, which is exactly where I am right now at NBCUniversal."
Lamont Walker
B.F.A. in Musical Theatre
Actor, Front Porch Theatricals

"Point Park has helped me develop the skills and ability to handle both the business and creative side of being a performer. I've learned how to be competitive in this business, as well as how to walk into the audition room and show all the best sides of me in 32 bars."

Jessica Joseph
B.A. in Multimedia
Graphic Designer, Apple Box Studios
"One of the reasons I came to Point Park was because of its great reputation. I knew I would have no problem networking and getting to know surrounding businesses because of its great name. I think these connections helped me to find a position in the real world at Apple Box Studios."

Destiny Medina
B.S. in Accounting and Business Management
Staff Assurance Accountant, Ernst & Young
"Point Park helped me to land this position before graduating by allowing me to see what my options are in the field of accounting. After I knew what was out there and figured out I wanted to work in public accounting, I was able to land my dream internship with Ernst & Young, which has turned into a career."

Haley Olah
B.S. in Sports, Arts and Entertainment Management
Marketing and Promotions Assistant, iHeartMedia, Inc.

"Point Park University provided me with a better college experience than I ever could have imagined. All of my professors actually took the time to get to know me and learn what my interests were, and then used that knowledge to help me succeed. I would not have landed this position if it weren't for everything that my professors have taught me, the education Point Park provided me and the networking skills I learned through my college career."

Celina DiPietro
B.S. in Information Technology
Data Analyst, Management Science Associates
"Being a smaller school, Point Park makes it easy to become involved. You really get to know the faculty and staff. My professors and advisor were constantly telling me about opportunities available. Without their help, I would not have gotten the chance to obtain the internships I did or complete a co-op with the company Othot. These experiences, along with my education, are what helped me excel and land this job."
Trever Sheets
Post Baccalaureate in Journalism and Mass Communication
Video Production Assistant, Frederick Keys
"I obtained my job with the Frederick Keys in Frederick, Md., by attending the Baseball Winter Meetings last December as a member of the Pittsburgh Center for Sports Media and Marketing at Point Park. I benefited from the great amount of preparation we did prior to the fair, as well as my work with U-View and familiarity with the studio equipment."

Hannah Snyder
B.A. in Cinema Production
Production Supervisor/Instructor, Youth Opportunities Unlimited
"Point Park has helped me to expand my production skills and develop myself professionally. My cinema professors have given me real-world experiences and advice that has helped to guide me toward my professional goals within the entertainment industry."

Maggie McCauley
B.A. in Broadcast Reporting and PR and Advertising
Editorial Assistant, WHIRL Magazine
"After completing seven internships at Point Park, the final one turned into a job offer. Since December 2016, I've been an editorial assistant at WHIRL. Point Park exposed me to all areas of communication, provided me with unique experiences and allowed me to build lasting connections. I feel confident and prepared to graduate, because of my experience at Point Park University."

Dominique Furrowh
B.A. in Pre-K through Fourth Grade Education with Special Education certification in Pre-K through Eighth Grade
Offered teaching positions in Florida, Maryland and Virginia
"Point Park helped me land these offers by preparing me both inside and outside of the classroom. Through classes, my professors shared their real-world experience and helped me get into schools early on to gain teaching practice. Also, I was part of an awesome Future Educators of America Club. Lastly, our amazing Career Development Center and faculty reviewed my resume many times until it was just right. They also supported me at the PERC Job Fair, where I received these job offers."

Syrah Sherwood
B.A. in Theatre Arts
College Coach, AmeriCorps' College Possible
"The opportunities and positions I've had at Point Park have allowed me to explore and expand upon my passion for leadership and community engagement in higher education. Additionally, the support I've received from professional staff members and faculty, not only during my job search, but also throughout my entire career here, has been unmatched. I would not be where or who I am today without their ongoing guidance and support."

Emily McCoy
B.S. in Sports, Arts and Entertainment Management
Development Associate, The Pittsburgh Cultural Trust

"The SAEM program at Point Park University helped me in numerous ways. The faculty do not just teach from a book, but actually teach you what you need to know once you enter the workforce. Also, the internship program is fantastic and it is how I got this job. Without that internship opportunity, I wouldn't be in the position I am today."

Lauren Joseph
B.A. in Public Relations and Advertising
Events & Social Media Coordinator, Dickerson Creative Communications
"Point Park has encouraged me to get as many outside experiences, such as internships, as possible. I interned for Dickerson in May of 2016 and my boss offered me a full-time position upon graduation!"

Katherine Miller
B.S. in Human Resource Management
Membership Coordinator, Pittsburgh Human Resources Association
"Without Point Park and its professors, I am not sure I would have had the same opportunities I did, nor would I have this position after graduation. Point Park professors have been instrumental in my professional development. Student success is clearly one of their priorities."

Dana Drewniak
B.S. in Sports, Arts and Entertainment Management
Ticket Sales Representative, Orlando Magic
"Point Park helped me tremendously. I learned what to expect when working in professional sports and how to interview for a corporate position, as well as the life skills I will need transitioning from school to a full-time career."
---
How Faculty Prepare Point Park Students for Successful Careers
"As early as first-term freshman year, our education students are brought out to school districts to work with children. By the time they reach their student teaching experiences, they've had more than the required hours working with children in a classroom. This leads to successful student teaching experiences, which then leads to employment. Also, our curriculum is constantly reviewed to keep it current so that as students graduate, they have the best academic background entering their chosen profession and are prepared to succeed in the workplace. As faculty, we take the responsibility of keeping curriculum up to date very seriously." - Darlene Marnich, Ph.D., professor and chair of the education department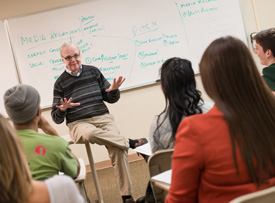 Professor Bob O'Gara in the classroom
"The best first jobs are obtained when the student has a solid vision of what will be most challenging and rewarding for their life in a communications career providing real value to society. Our students begin this journey very early in their academic life through meaningful work in the classroom, professional networking, pre-professional clubs and applied real-world work in practicum assignments and internships. Professors with successful achievements in student career goals serve as pathfinders and mentors for students launching quality careers." - Bob O'Gara, professor of public relations and advertising

"It's all about networking which is why we really leverage our campus location in Downtown Pittsburgh. We also encourage students to take advantage of internships, our co-op program and our faculty's industry connections. Let us know what you want to do professionally and we will work to ensure you have all the necessary business skills to be workplace ready. We also make sure our curriculum is in sync with what the industries are telling us they need." - Steve Tanzilli, J.D., dean of the Rowland School of Business
"Actors act. They don't just daydream about it or talk about it. Whether you're cast or not, whether you have an upcoming audition or not, you have to get up every morning and work your craft. There's no one way for a career to look. Follow your dreams with an open mind. Unexpected opportunities will present themselves if you do." - Robin Walsh, associate professor and head of acting
---
Learn More
Point Park University offers more than 80 undergraduate majors and programs. Learn about Point Park's internships and careers in Downtown Pittsburgh and beyond and take a virtual tour of campus.

Request information, schedule a campus visit or apply online.


Video by Brandon Marchionda, junior cinema production major
More About: commencement, success story, Rowland School of Business, Conservatory of Performing Arts, School of Communication, School of Arts and Sciences