more news
M.A. in Communication Technology adds social media and applied practices concentrations
Monday, April 27, 2015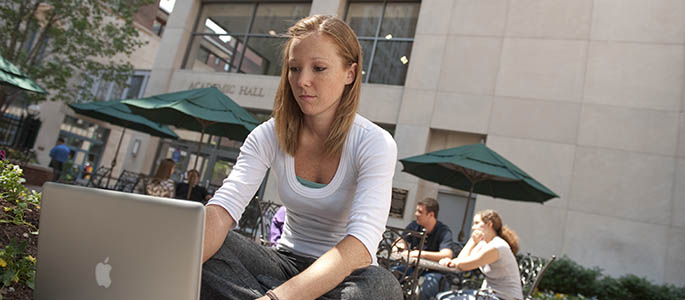 Create and implement a social media campaign for a real-world client. Explore the role and impact of technology in society. Develop skills to advance your career in a constantly evolving field by earning an M.A. in communication technology with a concentration in social media or applied practices.
"This program, with the added social media concentration, is unique because it is taught in a journalistic or marketing context, moving beyond application processes to take in communication theory and real-world usage, so that students grasp not only how to apply social media but why and how they are effective," said Steve Hallock, Ph.D., associate professor of journalism and director of the School of Communication's graduate programs.
Social media concentration
Students pursuing the social media concentration will take career-focused courses that explore:
Social media best practices
Crisis and strategic communication
Analytics and search engine optimization
Social media campaigns
Through Wood Street Communications, Point Park's initiative with non-profit organizations, students will gain workplace experience creating projects for nonprofits.

"Students will work for real-world clients in all of the courses," said Heather Starr Fiedler, Ph.D., associate professor of multimedia and director of Wood Street Communications. "In the social media campaigns course, students take on their own client as a social media consultant, do an industry scan, make recommendations and implement/manage their client's social media for a semester."
Applied practices concentration
Students pursuing the applied practices concentration will study both the role and impact of technology in society, and take courses in:
Visual communication technology
Video production and editing
Web publishing
Global communication
Social media
"Students learning video production have the opportunity to work with real clients through our Wood Street Communications initiative," said Starr Fiedler. "No matter the focus in social media or applied practices, students will come away from the program with great portfolio pieces and experience in the field, all while earning their degree."
Downtown location provides access to industry professionals
At Point Park, you will have access to leading industry professionals and all of the amenities of Downtown Pittsburgh. Over the past several years, Point Park has hosted the following events:
Learn More
Applicants are now being accepted for the fall 2015 term. For additional information on this program, contact the Office of Graduate and Online Admissions at 412-392-3808 or email gradadmission@pointpark.edu.
More About: graduate programs, social media concentration, Wood Street Communications, social media, applied practices concentration, M.A. in communication technology