more news
Students to Study in Iceland and Ireland
Thursday, May 11, 2017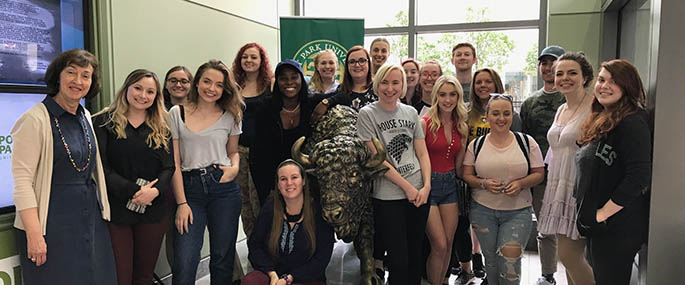 Point Park University students and faculty are headed to Iceland, Ireland and Northern Ireland May 13-26 for the 10th international trip offered by the School of Communication.
The students will visit newspapers, magazines, tourism bureaus, radio and television stations, and advertising and public relations agencies on the trip, which is part of an annual spring course, Exploring the International Media and Professions.

The group also will tour cultural, historical and political sites in all three countries, including the Golden Circle in Iceland, Ireland's Houses of Parliament, the Book of Kells, the Titanic Shipyards and Museum and the Cliffs of Moher.
As in the past the students have created a trip website, iceland.pointparkjournalism.com, and they will blog during the trip. They will also work on an article, photography slideshows and galleries, and other work for the site while visiting the countries, finishing them when they return. Two honors program students, Kristin Snapp and Jessica Federkeil, are leading the effort.
Other students on the trip include: Quinn Baumeister, Emily Bennett, Philip Droulia, Chloe Jakiela, Colleen Loverde, Kaila Markette, Courtney Medvec, Cait Miller, Nicole Miller, Nikki Pollo, Morgan Richards, Emily Scheirer, Emily Spisak and Maggie Stasko. Trevor Marnich, who will start his studies at Point Park this fall, is part of the group.
Helen Fallon, Bob O'Gara and Darlene Marnich are the faculty members on the trip, along with the retired Point Park faculty member Jan Getz.
10 Years of Travel
Learn More about Point Park
Undergraduate Academics | Graduate Academics | Visit Campus | Request Information
More About: School of Communication, faculty, study abroad, International media trip, student trips