more news
Graduate Hooding 2016: New Grads Discuss Their Journey to a Master's DegreeWho has helped you achieve where you are today?
Thursday, April 28, 2016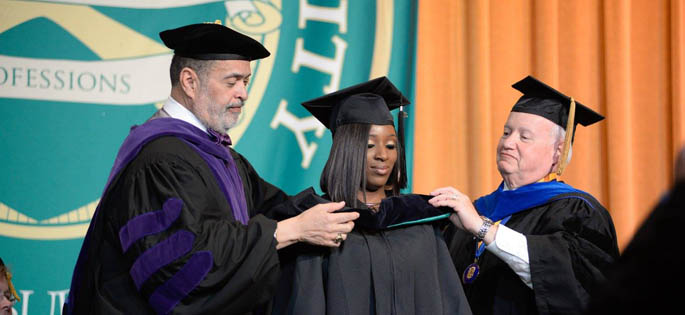 More than 115 graduate students walked on stage to have their master's degrees conferred at Point Park University's annual Hooding and Degree Conferral Ceremony Sunday, April 24, at the Wyndham Grand Hotel in Downtown Pittsburgh.
Overall, 210 students received graduate degrees this spring from one of the 17 master's degree programs offered at Point Park.
President Paul Hennigan, Ed.D., presided over the hooding ceremony, while Professor of Education Vincenne Revilla Beltran, Ph.D., served as grand marshal.
Junior musical theatre major Randyn Fullard kicked off the ceremony singing "America the Beautiful."
Provost Karen McIntyre, Ph.D., who later in the ceremony received a Lifetime Achievement Award from the University, welcomed the crowd and discussed the significance of earning a graduate degree.
Other speakers included Point Park M.B.A. alumni Nicholas Gigante, vice president of development for the Pittsburgh Cultural Trust, and Christine Demore, global pricing operations manager for BNY Mellon and vice president of the Alumni Association.
Additionally, Staci Backauskas of the inaugural M.F.A. in writing for the screen and stage graduating class, gave the Outstanding Graduate Student Address.
Backauskas began her speech with the adage, "It's tough to remember that the goal is to drain the swamp when you're up to your neck in alligators."
She then gave graduates 10 helpful - and humorous - tips to tame their "personal alligators."
Backauskas ended her speech with these inspiring words: "Everything we have experienced in the time it took us to get here - from personal chaos and family challenges to degree drama and life changes - taught us what we came here to learn and then some."
She added: "These experiences have allowed us to see more of who we really are and have shown us that knowing what we wanted and staying focused, regardless of the interruptions and upsets, was its own reward. Here's to draining swamps!"
Related article: Point Park Undergraduate Commencement 2016
---
Eight new graduates across the University's four schools shared their thoughts about who has helped them along their journey to earning a master's degree from Point Park. Below are their responses.
---
Lorenzo Boone, M.F.A. in Writing for the Screen and Stage
"To begin, I have to acknowledge my 85-year-old mother, who I am fortunate to still have with me. It is her lost opportunities and dreams that I carry on my shoulders daily. Through her life, I recognize that we stand on the shoulders of giants. Professors Nelson Chipman and Elise D'Haene also played a significant role in my development, and gave me incentive to keep driving towards my goals. They helped me believe that my style of storytelling and the voice that accompanies it needs to be told. They convinced me that even though it may not be traditional or mainstream, it has a place and it has merit."
---
Theodore DeAngelis, M.A. in Intelligence and Global Security
"My faith and my family definitely helped me reach where I am today, as well as my professors who showed me direction through academics and intellect, and my personal desire to advance my education and make a difference in people's lives. Additionally, the level of comfort I felt in my classes from my professors and fellow classmates helped me achieve success. I always looked forward to attending my classes each week, knowing I would be one step further to receiving my master's degree and expanding my knowledge as I learned a new way of thinking."
---
Emily Kolek, M.B.A./M.A. in Media Communication
"There are several dedicated professors who have helped me achieve my educational goals. These include Dr. Dumova and her sincere desire for her students to succeed and pursue academic research, Dr. Breslove and his thought-provoking discussions, Dr. Heather Starr Fiedler and the opportunity to impact Pittsburgh nonprofits through Wood Street Communications, and Professor Helen Fallon, who has provided me the chance to travel abroad, visiting more than five countries. I would be remiss not to credit my family and friends, especially my parents, for their outpouring of support."
---
Gregory Lowden, M.S. in Environmental Studies
"My classmates have been truly instrumental in getting me here. The camaraderie among the students in my program created an atmosphere of support and collaboration without which I believe would have led to a much more stressful and difficult experience. As it was, knowing that I was not alone on this journey played a key role in helping me achieve my full potential here at Point Park."
---
Brian Miller, M.A. in Communication Technology
"My parents always provided support for my brother and I to excel in education, pushing me to take advanced classes since third grade and helping direct me when I felt I could give up. My father, with the background of a carpenter and steelworker, instilled me with the traits of a hard-working laborer. My wife and her family also supported the effort needed to advance my education. Others have witnessed this determination, providing opportunities for growth in my career, and I thank God for the path leading me to this achievement today. Point Park, with its innovative framework of unique master's degree programs, as well as instructors such as Dr. Dumova, provided an experience that I will use in my career for years to come."
---
Wendelyn Piquette, M.A. in Curriculum and Instruction
"I wouldn't be where I am today without my family. My parents gave me a solid foundation, and my brother and sisters have helped me along the way. But, first and foremost, I'd like to thank my husband for his patience and understanding, and for taking up the slack at home, and my children for their help and understanding when I had to work on assignments instead of doing a fun activity. It was through all of their love and sacrifice that I was able to return to school at age 47 to pursue a master's degree."
---
Sharon Rodriguez, M.A. in Leadership
"I owe my success in life to my family, friends and professors who have helped me achieve some of my greatest ambitions including earning this master's degree. My family has always provided me with the gentle push and love I have needed to pursue my passions, even when thousands of miles away from home. Additionally, my friends created an environment for me to be myself, and my professors have challenged and guided me throughout my academic career. Above all, my faith as a Christian and in God has made me a strong and driven individual, capable of great success. Today, I celebrate them!"
---
Sridevi Vemulapalli, M.B.A. with an International Business concentration
"The quote 'Education is the most powerful weapon which you can use to change the world' from Nelson Mandela inspired me greatly. I strongly believe the goal of education is the advancement of knowledge which shall then be applied to create greatness in the world we live. The M.B.A. concentrating in international business at Point Park gave me a perspective on the global front. An M.B.A. certainly helps people like me to apply and implement business administration scenarios to technology and take it forward. Completing an M.B.A. is a milestone accomplishment which I would like to cherish with my family, friends and mentors who have been my pillars of support. Though I worked tirelessly to earn this degree, I want to especially thank my husband and kids for their continuous motivation and support without which this would not have been possible. I look forward to the future, as I am more confident than ever."
More About: M.A. in media communication, Downtown Pittsburgh, M.A. in curriculum and instruction, M.A. in communication technology, M.B.A., musical theatre, M.A. in leadership, M.S. in environmental studies, graduate hooding, M.A. in global security and intelligence, BNY Mellon, alumni, M.A./M.B.A., M.F.A. in Screenwriting and Playwriting, graduate programs