more news
Point Park University's 56th Annual Commencement Celebrates Academic Accomplishments
Thursday, May 5, 2016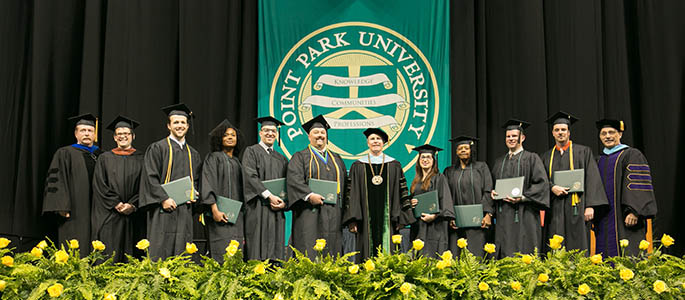 Pictured are graduates of Point Park University's online degree programs with President Paul Hennigan, Ed.D.
More than 500 undergraduate students participated in Point Park University's 56th annual Commencement April 30, 2016 at CONSOL Energy Center in Downtown Pittsburgh.
Overall, 684 students received degrees this spring from one of the University's undergraduate programs.
"You've learned all of the skills, techniques and ideas in your course of study at Point Park and you're already successful," said Broadway veteran Tony Yazbeck during his Commencement address to the Class of 2016. "You earned a degree - you made it!"
President Paul Hennigan, Ed.D., presided over the ceremony.
Douglas Bentz, professor of dance, served as grand marshal, and Provost Karen McInytre, Ph.D., introduced the honorary degree candidates.
"Today, I bring to you the awarding of the honorary degree which is about values, character and achievement," McIntyre said. "Point Park University honors two distinguished guests who embody these characteristics, Mr. Tony Yazbeck and Mr. Charles Batch."
Other speakers included Carrie Potter-Murray (COMM '09), president of Point Park's Alumni Association, and graduating senior Alicia Green, a B.A. in journalism major, who gave the Outstanding Graduating Senior Address.
"Don't let fear stop you from going after what you want in life and never stop learning," Green said to her classmates. "Thank you to everyone at Point Park for encouraging all of us to be the best versions of ourselves. I wish you all success in the future."
Related article: Point Park Graduate Hooding 2016
---
Personal stories from the Class of 2016
Eight new graduates across the University's four schools shared their thoughts about reaching the goal of earning a college degree and offered advice to students. Below are their responses.
Viveca Chow
B.F.A. in Musical Theatre


"Graduation day means I'm one step closer to my dreams coming true - here's where I begin! My Point Park experience was challenging, rigorous and rewarding!"
Mike Cooknick
B.A. in Cinema Production


"My advice to students is to do your homework as soon as it's assigned, and don't wait until the last minute. I've been looking forward to graduation day for four years, it's very exciting for me, but I'm even more happy for my family to be here to celebrate this achievement."
Perris Drew
B.A. in Acting


"Graduation day marks a special moment in my life that I will cherish forever. I walked across the stage for my siblings, I want them to take in the image of their older brother to then say, 'that will be me.' I am also standing in the gap of those young men and women who don't or never had the opportunity to experience a college graduation. I am so grateful that I made it to this unforgettable day."
B.A. in Broadcast Reporting
B.A. in Broadcast Production and M edia Management

"Graduation day means the beginning - the beginning of everything I have worked so hard for over the past four years to finally begin. The people I met, the opportunities I was given, and the experience I gained from Point Park is what makes me know I am now ready to follow my dreams and begin my career in broadcasting."
Mike Mansmann
B.S. in Civil Engineering Technology


"Point Park has taught me the skills needed to be a stand-out employee in my field. Graduation day means that I was able to accomplish my goals of becoming an engineer. To the engineering students: don't give up, it's worth it."
B.A. in Screenwriting



"Point Park has prepared me to take on this crazy world with a confidence I never thought I could attain. I would like to thank my professors, my parents and my dear roommate for their support."
Jonathan Robbins
B.S. in Accounting


"Take advantage of all of the amazing opportunities at Point Park. Internships and clubs are a great way to get involved with like-minded individuals, and will expose you to skills and experiences that you will use for the rest of your life."
Henry Steele
B.F.A. in Dance


"I would like to pass on a very valuable piece of advice that was given to me at Point Park. Always remember that you are a human being before anything else, not the major that you are about to be studying so rigorously. So make sure you feed every part of your soul constantly, continue developing yourself and continue exploring all of your interests."
More About: Conservatory of Performing Arts, School of Arts and Sciences, Rowland School of Business, alumni, online programs, School of Communication, commencement