more news
#PittsburghMe: Meet Allissa Logsdon, Sports, Arts and Entertainment Management Major
Student Profile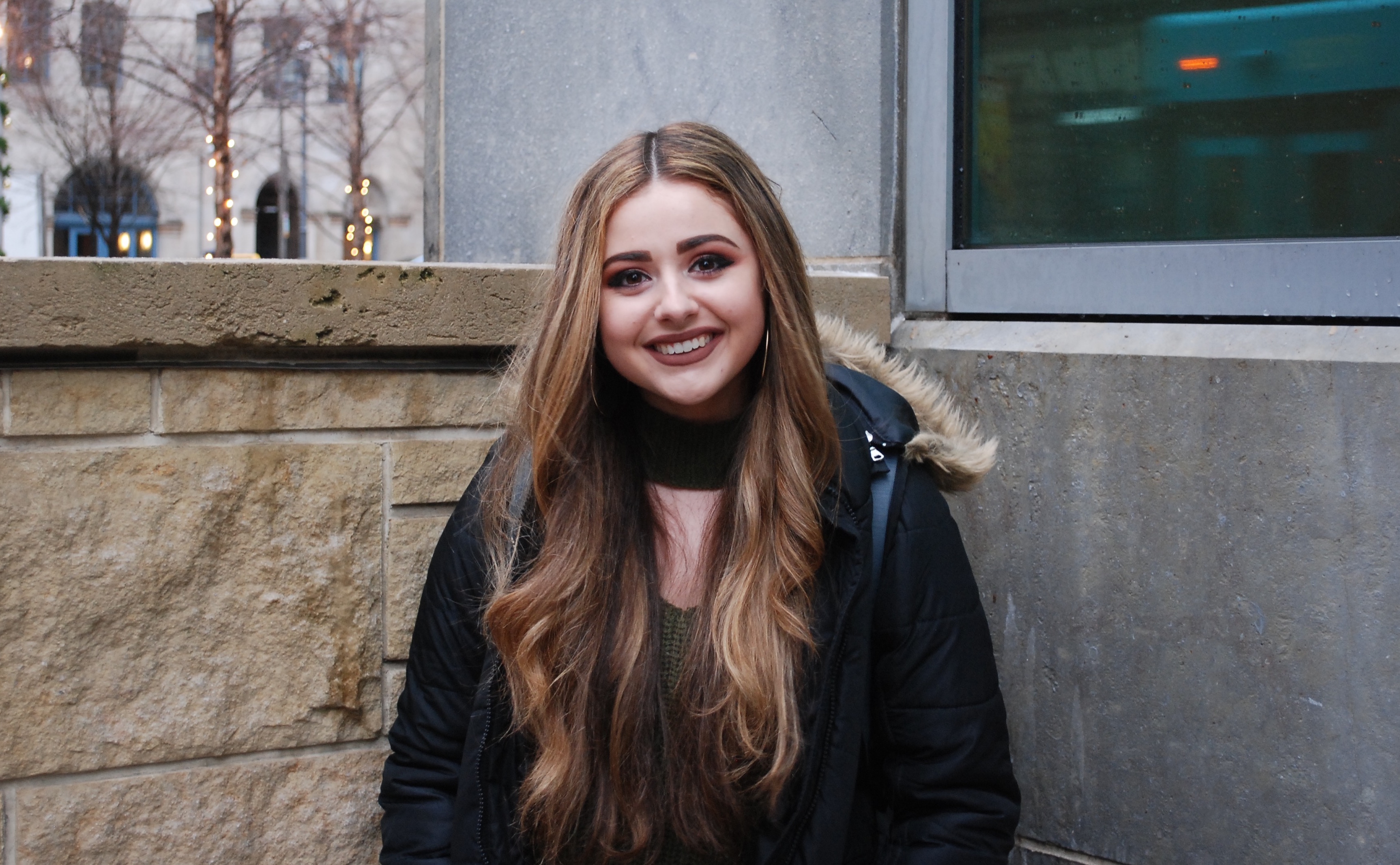 Meet Allissa Logsdon
Major

Sports, Arts & Entertainment Management

Graduation

May 2019

Scholarships

Vice Presidential

Hometown

Pittsburgh, Pa.

High School

Wilson Christian Academy/PA Cyber

Dream Job

Start my own business and write customized songs for special occasions like weddings, anniversaries, birthday parties, etc. As I expand and hire freelance songwriters, the songs can become even more customized by vocal type and genre. These original songs can either be performed live at the event or professionally recorded in a studio.
"I was a part of the first ever Music Video Class for the Pioneer Records star, Chase and the Barons. I was an assistant producer, fundraised for the video, and acted as an extra in the video. This was one of my favorite memories so far in the SAEM program!"
Allissa Logsdon
Why did you choose Point Park University?
I ultimately chose Point Park because of the SAEM major. As a musician and performer, I felt conflicted about going to school for music. I did not want to waste my abilities on a degree that was separate from music, but I was afraid of not being financially stable if I chose to major in music. 

The SAEM program allows me to pursue my passions in a very rewarding, fun, and economical way. I also chose Point Park is because of its location. Most of my performance connections are located in Pittsburgh, and I wanted to stay local so I could still perform while in college.
What opportunities have you had through your major?
The SAEM program has provided me with more opportunities than I could ever imagine! In my freshman year I had two internships — one with Docherty Model and Talent Agency in Pittsburgh, and another with Point Park's Rowland School of Business. I currently work with the Rowland School in a federal work study position. 

My SAEM courses have also provided me with amazing experiences. In my Marketing and Promotions class with Professor Paige Beal I was able to design artwork for businesses, including the Pittsburgh Playhouse and Dunkin' Donuts. I was also part of the first-ever music video class for Pioneer Records star Chase and the Barons. I was an assistant producer, fundraised for the video, and acted as an extra in the video. This was one of my favorite memories so far at Point Park!
You have been a singer for 11 years and a pianist for 14 years. How do you incorportate your talents into your major?
Many SAEM majors get Fridays off, which has been extremely beneficial for me because I frequently have gigs on Fridays. This also gives me time that I don't have during the week to continue practicing my craft. I've learned so much about the music business during my time in the SAEM program, including how to manage myself and my brand effectively through social media. 

Having classes like the Business of Concerts and Touring with Professor Ed Traversari taught me what various roles in the music industry look like, as well as how to plan and execute a concert or tour. The music video course I took with Greg Joseph from The Clarks and Andrew Halasz has taught me how to fundraise, promote, plan, and execute a music video. This has been extremely beneficial, as I am currently helping direct and promote my own music video to one of my original songs. 
I worked as a graphic design/social media intern for the Rowland School of Business last summer, and have been able to stay in the position ever since. I've had the opportunity to redesign the SAEM department and club logos, and have been given the freedom to completely transform the SAEM social media pages. I am so grateful for the opportunities that this internship (and now job position) has provided me. It is wonderful to be able to try new things and test my abilities within the University.
Where is your favorite view of the city?
Looking out any window in West Penn is a great view! From one side of the building, it feels like you can see the entire city. From the other side, you overlook the river and Station Square. My other favorite view of the city is from the top of the Wood-Allies parking garage. You can see so much of the city and it overlooks Point Park's buildings. 
What advice do you have for incoming students?
Don't be intimidated and don't avoid going after opportunities because you feel unqualified. I have rarely felt qualified for any opportunity I have taken, but you learn along the way. You don't know what you're truly capable of until you try something new.
Read more #PittsburghMe profiles
---
 Text and photo by Sydney Patton, junior sports, arts and entertainment management major
More About: social media, internships, scholarships, Rowland School of Business, sports, arts and entertainment management, Downtown Pittsburgh, Pioneer Records