Professor Emeritus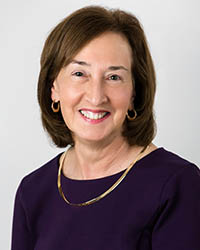 Contact Information
Education
M.A., Communications, Duquesne University
B.A., Journalism and Mass Communication, Point Park University
Courses Taught
Feature Writing
Journalistic Writing and Editing
International Media
City-University Life
Survey of Mass Communication
Background
Helen Fallon, professor emeritus and former director of Point Park's Honors Program, has taught and served as an administrator at Point Park University since 1986. She was chair of the Department of Journalism and Mass Communication from 1999 to 2008 and was the acting dean of the School of Communication from 2008 to 2009. She then became director of the Honors Program.
Under Fallon's leadership, the School of Communication began annual student trips to Washington, D.C., and a different foreign country each year to focus on national and international media as well as broaden travel experiences for students. Past trips have included Germany, Paris, Italy, London, Toronto, Dublin and Prague.
Fallon remains an active journalist, working every Friday as a copy editor for the Pittsburgh Post-Gazette, where she's been gathering real-world materials for her classes since 1990. Earlier in her career, Fallon worked as a reporter, copy editor and editor for several papers in the Pittsburgh area for six years, and did public relations for a university and a community hospital for five years.
Fallon is involved in journalism education beyond Point Park, working with high school students by teaching apprenticeships for the Allegheny Intermediate Unit's gifted and talented program and visiting area high schools to talk with journalism and communication classes. She has been an active member and leader in the Pennsylvania School Press Association and has made presentations with the Journalism Education Association at its national conferences as well.
From 2008 to 2021, Fallon and her family, daughter Amy and son Stephen, established a travel fund at Point Park in memory of their late husband and father, John E. Fallon Jr. The fund helped School of Communication and Honors Program students in need travel nationally and abroad to complement their Point Park education.
Professional Memberships
Women's Press Club of Pittsburgh, board member
Northeast Regional Honors Council, president
Press Club of Western Pennsylvania, 2nd vice president
Society of Professional Journalists
Pennsylvania Scholastic Press Association, past board member
Journalism Education Association
Pennsylvania's Tuition Account Plan, past board member
National Collegiate Honors Council
Northeast Regional Honors Council
The Consortium for Public Education, grant review committee
Jefferson Regional Foundation, member
Advising/Workshops
Honors Student Organization, Point Park University
High School Workshops (fundraising, updating, sponsor award contest with the Post-Gazette for outstanding high school newspapers and journalism students), Point Park University
Allegheny Intermediate Unit gifted and talented apprenticeships - journalistic writing and reporting and leadership
Selected Presentations
Pennsylvania School Press Association, state conferences, November 2008-2011
Journalism Education Association national conferences, November 2008-2010
Selected Award
Service to Journalism Award, Western Pennsylvania Press Club, 2005
Point Park Features