Choose a Concentration as a Course of Study
New for Fall 2022, students will select a concentration in PR and advertising or social media:
PR and Advertising Concentration
Students are provided with hands-on, real-world PR and advertising assignments beginning their first year and continuing throughout their academic career, which enables high-quality portfolio building.
Students can take courses in PR/advertising writing and campaigns, special events planning, marketing communications, graphic design, social media, crisis communication and sports media.
Social Media Concentration
Students are provided an in-depth study of social media theories and practices in PR, advertising and marketing communication. This concentration provides students the opportunity to study, design and manage social media content as an extension of what they are learning as part of the PR/advertising curriculum.
Students can take courses in social media marketing, analytics and SEO, social media crisis communications, graphic design and PR/advertising/social media campaigns.
Course Offerings
Point Park's core curriculum and classes in your major will provide you with a well-rounded education. Courses in the PR, advertising and social media program include:
PR/Advertising/Social Media Writing and Campaigns
Integrated Marketing Communication
Graphic Design
Social Media Analytics & SEO
Social Media Crisis & Strategic Communication
Special Events Planning
Digital Photography
Media Storytelling
Research, Law and Ethics
Sports Media
Diversity and Communication
Capstone Project
Integrated Marketing Campaign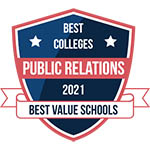 Everything you learn will help you understand the world of integrated communications. You will team with fellow students and your professors every step of the way, including during a capstone project, when you'll help create an agency and develop a fully integrated marketing campaign for a corporate or nonprofit client. By graduation, you will have project and presentation experience to impress a prospective employer.
Career Options: What You Can Do With a PR, Advertising & Social Media Degree
Public relations specialist
Advertising account executive
Communications director
Social media manager
Social media influencer
Copywriter
Promotions manager
Content specialist
Brand manager
Did You Know ... 
Employment of PR specialists is projected to grow 11 percent from 2020 to 2030, faster than the average for all occupations. — 2022 U.S. Bureau of Labor Statistics
Overall employment of advertising, promotions and marketing managers is projected to grow 10 percent from 2020 to 2030, about as fast as the average for all occupations. — 2022 U.S. Bureau of Labor Statistics
The global social media management market is anticipated to grow by more than 21 percent by 2028. — 2021 Social Media Management Market Report by Research Dive.