Graduate Career-Ready with Professional Experience and Industry Connections
Public relations, advertising and social media are prevalent in today's workplace as professionals create persuasive messages to build brands, communicate with target audiences, sell products or promote services.
In Point Park University's B.A. in Public Relations, Advertising and Social Media program — available on campus or fully online — students will learn how to strategically create messaging and campaigns to meet the ever-changing needs of the industry.
The program's curriculum combines theory, skills development and hands-on learning where students will interact with professional clients to hone their communication skills.
Being located in Downtown Pittsburgh allows our students to network with industry professionals and land internships and co-op experiences at corporate, agency and nonprofit organizations, as well as through classroom experiences in conjunction with Wood Street Communications.
Choose a Concentration as a Course of Study
Students select a concentration in PR and advertising or social media:
PR and Advertising Concentration
Students are provided with hands-on, real-world PR and advertising assignments beginning their first year and continuing throughout their academic career, which enables high-quality portfolio building.
Students can take courses in PR/advertising writing and campaigns, special events planning, marketing communications, graphic design, social media, crisis communication and sports media.
Social Media Concentration
Students are provided an in-depth study of social media theories and practices in PR, advertising and marketing communication. This concentration provides students the opportunity to study, design and manage social media content as an extension of what they are learning as part of the PR/advertising curriculum.
Students can take courses in social media marketing, analytics and SEO, social media crisis communications, graphic design and PR/advertising/social media campaigns.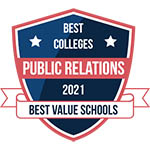 Integrated Marketing Campaign
Everything you learn will help you understand the world of integrated communications. You will team with fellow students and your professors every step of the way, including during a capstone project, when you'll help create an agency and develop a fully integrated marketing campaign for a corporate or nonprofit client. By graduation, you will have project and presentation experience to impress a prospective employer.
Point Park's online programs are offered in a flexible format at an affordable cost. Online courses are 8 weeks long and are always offered asynchronously for your convenience. 
Online students have access to the same great benefits as those on campus:
Point Park faculty with real-world experience.
Small online class sizes for individualized attention.
A full spectrum of University resources.
A student success advisor offering support from application to graduation, who will guide you to successfully complete your degree.
Cohorts begin every eight weeks. Apply now!
4+1 and Early Start Master's Programs
The School of Communication offers 4+1 and fast track Bachelor/Master's degrees, including:
PR, Advertising & Social Media Student Experience
Career Options: What You Can Do With a PR, Advertising & Social Media Degree
Public relations specialist
Advertising account executive
Communications director
Social media manager
Social media influencer
Copywriter
Promotions manager
Content specialist
Brand manager
Did You Know ... 
Employment of PR specialists is projected to grow 11 percent from 2020 to 2030, faster than the average for all occupations. — 2022 U.S. Bureau of Labor Statistics
Overall employment of advertising, promotions and marketing managers is projected to grow 10 percent from 2020 to 2030, about as fast as the average for all occupations. — 2022 U.S. Bureau of Labor Statistics
The global social media management market is anticipated to grow by more than 21 percent by 2028. — 2021 Social Media Management Market Report by Research Dive.
PR, Advertising & Social Media Alumni
PR, Advertising & Social Media News
Career-Ready: Meet Our Students
Point Park University
201 Wood Street
Pittsburgh, PA 15222-1984
Ready to learn more?