Andrew Conte, Ph.D.
Director, Center for Media Innovation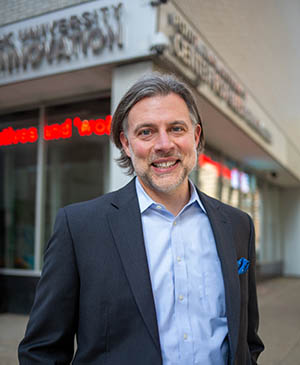 Contact information
Education
Ph.D., Community Engagement, Point Park University
M.S., Journalism, Columbia University
B.A., American Studies, Dickinson College
Background
Andrew Conte comes to Point Park University from the Pittsburgh Tribune-Review, where he was an award-winning investigative journalist. He has spent the past 12 years as a part-time professor at Point Park and director of the Point Park News Service.
In May 2016 Conte was named the director of the University's new Center for Media Innovation. He is an author and was a contributing writer for the Pittsburgh Tribune-Review.
Professional Experience
Investigative Reporter, Pittsburgh Tribune-Review
Part-Time Professor, Point Park University
Director, Point Park News Service
Reporter, Cincinnati Post
Board Member, The Press Club of Western Pennsylvania
Publications
Death of the Daily News
The Color of Sundays
Breakaway
All About Roberto Clemente
Selected Awards and Honors
Spotlight Award, Pennsylvania Society of Professional Journalists
Ray Sprigle Memorial Award, Press Club of Western Pennsylvania
William Brewster Styles Award, Scripps Howard Foundation
Carnegie Science Award, Carnegie Science Center
Point Park Features
In the News
Conte's Column 
On Media column for NEXTpittsburgh.